A pair of talented strikers roam the soccer field in Southern Chesterfield. The two youthful players are big drivers of offense and are among...
A pair of talented strikers roam the soccer field in Southern Chesterfield. The two youthful players are big drivers of offense and are among the leading goal scorers in the Central Region.
Thomas Dale's Dominique Grubbs is the Knights' most potent offensive attacker – in fact she has already notched 28 goals with at least a few games left on the docket in 2015. The sophomore's campaign is an excellent follow-up on a season in which she scored 22 goals as a freshman.
"Dominique is really fast and beats the defense when we send her a three ball," said Katie Waring, the team's midfielder and senior captain. "She's a great striker and plays a big role on our team."
Waring is the main creator of offense on the Knights 2015 roster and is headed to Lynchburg College next season. Grubbs said that their synergy, along with the team's chemistry, is an excellent formula for success.
"My teammates and I do really well sharing and passing the ball," Grubbs said. "They are always looking for me on passes so most of my goals start from another player."
If there is a knock in Grubbs' game it is her size – she is just 5'2" – but during training and while playing for FC Richmond over the past few years, she is worked on strength training to help her navigate crowded defensive alignments.
"I try to use my speed to get around the bigger players," Grubbs said.
There is plenty of speed to burn as Grubbs has used that skill to pour goals into the net, scoring recent hat tricks against Hopewell, Colonial Heights, Prince George, and Matoaca. In the games against the Royals and Warriors, she scored five and six goals, respectively.
Thomas Dale's crosshairs are firmly fixed on winning a Conference 3 Championship and advancing beyond the first round of regionals this year. Waring summed up what the Knights need to do in order to win:
"We have to mentally prepare ourselves and come to the game focused," said Waring. "I feel like the result will depend on who wants to win more."
A little drive down Chesterfield County's winding roads will steer you toward Matoaca, who have a budding star of their own on a senior-laden squad in freshman striker Maiya Pencile. A two-time winner of the Callery Maurer Athlete of the Week honor, she has netted 24 goals thus far in 2015.
"Pencile is one of the most naturally athletic people I've ever met," said Matoaca Soccer Head Coach Erin Kutsko. "While she's still a freshman and makes freshman mistakes, she's one of the best strikers in high school I've seen in a while."
Standing at 5'5" with long legs, Pencile is speedy. While having a smaller frame makes it a bit more difficult in traffic, the forward is learning to take her bumps.
Matoaca has produced plenty of soccer talents over the years, but Pencile is already rewriting the record books. According to Kutsko, the school record for goals in a season is 26, set by Molly Siner. Pencile figures to shatter that mark with several games left.
Kutsko added that having a reliable striker is a luxury that the Warriors have not had in recent times. Katy Wildeus and the Hevener twins Kayla and Kara do a lot of the ball handling and provide offense, but Matoaca lacked what Pencile brings to the table – pure offense.
"Being a striker isn't the easiest thing to do," Kutsko explained. "Maiya is very fast and when they [the midfielders] lob it over the top, she gets to it," continued the former Liberty standout.
Despite being a freshman and getting the spotlight for scoring, Pencile has fit in well with her older teammates, not being intimidated like some younger teenagers may be.
"It's been a nice surprise for the older girls who have been working so hard," Kutsko said. "It's an extra advantage, another tool in the tool box to help us get the job done."
Both Thomas Dale and Matoaca have a game remaining this week on Thursday. The Knights play host to Colonial Heights, while the Warriors welcome Dinwiddie to Matoaca. Both games kick-off at 7 p.m.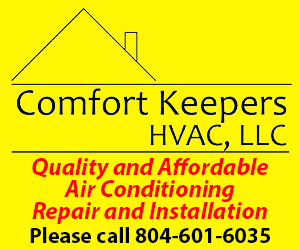 U.S. Rep. Abigail Spanberger came to town Friday, Oct....

Running each week through Oct. 30, the Village News...

A "brunch at Tiffany's" fall fashion show and champagne...

The Friends of Chesterfield County Public Library will host...

In the race for state Senate District 10, which...