As it continues to work on filling the gap of the "Moving Forward… the Comprehensive Plan for Chesterfield," which includes smaller area plans, the...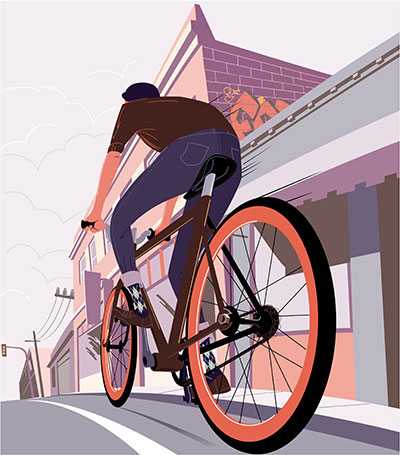 As it continues to work on filling the gap of the "Moving Forward… the Comprehensive Plan for Chesterfield," which includes smaller area plans, the Chesterfield County Planning Department planners are drafting the bicycles and trails facility plan, a Phase II implementation.
The draft Bikeways & Trails plan is only an advisory plan and according to planners, is only a guide for future development of the facilities.
The intent of the project is to provide the Parks & Recreation Advisory Commission, Planning Commission and the Board of Supervisors with recommendations regarding the plan, along with implementing ordinances and other tools as identified.
The planning commission last week considered the draft plan, but after 27 speakers provided input and commissioners consideration,  the draft plan was continued until the September 15 meeting.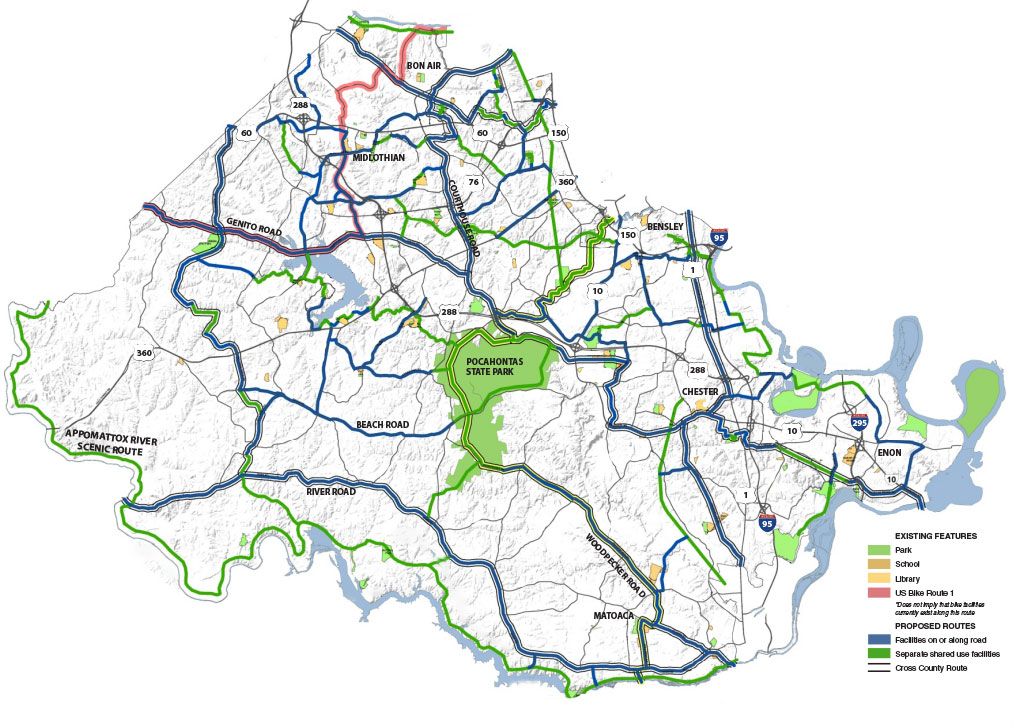 In a survey conducted by the Chesterfield Planning Department, in late 2014, of a total of 300 people who attended public meetings and 1,045 people who took the online survey, most consider themselves interested but concerned bicycle riders. The survey is now almost a year old but is in line with surveys taken across the country, according to planners.
Of the same people who participated in an on line survey, more respondents favored using private funding like endowments and grants rather than public funding in the form of a tax or fee.
According to information presented by Parks and Recs staff at the public meeting, multi-purpose trails are about linking people to places as well as offering a healthy, active lifestyle. Instead of riding in circles in a park, cyclists can be connected to the Appoxmatox River Trail for a longer experience.
At community meetings, planners discovered that people wish to be out with their families, doing errands and other things while they are out getting exercise.
"I am here with my family tonight to stress how important it is to us," said Malinda Ailio, who resides in the Dale District. "We bike here very often, and we will have to drive home tonight because there are not bike lanes, there are not shoulders, there are not sidewalks, there are not paths. We often take trips up there [New England] because there are better established places off-road and big shoulders where we can bike recreationally."
Not only did the planning staff work on the project with input from the public, but they were accompanied by the Parks and Recreation, Chesterfield Department of Transportation and Sports Backers, as well as other county departments. At least one area corporation has agreed to work on the project as well.
"It has been a pleasure to work with county staff on Pocahontas Park trails as well as this project," said Jim Beamer, of Dominion Power. "We talked about collocation on our utility corridors, and we think it is a common sense thing to do, particularly where we won't have any construction for any near future projects."
Some of those who spoke to the issue at the public meeting were concerned with the lack of specifics.
"We have seen pictures of how the bike land would look. But as Mark Twain said, the problem with property is we're not making any more of it," said Bill Woodson, of Matoaca. "Somebody owns that piece of property and we have not talked about eminent domain. Are these paths for the greater good for a greater number? When you create facilities outdoors, those who use it are not the intended users."
Although not representing anyone at the meeting, an attorney said he also believed there were not enough specifics in the plan.
"A group of property owners is coming forth to comment on this plan," said Brennen Keene, a real Estate attorney in Chesterfield County. He said he would like to make some comments that would spur thoughts and delay action prompting further discussion and a lack of information in the document on how this would affect zoning cases going forward.
A 32-page addendum to the zoning ordinance relating to the trail plan has been drafted and will be considered by the planning commission in August.
Additional community informational meetings will take place this summer. The Planning Commission will hold a public hearing on Tuesday, September 15.
The draft plan is available at each county library as well as in Parks & Recreation, Planning, Transportation and County Administration offices. For details contact Heather Barrar at barrarh@chesterfield.gov
Bike Safety Tips: http://www.sportsbackers.org/wp-content/uploads/2015/06/printablebooklet.pdf