Dating back to last summer, L.C. Bird baseball alum Corey Anderson and his mother Sonya Anderson were not sure if he would be able...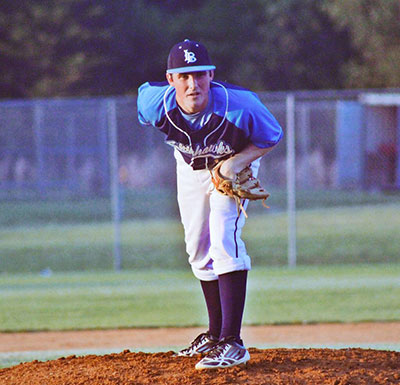 Dating back to last summer, L.C. Bird baseball alum Corey Anderson and his mother Sonya Anderson were not sure if he would be able to take the field this spring due to a herinated disc in his back. The injury likely cost Anderson valuable time to be viewed by college coaches. While the injury brought him down, it has not thwarted the young man. As he plays for the Post 284 Pirates this summer at Shepherd Stadium, he is gunning to walk-on at Old Dominion University in the fall.
"He's a gamer, he's a gritty, competitive kid," said Post 284 Pirates Head Coach Gilbert Baber. "He's quiet but he's fiercely competitive, he's got that edge."
As one could imagine, a competitive person could potentially, have a difficult time dealing with an injury especially one concerning the back. Typically, these injuries are related to muscles, or in Anderson's case, a disc. Back injuries are typically slow to heal and are easy to aggravate. Uncommon in younger people, the doctors said the ailment was caused from wear and tear from being an athlete.
Sonya watched her son struggle through the injury. In the off-season after his junior year, colleges had come calling. William and Mary was among the most interested, while Old Dominion and Roanoke College also expressed interest. Radford University invited Corey to a camp. A tryout for the Virginia Cardinals, a premier AAU program, was planned. Each and every time it seemed as if things were going to go away, the injury flared and prevented Anderson from showcasing his talents.
"It was tough as a mother to watch," said Sonya Anderson. "He got down on himself at times but continued to push back through."
Anderson's back healed before the spring this year, and he was able to help carry the Skyhawks through their season. He started the season with a bang, defeating Manchester 4-3, striking out 12 batters while pitching a complete game. A consistent performer, Anderson turned his 2015 season into a success, garnering All-Conference 12 First Team Honors for his play at short.
"I felt relieved," said Anderson. "I got the opportunity to play when I didn't think I would and I took advantage of it."
The momentum did not stop there. Anderson fired a no-hitter on June 24 for the Pirates, reaching a high point after such a deep valley. For the Cardinals fan, a team typically stockpiled with star pitchers from Bob Gibson to Adam Wainwright, it was a moment to be remembered.
"It was a special feeling considering how rare they are," said Anderson. "It was special that I was able to accomplish the feat."
Baber joked about Anderson's performance, saying that Anderson was probably a little upset that the no-hitter was just eight innings, and ironically it was a two-run double by Anderson himself that caused the game to be called.
"Knowing him he wanted it to be nine innings," said Baber.
Anderson has been a part of the Pirates summer success thus far, as they have started the season with a 7-3 record, recently hitting a little slide, but displaying the pieces necessary to compete.