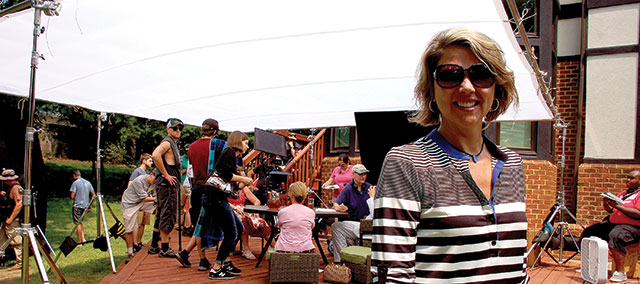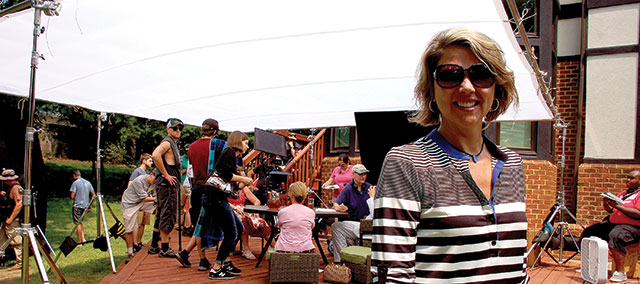 Chester was the location for movie making  last week. For two days,  location shooting took place at the home of Debbie and Joseph Boykin...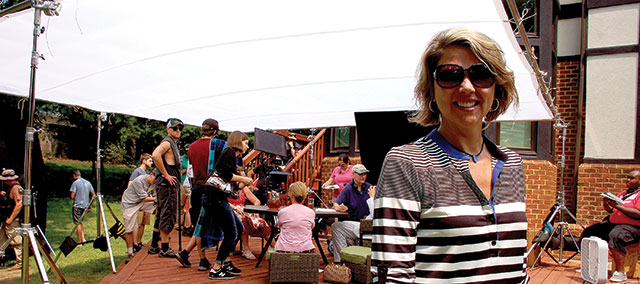 Chester was the location for movie making  last week. For two days,  location shooting took place at the home of Debbie and Joseph Boykin as it served as Aunt Judith's large country home for the movie "Shooting the Prodigal."
At 5:50 a.m., over 50 production crew members, volunteer and paid, arrived at the Boykin's home in River's Bend to prep for the days shooting and be ready for the 6:30 a.m. arrival of actors for the first of five scenes to be filmed at 7:30 a.m.  Debbie was pulling hot muffins out of the over and preparing to bake up four sheets of brownies. "Everyone works better on a full stomach," she said.
The Boykins were delighted to be able to open their home for the filming. "It is a privilege to be able to offer our home – it's fun – and it is a privilege to be able to participate with the movie with this type of message – that God is a loving God," said Debbie Boykin.  Boykin has also been put to work on the crew Medic staff  as First Aid Team Coordinator and working with nine volunteers. "What fun it is to see behind the scenes," she said.
"Shooting the Prodigal" is a faith-based comedy about a church making a movie about the Prodigal son, screen play by Debbie Hocutt and Greg Womble, directed by David Powers, produced by Ken Roy and Heather Waters and the independent production company, Belltower Pictures. Waters said the production of the film was in their sixth day of shooting upon their arrival to the Boykin family home and taping was going very smoothly.
"This location could not have been more perfect,"  she said. "The neighborhood is quiet, neighbors are very friendly and have offered their homes if more were needed and Debbie has been amazing. She has allowed us to make the changes we needed, and the crew couldn't be happier."
The Boykins offered their home when they heard Powers needed a suburban home for one of the scenes in the movie.  Originally, their home was to be used as the pastor's home, but upon arrival by the location crew, it was determine the home was too elaborate for the pastor's home, but perfect for the wealthy widow who resides in Homer, Alabama, and is aunt to Josh Blume, a nominally Jewish 25-year-old New York Film School student, close to completing his degree and needing inspiration to do his final thesis.
With 40 different characters in "Shooting the Prodigal," Waters said producing the film has been challenging as well as,, exciting. The crew consists of around 50 to 75 on any given day of shooting and will top out at 350.  Most are from around Virginia with a few of the actors coming from Florida, Georgia and North Carolina. "The crew is 100-percent Virginia and we have been able to create internships," she said.  "We have 19 days of shooting with July 18 our last before we go into post-production."
Editing will take place in Richmond and they are hoping to be ready for distribution to theaters November 1.
Waters, a writer, producer and film director, has worked in the entertainment industry for over 25 years and is founder of the Richmond International Film Festival. Her co-producer, Ken Roy, is founder of the Central Virginia Film Office and a producing partner and the primary producer for all projects originating from New Millennium Studios in Petersburg. David Powers, writer and director of the film  is the founding president of BellTower Pictures. He started his career in radio then moved into television, film and multimedia production in 1969. He earned his undergraduate degree in radio/TV/film production from the University of Georgia in 1973, and over the next several years was involved in television in local churches as a producer and director and in community theater as an actor. After earning a masters degree from Southwestern Seminary in Fort Worth, Texas, David served as Media Minister for Broadway Baptist Church. He recently retired from the staff of Richmond's First Baptist Church, where he led the church's communication ministry producing 1,000 hours of local television programming and writing /directing  commercials, promotional videos and two hour-long, award-winning Christmas music specials.
The original script was written by Powers, Debbie Hocutt and Matthew Brown, all members of First Baptist Church of Richmond. After reviews of the script came back as being a typical Christian movie, the team felt they needed to have a different genre to reach a wider audience and recruited Greg Womble of Birmingham, Alabama.  Hocutt and Womble drafted the final script.
Additional Chester folks working with the project include Thomas Dale High School and Liberty University graduate Rebecca Sorells. With a degree in digital media and a concentration in video, Sorells is a production assistant with the crew. "It is pretty exciting to get a chance to make a difference and a chance to serve at something really rewarding," she said.
Longtime Chester resident Freddy Ridout started with the project as a volunteer but became Assistant Location Manager when the person in that position quit.
"Shooting the Prodigal" will carry a faith message, with the whole church congregation involved in deciding what kind of movie to make. With the decision and when the production begins on a modern version of Jesus' parable of the prodigal son, Josh gets resistance from some of the church members because some of the cast and crew involve include a gay costume designer, an African-American cameraman and a Muslim who is cast in the role of the "God-like" father character. The first-class production should prove to be very entertaining and hopefully be ready for the big screen in November and play throughout the holidays. Along with location shots in and around the Boykins' home, location shots in Petersburg and Ashland may also be recognized.
"It is a wonderful comedy that brings many different cultures and beliefs together," said Waters.
To follow production of "Shooting the Prodigal," follow the cast on www.facebook.com/shootingtheprodigal or shootingtheprodigal.com/blog.