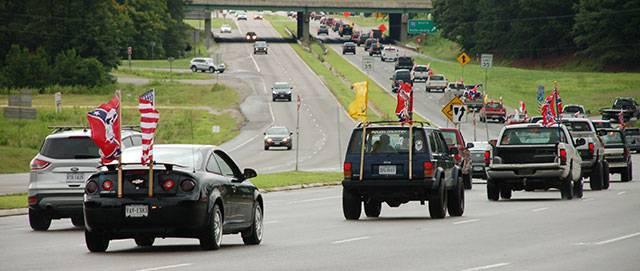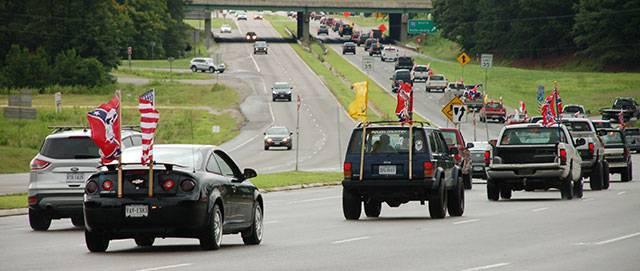 Almost 150 trucks and cars displaying Confederate battle, American and "Don't Tread" on Me flags paraded from Matoaca to Dinwiddie and through Petersburg and ...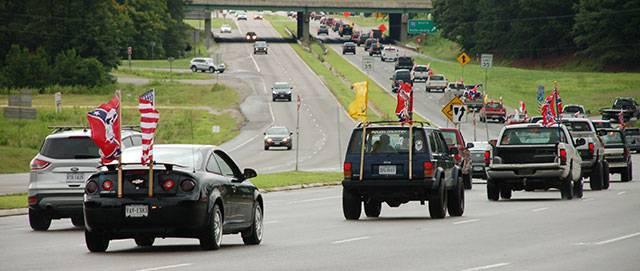 Almost 150 trucks and cars displaying Confederate battle, American and "Don't Tread" on Me flags paraded from Matoaca to Dinwiddie and through Petersburg and  Hopewell west on Route 10, ending in Chester.
The entourage turned heads and prompted car horns and a couple of thrown shoes and bottles until it concluded at the CiCi's Pizza on Jefferson Davis Highway in Bermuda Crossroads Shopping Center where the celebratory group gathered to talk about the Flag Run and to discuss the politics of the recent concerns about the Civil War flag.
Both sides of the controversial topic have boiled over since Dylann Roof was arrested for killing nine people at the Emanuel African Methodist Episcopal church in Charleston S.C., the Confederate flag was removed from the S.C. State Capitol lawn and in Virginia, where Gov. Terry McAuliffe said he will phase out Confederate flags on license plates.
"It is about education," said Chester resident Stuart Barlow, member of the Army of Northern Virginia Mechanized Cavalry.  "It is not about slavery, at least for 98 percent of us. It is about history. It is where you come from. The South Carolina shooter did not kill nine black Americans, he killed nine Americans. If the media would keep race out of it, we would not have these issues."
Some pickup trucks flew some four or five flags, with smaller cars sporting only small attached flags or bumper stickers. The group gathering at CiCi's drew more supporters, as well as some who oppose the display of the stars and bars.
Rashaun Thomas of Petersburg, where the parade traveled before Hopewell and Chester had stopped at Bojangles and saw the flood of flag supporters in the shopping center parking lot.
"It makes me sick that people sit around and watch this," Thomas said as he recognized a neighbor who he said calls the police on him every time he makes his way down to the river to fish.
"If you had five black guys with the same color of shirt on, they would be considered a gang. This is what that shooter wanted (referring to the massacre in South Carolina). They are celebrating," he said.
While some of those displaying flags said it was freedom of speech to display the flag of their heritage another Chester resident said otherwise.
"Yes people have their freedom of speech, but they should also know that many, many people feel that it is hate speech because hundreds of thousands were brutalized, lynched and killed by the 'Southern heritage' they want to celebrate," Katherine Williams said.
The parade was organized by two young ladies, with the 804 Flyers, a group that describes themselves as "In support of the Confederate flag and all those who support it and aren't scared to show their Southern pride! Trucks, cars, and bikes!" The group organized the ride one week in advance of the event through Facebook.
Some ride participants came from as far away as Charlottesville and Virginia Beach. One Louisa resident weighed-in on the controversial events of the last month.
"You can't take away our history – it's history. You can't change it and why try to change it," said Dwayne Temple.Battling rain and gloom the riders completed their run and sat down for a meal at CiCi's or headed home.