Sue Levy enthusiastically endorsed the Chester Farmer's Market last week as she took a break from the hot sun in the Village Hall on...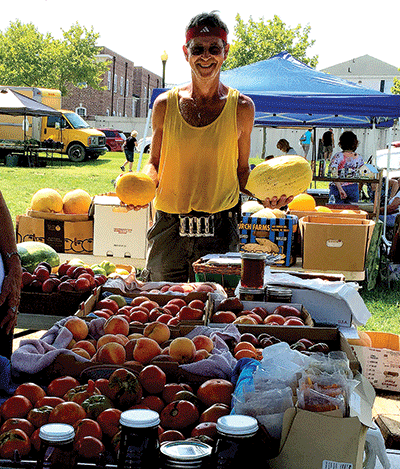 Sue Levy enthusiastically endorsed the Chester Farmer's Market last week as she took a break from the hot sun in the Village Hall on the Village Green.
"We come all the time," Ms. Levy said. "It's the only market I've seen. Even in Connecticut we didn't have one."
Chester's Market is in its sixth year. Being one of the first in Chesterfield, it has become a place where longtime vendors have created a long list of regular customers. Several produce vendors, at least two who do not use pesticides when growing their produce, free range eggs, chickens and meats, artisan breads, sweet baked goods, Brunswick stew, plants, honey, homemade soaps and beauty products, as well as other handmade products, are available.
"When I look out at the market [from my booth] it doesn't always look busy, but I sell out every week," said Charles Biele, Alberta General Store Brunswick Stew.
Mr. Biele is not alone in his assessment of the Chester market. The number of customers ebbs and flows throughout the 8:30 a.m. to 12:30 p.m. schedule.
Sharon Wiley, who calls her business Merrystems, sells artisan breads and rolls and sells out each week as does Juanita Edmonds, Nita's Tasty Treats; she sells cakes, pastries and bread pudding.
According to Nicole Jordan, market master, "There is always a balance between vendors and customers." Ms. Jordan started the market about nine years ago, only testing the market, holding only holiday markets until she approached the Chester Community Association to help to sustain the market about six years ago. She said that if the market is not full of vendors one week, then the next market may not have as many customers and that seems to snowball. But this year the market has been steady. As with any business, it take years until it is established.
Last week Jordan counted the number of customers who entered the market. From 8:30 to 9:30 there were 36 shoppers. From 9:30 to 10:30 there were 130 shoppers.
As the Chester Market received last week received four stars from the National Farmers' Market Directory, Gov. Terry McAuliffe proclaimed Aug. 2 to Aug. 8 Farmers' Market week. According to the governor's proclamation, there were only 88 farmers' markets in 2006, which has grown to 250 in 2015.
José Medina, who grows all fresh produce on his farm, JNW Valley View Farm-Produce, near Montrose, VA, educates his buyers when they are curious about the best produce and how it is grown.
"With tomatoes, you can't tell which one to buy just by the way they look but by the way they taste." This is the time of year for tomatoes, and Mr. Medina has a pile on sale. The vegetables he sells always fluctuate as the seas indicate. This time of year is the best for variety. Medina offers tomatoes, two types of egg plants, ocra, string beans and a number of other vegetables. If Medina is not selling a particular veggie, it is not in season. One customer asked him for green onions. "Green onions were done a while ago."
"Farmers' markets reinforce and maintain community identity and help to foster new business and encourage and support the growth of new entrepreneurs," read the proclamation.
Levy said, "The market is in a good location, the vendors are friendly and I think the customers like the variety."
"Locavores" will be happy to learn that buying at the Chester Farmers' Market cannot get more local. The market is good for the local economy, supporting the vendors who sell at the market; it is good for consumer's health and very good for community identity and quality of life.
Jerry Smith, who sells a variety of fruits and vegetables, has been a market vendor since it began. He sells produce from his garden, as well as produce that he imports from farms further south that can provide fruits and vegetables not found in the area. During Saturday's market, he was too busy to talk, and the line at his stand remained six or eight people long throughout the entire market.
The Virginia Department of Agricultur and Consumer Services described just what a farmers' market can do for a community. "Farmers' markets are an essential ingredient of a local food system and an important component of a comprehensive local economic development strategy that fosters community engagement, supports local farmers, promotes health and wellness and provides access points in communities for healthy food.  This special week we celebrate the vendors, the customers and most importantly the market managers who bring all good things to life in your market and in your community, and  create walkable, healthy, economically vibrant neighborhoods.
Additional farmers' markets in the area include Chesterfield County Farmers' Market opened each Wednesday from 3 p.m. – 6 p.m.' Wood's United Methodist Church Farmers' Market open Saturdays from 8:30 a.m. until noon; The Farmers Market at Dunlop House open the first and third Tuesday from 4 p.m. until 7 p.m. and Farm Market at Boulevard Flower Gardens open each Thursday from 3 p.m. until 6 p.m.
Chester Farmers' Market Vendors
Cheryl & Charles Biele-Alberta General Store-Brunswick Stew
Sharon Wiley-Merrystems-Artisan Breads-Rolls
Juanita Edmonds-Nita's Tasty treats-Cakes-pastries-Bread Pudding
Steve & Lee Ann Nelson-Neigborhood Flags-Flags for all Occassions
Nachi Mason-TruBliss, LLC-Hamdmade soaps-Body Creams
Cheryl & Warren Crawford-The best Therapy-Bottle Art-Handmade Wooden Wine Racks
Jose Medina-JNW Valley View Farm-Produce
Shasean Clopton-Perfectly Posh-Pampering Products (Bath & Beauty)
Kristi & Richard Hamilton-Elim Springs Farm-Eggs-Meats (Poultry-Pork-Beef)
Debbie Vaughan-Designed by dejavaughan-Handmade Jewelry
Cindy Lacy-Folding Paper- Origami-Handmade Cards
Jerry Smith-Jerry's Products-Produce-Honey
Brad Peeples-Olive Hill Nursery-Bedding plants-Hanging Baskets-Herbs