The skies were dark and gloomy, hinting at the threat of rain, but the mood of the Bensley community was like a blue sky....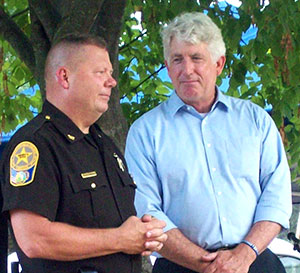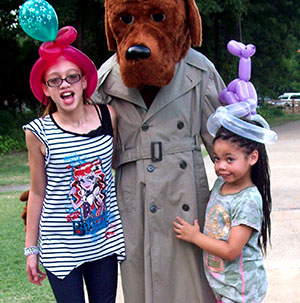 The skies were dark and gloomy, hinting at the threat of rain, but the mood of the Bensley community was like a blue sky. It was the 32nd annual National Night Out celebration and hundreds of members of the Bensley community turned out for the Aug. 4 event.
Several special guests attended, including Attorney General Mark Herring and Chesterfield County Sheriff Karl Leonard.
"It's great to be here," Attorney General Mark Herring said, "and what could be more fun than this, hanging out with neighbors and law enforcement."
Herring then thanked everyone who took the time to attend the event.
"We're here together to work for a common cause, to keep our communities safe," Sheriff Leonard said. "It's great to see the attorney general here from the state level, we have state police, Chesterfield police, fire and deputies, all working for a common cause."
Leonard said that Bensley Night Out events, "has always been one of the strongest events we have every year and that the community is credited for that."
Leonard also encouraged the community to stick together, and work together and then the area will stay safe and fun for everyone for years to come.
Police officials said that neighbors annually celebrate the fight against crime by hosting and attending neighborhood block parties that bring residents, communities and police together.
National Night Out and Neighborhood Watch programs play significant roles in county communities, officials said. National Night Out heightens crime and drug-prevention awareness, develops and strengthens partnerships between police and residents, and generates support for anti-crime programs such as Neighborhood Watch, Business Watch and Crime Solvers.
A big part of National Night Out is giving children an opportunity to meet and form friendships with police officers and to offer crime prevention safety tips.
McGruff the crime dog was a big hit as he wandered throughout the crowd greeting youngsters.
No small undertaking, the county had 120 registered block parties for National Night Out this year.
Children bounced and slid on the inflatable slide and bounce house, shook McGruff's hand, sipped on free cold drinks and had the opportunity to get safety information, and most importantly to meet police officers.
Attorney General Mark Herring praised the event, "As Attorney General, I represent everybody in the state. It reminds me we are truly a commonwealth, and what that means is, when it comes to safe and successful communities, we are all in this together." he said.