When Michael Birdsong takes the field for his first game as starting quarterback for Marshall University, there will probably be some jitters. When the...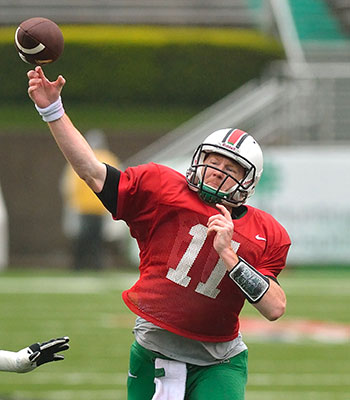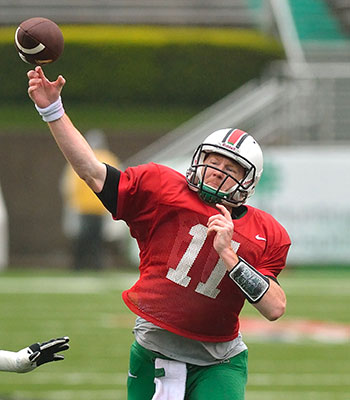 When Michael Birdsong takes the field for his first game as starting quarterback for Marshall University, there will probably be some jitters. When the crowd chants its famous chorus of "We Are Marshall," there's likely to be a shiver down his spine. On Sept. 6, it's go time for the Matoaca graduate.
"It's crazy here," said Birdsong, who transferred after playing the 2013 season at James Madison University. "Marshall is probably half the size of JMU but football is the heartbeat of this town."
Marshall has traditionally had a strong football program, but was marked by tragedy in 1970 when an airplane carrying 75 players, coaches, boosters and flight crew members crashed. While no one survived, a memorial was built in 2000, and a film entitled "We Are Marshall" was released in 2006 documenting the event.
"The town was devastated by the plane crash," said Birdsong, who is a study of Marshall's history. "That's part of the reason why I chose the school – football means so much to this town."
Moving up to a BCS school in Conference USA, the level of competition is a jump up from JMU and the Colonial Athletic Association. With the passion of the town of Huntington, come expectations. In 2014 Marshall had one of the most potent offenses in the nation.
"I might be a little nervous," Birdsong said. "But it will fade over the next few weeks – and after I take that first hit, it's all going to go away."
Birdsong's development has been two-fold. First, he's matured off the field, and secondly, he had a very talented and capable teacher in Rakeem Cato. The leader of the Thundering Herd gained 4,385 yards from scrimmage (3,903 passing) throwing for 40 touchdowns and running for eight more. Cato now plays in the Canadian Football League for the Montreal Alouettes after Marshall completed a 13-1 season, which culminated with winning the Conference USA Championship and defeating Northern Illinois 52-23 in the Boca Raton Bowl.
"It was the way he went about things," said Birdsong. "Watching him opened my eyes on a whole different way to go about playing quarterback."
With a focus sharper than ever before on film study and preparation, Birdsong is ready to lead a football team on the big stage. The quarterback credited offensive coordinator Bill Legg with making him pay more attention and focus on even smaller things than before – the details of the offense and the game.
"I've learned this offense on a level I've never learned an offense before," Birdsong said.
The Thundering Herd run a spread-style offense, and have a bevy of weapons at the "Ginger Giant's" disposal. While Birdsong is a big guy at 6-5, 248 pounds, his running back, Devon Johnson, who ran for 1767 yards last season is a mountain of a man himself at 6-1, 244 pounds. Not coincidentally, Birdsong said that he'd likely run the ball less than he did at JMU.
"Not much point in the quarterback running when you have a 250-pound running back," said Birdsong.
The former Warrior was welcomed into the football house at Marshall and has three more weeks to prepare with his teammates for the season and home-opener against Purdue. There's no doubt that Matoaca and Chesterfield will be watching and sharing the passion for Marshall football.