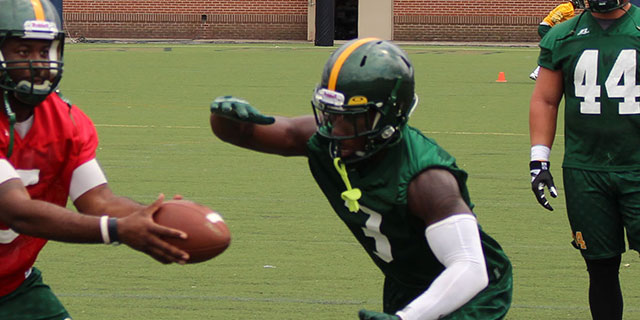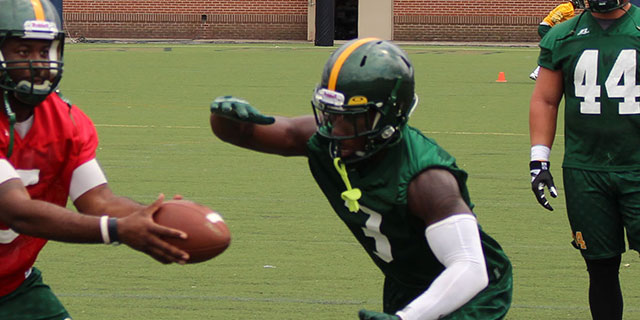 After transferring to Norfolk State from Old Dominion this past spring, Gerard Johnson was eager to get on the field and show what he...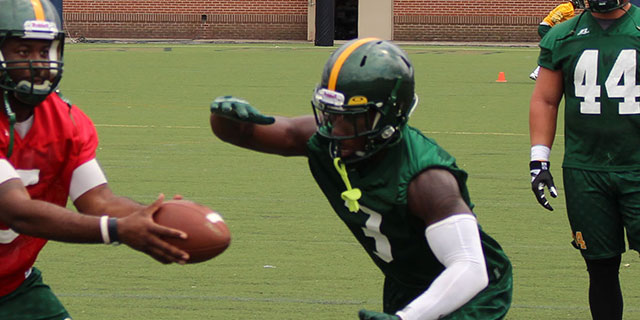 After transferring to Norfolk State from Old Dominion this past spring, Gerard Johnson was eager to get on the field and show what he could do. After a strong spring practice and game, former Virginia State head coach turned Spartans coach, Latrell Scott said that Johnson would be the team's starting running back this fall, and he would have a shot to be a team captain.
"He's a D-1 running back and we're going to give him the ball in anyway possible," Scott said. "He's capable of handling everything in our offense."
Johnson transferred to NSU after falling behind on ODU's depth chart last year around mid-season, despite a strong start. The Meadowbrook alum opened 2014 with a dominant performance against Hampton, running for 137 yards on 22 carries and a touchdown. Then turned 15 touches into 112 yards (seven pass receptions) the following week against North Carolina State. By comparison, the sophomore got only 14 touches the last five games of the season.
Appearing in 22 games, Johnson has amassed 865 rushing yards on 157 carries and caught 30 passes for 208 yards. The former Monarch has scored six touchdowns.
Upon being hired as head coach, Scott hired a whole new staff and installed a west coast offense, commonly used in the NFL at NSU, the offense he also ran at VSU. This means Johnson will get looks in the passing game out of the backfield.
Most importantly, Scott has been impressed with Johnson's leadership skills with his new teammates and said that Johnson could become a team captain – an honor decided by a team vote that will occur before the season starts – he's had that much of an impression on his teammates.
"He's a great player, a better person," Scott said. "He comes from a great family- plus, he's battle tested," continued Scott. "He's played games against the ACC, Conference USA and CAA, he works his tail off."
Johnson is solid and chiseled. One thing that may have limited his recruitment and grade of "two stars" was his size, while he was clearly Meadowbrook's best player, he wasn't always as well built.
"I recruited him when I was at JMU," Scott said. "He wasn't 5'11 (Johnson is 5'9), and he wasn't always 195 pounds, he's gone through a maturation process."
Scott hopes that Johnson can have a breakout season for a Norfolk State offense that sputtered last season, ranking 116 out of 121 FCS teams, averaging just 11.7 points per game.
There will be much local influence on the team in 2015, as Johnson isn't the only area player on the Spartans' roster- he's joined by Louis Humphrey (Thomas Dale), Jeff Lee, and Cornelius Tyler (Meadowbrook) as well as Brandon Walker and Jay Anderson (L.C. Bird).
Norfolk State opens its season at Rutgers September 5 at 12p.m. In week two, Johnson will play against his former teammates as the Spartans face Old Dominion.