School Entrance Age Children must be five years old on or before Sept. 30 of the school year to be eligible to attend kindergarten....
School Entrance Age
Children must be five years old on or before Sept. 30 of the school year to be eligible to attend kindergarten. There are no exceptions to this state requirement.
Daylong prekindergarten programs for at-risk four-year-olds are available at a few elementary schools. Also, there is a prekindergarten program for children with disabilities who must be two years old by Sept. 30 to enroll. Each year, Chesterfield County Public Schools conducts Child Find to locate children with disabilities who need special education services or Section 504 services. If you suspect your child may have a disability, contact the Office of Special Education at 639-8698 or your child's home school.
Foreign Exchange Student Procedure
New students should register during office hours at their home school. For school attendance zone information, use the find my school feature or call 318-8743.
To register for school, proof of county residency is required by providing one of these documents:
Lease for at least one year or deed of a residence in Chesterfield County
Contract or lease free of contingencies to occupy a Chesterfield residence within two months of the date of enrollment
Resident manager's letter on company letterhead stating that residence is a corporate residence in Chesterfield
Weekly receipts for temporary residence in a hotel or motel for up to 60 days (requires renewal or evidence of more permanent residency within 60 days of enrollment)
Parents submitting a "lives with" form when registering must bring the person they live with. That person must provide proof of county residency, and the parent of the incoming student must provide two supporting documents with their name and correct address.
In addition, a student enrolling in a Virginia public school for the first time must provide
Certified original birth certificate
Record of a physical examination (performed within the past 12 months)
Updated records listing dates of each state-required immunization.
It is helpful if transferring students provide a report card from their previous school and, if applicable, a copy of an Individualized Education Program. After registration is completed, the Chesterfield school will request a transfer of records from the previous school. For more information and to register your student visit:http://mychesterfieldschools.com/parents/preparing-for-school/student-registration/ To locate your school visit: http://mychesterfieldschools.com/parents/find-my-school/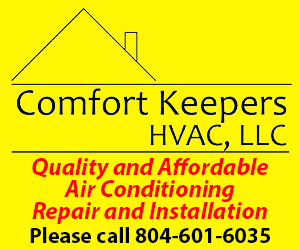 U.S. Rep. Abigail Spanberger came to town Friday, Oct....

Running each week through Oct. 30, the Village News...

A "brunch at Tiffany's" fall fashion show and champagne...

The Friends of Chesterfield County Public Library will host...

In the race for state Senate District 10, which...