After 29 years under the tutelage of coach Pat Manuel, the longtime coach retired, now, D.L. Johnson will take the reins of Matoaca's program....
After 29 years under the tutelage of coach Pat Manuel, the longtime coach retired, now, D.L. Johnson will take the reins of Matoaca's program. A former coach in Eastern Ohio, Johnson takes a disciplined approach to the game and plans to elevate his team's football IQ to help them execute on both sides of the ball. Matoaca struggled to get things going in 2014, finishing 4-6.
"Matoaca has had the talent," said Johnson. "We're developing the football know-how, the football IQ."
The change has been easier for the younger players than the older players who were used to the old system. Johnson is planning out slow, methodical growth for his entire roster.
"Our initial goal is to be one game better than last year," Johnson said. "We aren't going to talk the 'P-word' [playoffs] yet but I want to get these guys where they want to go."
Matoaca lost running backs Aaron Monts and Shedrick McCall (transferred) and tight end Jonathan Manuel graduated and is now at Randolph-Macon.
Johnson said that he has a dynamic staff and their approach is to teach the guys that football as a vessel to do other things in life, such as attending college.
Matoaca opens the season on Aug. 28 at home against the Manchester Lancers.
Quarterback: Junior Justin Ford has been promoted from JV and brings experience running the spread. Ford, who is also a baseball player, was applauded by Johnson for his touch when throwing the football and poise in the pocket.
Running Backs: With injuries riddling the Matoaca backfield around mid-season in 2014, Jamison Harrison was the phoenix that rose from the ashes, burning opponents with his speed and agility. When the situation calls for a change of pace, Cade Driskill is an effective run-between-the-tackles back.
Wide Receivers: Two athletes who standout in other sports will highlight the Warriors passing game. Anthony Warner, an All-State triple jumper flew under the radar last year with excellent speed and athleticism and will be counted on in 2015. Terrance Whitfield, a basketball standout, is a 6-4 wing with a great vertical, good hands and breakaway speed. Both could be dangerous in the passing game if they are able to get into space.
Offensive Line: Matoaca traditionally produces college lineman and this year's group is no exception. Two seniors in particular are drawing interest from BCS schools – Elijah Rivers (6-5, 290) has interest from Appalachian State and Delaware State while Rivers and Charles White (6-5, 280) both have interest from VMI and JMU. Both bookend tackles are considered raw but with great potential. Supporting the two big offensive anchors are two upperclassmen in senior Alex Henderson and junior Ben Hudson while sophomore Hunter Simmons will play center.
Defensive Line: With big man Anthony Helm out early in practice, the Matoaca defensive line will have to develop teamwork to get things done. Johnson expects Alvonte Jones and Matthew Shields to develop as play makers as the season progresses.
Linebackers: Perhaps the deepest part of the defensive brigade, Cade Driskill (6-0, 190), Tyler Voorhies (6-0, 200), Micah Cox-Riggin (6-2, 210) will lead the way as returning starters. Daniel Mays will provide a boost against the run and pass. Driskill, considered a leader on defense is one of two players that will play nearly every snap.
Defensive Backs: Jamison Harrison will play cornerback and be the team's top playmaker in the secondary as well. At the other corner, sophomore Jalen Dowe and Anthony Warner will split time. Undersized but tough, Zack Cunningham is expected to follow in the footsteps of Andrew Carroll and Sam Shook at safety. Freshman Xavier Addison will start at strong safety.
Special Teams: A rarity in high school, Matoaca has two bonafide college prospects at kicker and punter. Justin Dyke and John Gardiner were both All-State performers. "We have real special teams players because we have real special teams coaches," said Johnson. Billy Rudd and Jay Parker both kicked at Virginia State. "It really helps that we have the soccer coach on our staff, it brings us kids that help us immensely on the football field," said the first year head coach. One key to Matoaca's success is capitalizing on the field position given by the two standouts.
WHO TO WATCH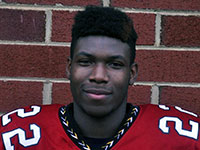 Jamison Harrison
5-9, 165
Junior
Running Back/Cornerback
Harrison burst onto the scene in 2014 after injuries hampered Matoaca's backs. With two crazy performances against Dinwiddie with 290 total yards (235 rushing) and three touchdowns, and another 184 yards against Hopewell as Matoaca rolled 73-13, he announced himself.
With the transfers of Aaron Monts to Richmond Christian and Shedrick McCall to L.C. Bird, Harrison is the team's top offensive weapon and must stay healthy in order to give Matoaca the best chance to succeed.
See Matoaca's season schedule at http://villagenewsonline.com/2015/08/19/varsity-football-2015-schedule/