Searching for their first winning season since their seven win 2011 campaign, Clover Hill will turn to a transfer quarterback Mikale Washington to lead...
Searching for their first winning season since their seven win 2011 campaign, Clover Hill will turn to a transfer quarterback Mikale Washington to lead a young team on the gridiron this fall. The Cavaliers finished 2014 with a mark of 3-7.
"We had our share of injuries, and young kids that were forced into varsity situations too early," said coach Sean O'Hare, in his 15th year at Clover Hill. "They could have used the time to develop on junior varsity."
The result are some players returning who have took their scrape and bumps, understanding what happened last year and looking to put it behind them. O'Hare points out that the returners matured physically in the offseason and have that game experience.
"The biggest thing is seeing these new kids play in a game," O'Hare said. "I'll be able to tell you a lot more about this team in two weeks."
Clover Hill graduated a trio of key contributors playing at the next level. Mike Davis, a member last year's offensive line is at Bridgewater College, while linebackers Sal Sidoti and Brad Sprouse are both at Hampden-Sydney.
This year's version of the Clover Hill Cavaliers open their season by playing host to Prince George on August 28.
Quarterback: A position where Clover Hill has struggled since Joel Caleb, three-star recruit Mikale Washington (6-3, 195), a California native and most recently of Detroit, Michigan moved to the area. Washington's holds two offers from Austin Peay and Coastal Carolina, but his interest has heated up since moving to the Commonwealth. The senior is a run-and-pass quarterback that possesses great athleticism and speed. The Clover Hill offense will run through him.
Running Backs: Sophomore Davod Wilkins transferred from Clover Hill to Hopewell. Described as a downhill runner, the 6-0 205 pound running back should will be complimentary to Washington. While the depth chart is unresolved, his potential back-ups on the roster are senior Jaysean Carter,  junior Tavaris Perry, sophomore Derek Apple and junior Henry Perez.
Wide Receivers: O'Hare said that six players are competing for time at the position. Reportedly, a pull up from junior varsity, sophomore DaShawn Devon, senior Jalen Smith and sophomore Kashead Fields have been getting the most first team reps at wideout in scrimmage and practices.
Offensive Line: The leader of this group is senior Aaron Jackson (6-1, 240) at tackle. Joshua Hunter (6-2, 200) is the other senior on the line. Both are solid performers. O'Hare said the Cavaliers plan to rotate several players in at the other positions, up to six, as there are many newcomers in this group.
Defensive Line: Two way players, Aaron Jackson and Joshua Hunter will play nose guard and defensive end respectively. Jashawn Carter is coming off an injury last year, but is expected to have a big year for Clover Hill. At 6-0, 180 pounds, Carter is used on the edges as a speed rush type of player.
Linebackers:  The Cavaliers have a strong unit here despite graduating two players to the next level in Sidoti and Sprouse. A trio of seniors in Jalen Smith, James Washington and Norfolk State baseball commit Stephen Baughan provide experience and toughness for Clover Hill's defense. Likely starting tailback Davod Wilkins will play significant time here as well. O'Hare said this group looked fine in recent scrimmages against Thomas Dale and Hanover
Defensive Backs: This group has an even blend of experience and youth to back it. Mikale Washington will lead the unit at corner. Senior Bryant Williams and sophomores Dashawn devon and Kashead Fields have been getting first team reps as well.
Special Teams: Senior Alex Sisco will handle the kicking duties while Minh Ngo will punt for the Cavaliers.
WHO TO WATCH: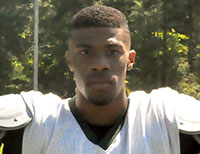 Mikale Washington
6-3 195 pounds
Senior
Quarterback/Cornerback
Washington projects as an impact player in college and should immediately step in as one of the most talented players that Clover Hill will field this season.
"He's come in and done a great job getting to know the guys and working hard," O'Hare said. "I'm glad he's here."
Washington was a standout at Martin Luther King high in Detroit and moved to the area recently. In recent months, his recruiting as ticked up as well with recent visits to Penn State's spring game and Virginia Tech, with local schools Richmond and Old Dominion also in on the athlete.
While he has just one year in the program, Clover Hill hopes it will be a game-changing one as they  move up to region 6A this season.
See Clover Hill's game schedule at http://villagenewsonline.com/2015/08/19/varsity-football-2015-schedule/