Using a tough as nails defense and working through inconsistency on offense, the Cosby Titans qualified for the 6A South playoffs, defeating Forest Park...
Using a tough as nails defense and working through inconsistency on offense, the Cosby Titans qualified for the 6A South playoffs, defeating Forest Park in an overtime thriller 20-17 in the first round before falling to rival James River in the second round. Finishing 7-5, the Titans think that with an improved offense, 2015 will be a much improved year.
"We've really liked what we've seen in practice, the hard work," said Coach Pete Mutascio. "This team really believes that they'll be playing in Scott Stadium in December."
Cosby lost several key performers on defense, but had depth last year that will move into the voids. Defensive back Torin Prentice and linebacker Tyler Oxley are at Christopher Newport, Tylon Wilmot and Quentin Watkins are at Averett, while former linebacker/quarterback Logan Wolfe is at James Madison. Linebackers Nick Iannuzzi and Quincy Payne graduated. Offensively, along with Prentice and Wilmot, who saw time at running back, wide receiver Luke Roberts is now at Hampden-Sydney.
Mutascio said this year will be about being more consistent in the passing game.
"Everyone knows we're going to run the ball," Mutascio said. "We have skill kids outside and we have to be consistent in getting them the ball," he continued. "There's more than one way to skin a cat- you don't have to throw the ball 80 yards to score, you can throw it eight yards and let the receiver run it 72 yards to score."
Cosby opens their season on the road at Thomas Dale on Aug. 28.
Quarterbacks: Mutascio spoke with a confidence about his quarterback situation. The candidates for the starting job are senior Riley Doyle, junior Grant Squyars, and sophomore Patrick Way. Mutascio said that the plan isn't to use a quarterback by committee system, but riding a hot hand is a definite. Doyle seems to have the inside track to start, while Way will see time at running back and wideout as well.
Running Backs: Despite the losses of Prentice and Wilmot who toted the ball for Cosby last year, this is a deep unit. Junior Joe Hunt (6-1 200) played some tailback last year and was effective. A promotion from JV, Trevor Laury has had a good preseason. Caleb Grimes, a transfer to the area from North Carolina had a great scrimmage against Prince George and starting cornerback Antoine Brag (spelling) figures to get touches as well. Trey Vossler will see time at fullback.
Wide Receivers: Junior Hunter Edmonds appears to be the next player (behind Drew Birchmeier) to perhaps have true D-1 talent. "I can't tell you what it is," said Mutascio, "But he's got it." Edmonds runs a high 4.4 40-yard dash and sports great athleticism and speed. Birchmeier, who committed to Vanderbilt this summer, will see time at tight end. Carter West and Tyler Gizzard will play some wideout and New Jersey native Carlos Smith, another transfer to the area, has worked his way into the rotation in camp.
Offensive Line: Drew Birchmeier will lead an overall young group this season. Though recruited for his defensive line play, Mutascio said that he might be the best offensive lineman in the area. Larson Wolfe, the younger brother of Logan, will start at center. Taylor Griffin gets a starting nod while juniors Jaired Betterton and Will Smith and sophomore Tayeon Coleman will rotate in and play significant snaps. Mutascio applauded the group's communication this year.
Defensive Line: Anchoring the defensive line and his likely home when he heads to Vanderbilt next year is Drew Birchmeier. Will Smith and Taylor Griffin, likely starters, playing two ways on both the o-line and d-line. Birchmeier gives Cosby flexibility and will move around on the line at various spots as teams will likely game plan to run away from where he's lined up.
Linebackers:  Junior Larson Wolfe is the leader of the pack at linebacker. Junior Trey Vossler earned high marks from his coach for playing well in scrimmages thus far, citing "major improvements." Trey Shuford and Tayeon Coleman are both capable players. This group is full of underclassmen who got some playing time last year because of injuries, so though somewhat green, they've been around the block a couple times.
Defensive Backs: Like many defenses, the Titans' scheme features two rovers and two cornerbacks with a fair amount of rotation involved. Seeing time at rover will be Hunter Edmonds, Joe Hunt, Caleb Grimes, or Senior Peter Zuppa. All are hybrid type players that possess athleticism and play up like linebackers at times. Trevor Laury, Tyler Grizzard, Antoine Brags (spelling), and Brandon Miltenberger should see time at cornerback.
Special Teams: Hunter Edmonds, Trevor Laury, and Caleb Grimes will handle return duties. Senior Bryson Henry, last year's playoff hero, returns at kicker. Connor Heacock will punt.
WHO TO WATCH: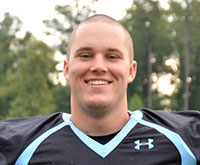 Andrew Birchmeier
Senior
Defensive Line/Offenslve Line/Tight End
Birchmeier is a formidable opponent on the block or on the books. He sports a 4.2 GPA and, before choosing Vanderbilt, had just about every school in the Ivy League interested in his services.
"He could have gone anywhere he wanted academically," said Mutascio. "Let alone for football."
The senior will be a large part of what Cosby does on both offense and defense, where he'll be a game changer on both lines, and a big target at tight end.
"He's got that nasty football player attitude and he doesn't like to lose, and it very rarely happens." Mutascio said.
Moving around on both lines, offenses will constantly have to be aware of his presence, and some game plans will focus on running the ball where he isn't, or at least out of his perceived range, to bring down the ball carrier.
Cosby has a game-changer in Birchmeier.