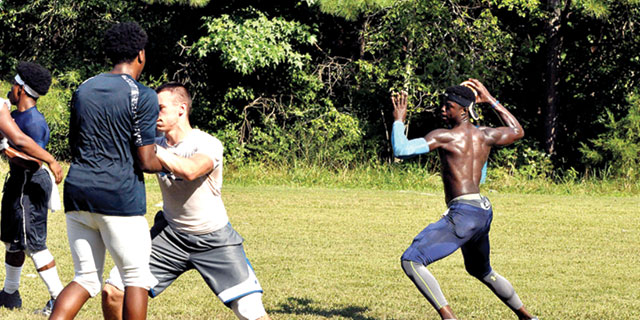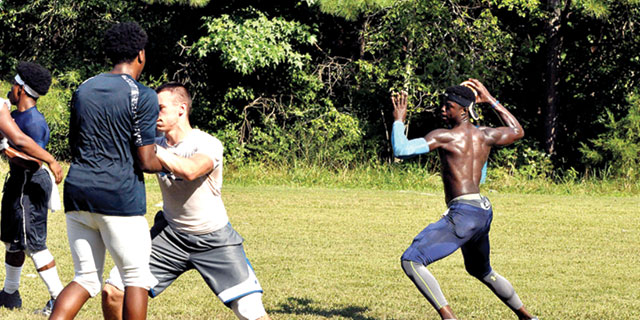 Another year, another state championship for L.C. Bird. The Skyhawks are loaded again and will look to be the first team since Phoebus to...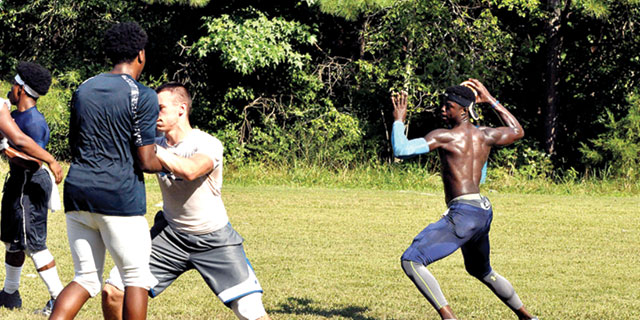 Another year, another state championship for L.C. Bird. The Skyhawks are loaded again and will look to be the first team since Phoebus to win four straight state titles. Coach David Bedwell won't let anyone get ahead of themselves yet, and sees a new set of challenges ahead.
"We haven't proven anything yet – 2015 is yet to be determined," Bedwell said. "We haven't played a game, we could go 0-10, that's how we approach it."
Bedwell called out that every team is different, and sometimes you're not as good or as bad as you think you might be. The Skyhawks peaked last year in the playoffs- where every team wants play at their optimum level.
"Last year's team maybe wasn't as talented as the first two," Bedwell said. "But they worked harder through the playoffs."
L.C. Bird's third state run had something the others did not – losses. The Skyhawk's 33 game win streak was snapped at the hands of 4A State Champion Lake Taylor, and L.C. Bird fell on a hail mary to Manchester in week 10.
"It's never good to lose, but at the same time we learned lot about ourselves and made adjustments after that," Bedwell said.
The Skyhawks graduated several key players – Andre Davis (Winston Salem State), Stephen Mines and Rayshard Jones (Virginia State), Tyler Wilkins (Richmond), Darnell Gore (Shaw), Devon Hill (Garden City Community College (KS)) and Daijaune Dorsey, who will likely attend junior college. Defensive tackle Devin Durham, who was an unsung hero in Bird's playoff run graduated as well. While there's a lot to replace, the Skyhawks have a lot of kids that have developed on junior varsity, which features an 'A' and 'B' squad so maximize field time for athletes.
The Skyhawks open the season Thursday at Meadowbrook, where they will take on an old rival in the Monarchs.
Quarterback: Jalen Elliott returns as a Notre Dame commit, but mostly importantly for the present, a year of experience under his belt. A leader, he knows where his players are supposed to be and is fiercely competitive. Elliott got a little bigger in the offseason in the weight room and has looked great so far in practice and scrimmages. "He's been here, he's done this," said Bedwell. "He doesn't have to ask questions anymore, he knows what to do."
Running Backs: This rendition of the L.C. Bird backfield is perhaps the deepest they've ever had. It will be led by senior J.B. Wright (5-4, 165), small but tough and very quick, he replaces Stephen Mines as starter. Transferring in from Meadowbrook is Troy Ross, who got significant playing time last year. Shedrick McCall moves to the district from Matoaca. The (6-2, 235) running back has drawn interest from major college programs such as UNC, Clemson and Marshall. Rayshard Ashby, known for his play at linebacker will play more full back this year, and Waymond Pate, who caught a game-changing pass in the state-title game last year returns as a swing player out of the backfield or in the slot as well.
Wide Receivers: A very experienced group, Kier Townsend and Kumonde Hines both return for the Skyhawks and could be poised for break out years. Both are fast, and Hines (6-3) provides length for lobbing the ball up over shorter defenders. Tomar Branch had his 2014 season cut short with a torn ACL but returns and Randy Gholson has had a solid camp. Bird has an excellent tight end option in DeMarco Scott who provides a big target. Scott holds three college offers from Norfolk, Morgan and Delaware State.
Offensive Line: While this unit is young age-wise, it still has a lot of experience as four players who started last year return. Gavin Brennan returns at left tackle, three-year starter Trey Ramsey is at left guard, Marshall Hicks is back at center, and Patrick Gibson is back at right guard. Either Jamal Tuppince or Cassius Whitfield will win the right tackle job, or could rotate.
Defensive Line: Chris Hayden (6-0, 235) returns as the leader of the line and had his best year on the gridiron last year. Quesean Armstrong (5-10, 240) will start at the other tackle. Travis McDaniel, who started games last year and Macaiah McGriff will be in the rotation along with primarily offensive players McCall and Scott.
Linebackers: Village News Defensive Player of the Year and junior Rayshard Ashby (6-0, 215) leads the way with an offer from Virginia Tech under his belt. Ashby's on field IQ and football instincts are uncanny. Isaiah Moore (6-2, 215) grew significantly in the offseason and forms an excellent tandem with Ashby. Like Elliott, Moore has a year of learning under his belt and should be ready to rock once the season begins. Manell Robinson and Cory Bright have impressed in camp and will get snaps, rounding out a deep group.
Defensive Backs: Elliott returns as a defensive leader playing safety. Johquin "Pinky" Wiley, L.C. Bird's point guard decided to play football and has used his impressive footwork to his advantage at cornerback."He fits in very well," said Bedwell. "He's tough, he's a leader and a pretty good football player." At the other corner, junior Bobby Bradley junior and Ross will compete for snaps. Versatile players, both Hines and Pate will rotate into this group.
Special Teams: Keaton Riley returns as the starter, but two other kickers came out for camp. Shane Alben, a soccer player has earned high marks from Bedwell for his toughness and skills on the field. While Riley is further along in his football development, Bedwell said that the competition will "keep him on his Ps and Qs."
WHO TO WATCH: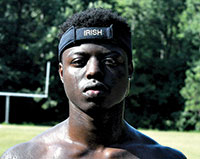 Jalen Elliott
6-1 181 pounds
Senior
Quarterback/Safety
Following in the footsteps of Ant Harris, Jalen Elliott is a fine two-way player for the Skyhawks. Just like Harris, he committed to a major college football program – Notre Dame. Harris went on to have a standout career at the University of Virginia and plays for the Minnesota Vikings. That part of Elliott's story isn't written yet – first, it's his senior season as L.C. Bird guns for its fourth consecutive state title.
Elliott is an ultra-talented athlete graded as a 78 by ESPN.com, making him a three-star recruit bordering on a fourth star. Of all the things that Elliott does well, his leadership is perhaps his biggest skill. With a year and a ring under his belt with L.C. Bird, he's the top dog on the field and knows the playbook to a tee and exactly where his teammates need to be lined up.
Armed with a cannon arm and a 3.8 GPA, it would appear Elliott is set to soar once more for the Skyhawks in 2015.