L.C. Bird 31, Meadowbrook 0 The three-time defending state champions dominated the Monarchs from the start in what was a rocky debut for first...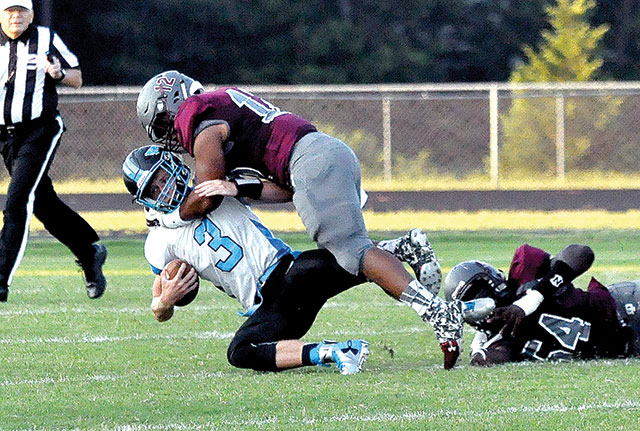 L.C. Bird 31, Meadowbrook 0
The three-time defending state champions dominated the Monarchs from the start in what was a rocky debut for first year head coach Adam Tiller.
L.C. Bird built a 25-0 lead by halftime, converting four Meadowbrook turnovers into four touchdowns, all scored by senior running back J.B. Wright. Wright, a 5–6 spark plug gained 189 yards on the ground while Matoaca transfer Shedrick McCall added 120 yards and a score in the second half.
The Skyhawks' defense was crushing – forcing five overall turnovers highlighted by an interception by Johquin "Pinky" Wiley and two fumble recoveries by junior linebacker Isaiah Moore. Defensive linemen Travis McDaniel and Tyrone Williams also jumped on loose balls.
The Monarchs, who have a difficult schedule to begin the year host Hermitage this Friday, while L.C. Bird travels to Thomas Dale for the Battle of Chester, a game they won on a last second hail mary from current quarterback Jalen Elliott to now-alum Daijaune Dorsey.
Thomas Dale 30, Cosby 17
After both teams endured a scoreless first quarter, the Cosby Titans drew first blood on a quarterback keeper from Riley Doyle. The Knights would reel off 23 unanswered points to take and keep the lead in their week zero victory.
Junior quarterback Matt Lawton made his first varsity start for the Knights. While struggling with his accuracy (6-15), he put together a rock-solid performance throwing for three touchdowns and 160 yards. Senior wideout Brian Bullock accounted for 110 of those yards through the air to go with two touchdowns, while running back Trent Williams caught the third TD pass.
Thomas Dale's defense played well. Senior linebacker Sam Stark, who was recently offered by Dayton University, led the way with 15 tackles and a sack and Max Oxendine totaled 12 tackles. J.C. Coy finished with 10 tackles and a sack, while Alonzie Carter registered seven tackles and an interception.
Thomas Dale (1-0) hosts L.C. Bird (1-0) for the Battle of Chester this Friday at 7 p.m., while Cosby (0-1) hosts Matoaca (0-1) for a 7:30 p.m. kick.
Manchester 58, Matoaca 36
Despite trailing just 19-15 at the half, Matoaca fell to the Lancers last Friday as they put up a scorching 39 points in the second half to pull away from the Warriors.
In a first half riddled with turnovers for both sides, Manchester took 12-0 lead. An interception by Jalen Dowe led to Matoaca's first touchdown, a pass from junior quarterback Justin Ford to senior wideout and track star Anthony Warner. The Lancers stretched the lead to 19-7, but Matoaca answered with Ford's second touchdown pass of the day, this time to running back Cade Driskill to close first half scoring.
Ford's varsity debut was a good one, as he racked up 248 yards passing and four touchdowns. Running back Jamison Harrison really turned things up in the second half, finishing with 279 yards from scrimmage and two touchdowns of his own.
Matoaca (0-1) will look to recover on the road against Cosby (0-1) at 7:30 p.m.