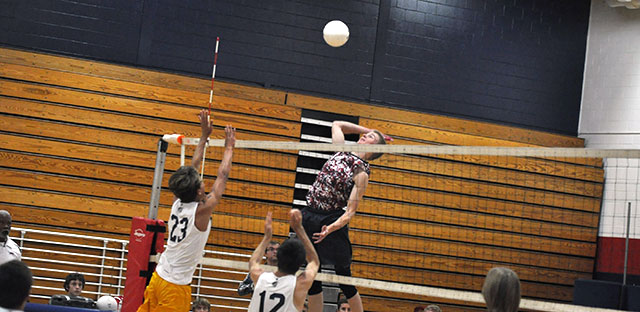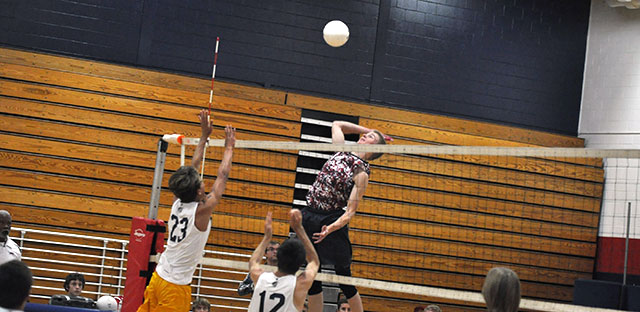 To be the best, you have to beat the best. Colonial Heights did that on Monday night, defeating top-ranked and defending state champion Midlothian 3-1. "We...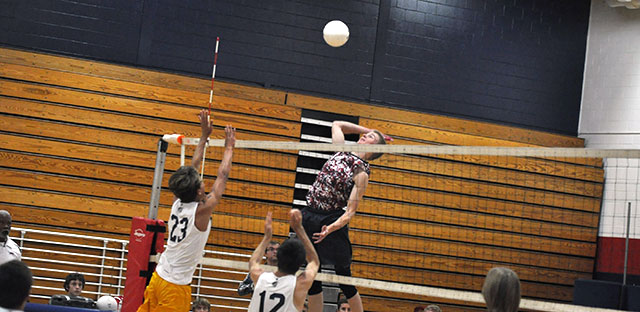 To be the best, you have to beat the best. Colonial Heights did that on Monday night, defeating top-ranked and defending state champion Midlothian 3-1.
"We know they are a good team," said Colonial Heights all-state hitter Noah Murdock. "We could have been scared starting the season with them, but we played them well."
However, this time, it was a case of the teacher beating the student but it has not always been that one-sided. Both sides have scored decisive victories.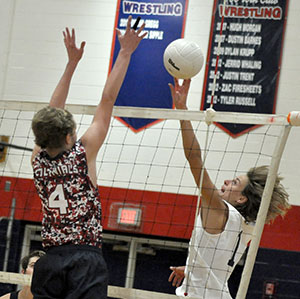 It all began 30 years ago when Colonial Heights coach Mark Lee and Midlothian coach Randy Cox were playing on opposite sides of the net playing volleyball in Prince George. Lee, in his own words "whipped" Cox on the court.
"I used to hate him," Cox said. "I wanted to punch him almost every week."
Lee's wife was forming a team at Richmond Volleyball Club back then and was looking for a good player. The Colonial Heights coach recommended Cox, and the rest is history. The two became friends while Cox eventually met his wife and many of his friends at RVC.
Despite not playing in high school, Cox grew to love the game and became a skilled player quickly.
"It didn't take long before Randy knew the game well, and he just as good, if not better than me," said Lee.
It appears Cox has taken those experiences and translated them into success as a coach. Cox is in his sixth year of coaching. In his four seasons as an assistant at James River, the Rapids won two state titles, and he brought home a ring in his first season as a head coach with Midlothian.
This year, Midlothian will have to deal with the loss of two experienced setters in Michael Ball and Mason Cox. However, two big swingers that return are seniors Nick Spichiger and Matthew Lewandowski. Also spiking the ball from those two setters was Maxwell Johnson, who was a formidable middle. He too, graduated.
"Two setters allows you to have three people always hitting the front row and it was a huge advantage," Spichiger said. "It prevents the blocker from camping out on one hitter all the time."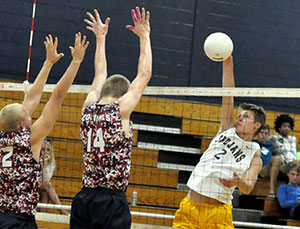 Tanner Foglesong will be the team's setter to start the season, while Cox expects big-time contributions from junior Matthew Hahn. For a program like Midlothian, it wasn't a matter of rebuilding but more importantly reloading.
Colonial Heights is hard pressed to be found on any sports radar but it should be now. Avenging a loss to Midlothian in the region semifinals last year, the Colonials have fully come out of the volleyball shadows.
"People don't know who we are," Lee said. "I can't blame them, outside of Thomas Dale and Matoaca, volleyball in the Central District hasn't been very good historically."
After last year's successes, Lee searched for the Colonials to play, to have them battle tested. They'll head to Midlothian for a rematch on Sept. 23 and will host Douglas Freeman on Sept. 24.
While Colonial Heights lost Blake Cox (Alderson-Broaddus), 3A State Player of the Year, it too, reloaded.
Covering the back row play for Colonial Heights are Dante Jennings and Blake's younger brother, Cameron. Replacing Blake Cox's offense is Stuart Crinkley, a spirited senior who improved his game vastly over the summer playing travel ball. The son of longtime girls' basketball coach Jim Crinkley, he's the team's spark plug and emotional leader.
"I love it, it just comes to me," Crinkley said. "If something good happens, whether it's me or a teammate does it, I get pumped. You have to love it and embrace it."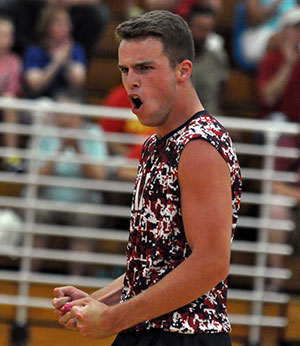 Though not everyone has heard of him yet, the 6-foot-8 Murdock is perhaps the best all-around athlete in the Central Region. Lee said that he could choose any school he wanted in the country to play volleyball, he's committed to pitch for the University of Virginia and he's a center for the up-and-coming Colonial Heights basketball team. Many athletes talk about going D-1. Murdock is capable of doing that in three different sports. After their meeting on Sept. 23, both team are aware that the next time they face each other, it could be deep in the postseason. The Colonials will attempt to take the throne from Midlothian this season.
"We know that we played them at their weakest point," Murdock said. "They are going to get better, but we are going to get better, too."
At the core of it all will be two longtime friends that started as rivals on a volleyball court down the road in Prince George. Familiarity did not breed contempt, in this case it bred camaraderie and respect.