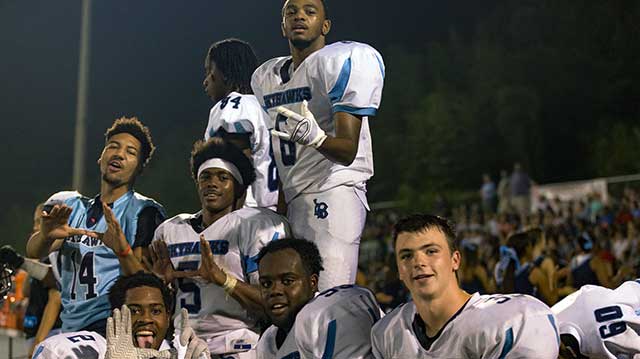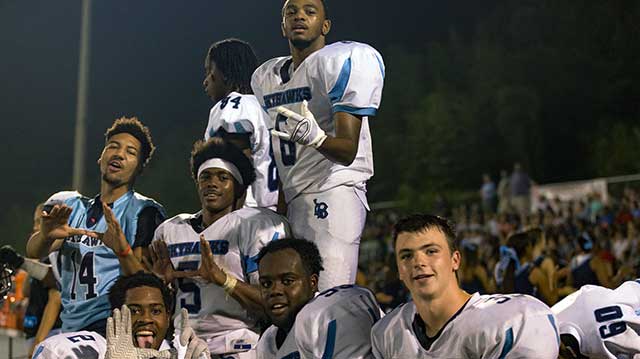 1. L.C. Bird (2-0) Defense wins championships. If it's any indicator so far, the Skyhawks are headed for that fourth straight state title. After...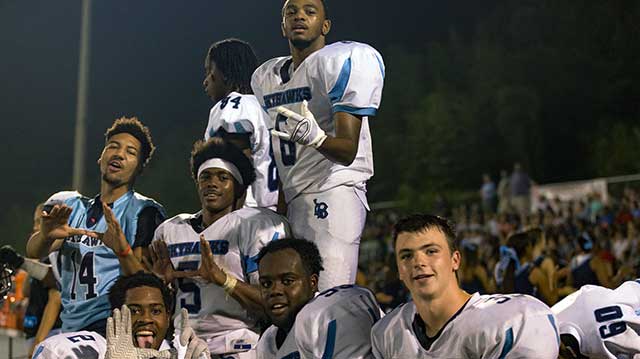 1. L.C. Bird (2-0)
Defense wins championships. If it's any indicator so far, the Skyhawks are headed for that fourth straight state title. After holding Meadowbrook to -12 total yards in week zero, L.C. Bird's defense outscored their offense in the Battle of Chester. Kumonde Hines and Chris Hayden returned fumbles for touchdowns and Jalen Elliott had a pick six as the Skyhawks cruised to improve to 2-0. Speedy running back J.B. Wright had his second consecutive week of rushing for nearly 200 yards and Shedrick McCall (6-3, 220) is an excellent change of pace back, averaging about 90 yards per game.
2. Monacan (2-0)
Senior running back Khaliek Hamlin has been a monster for the Chiefs this season rushing for 277 yards and six touchdowns. In week zero against Caroline, he also housed a kick return for a TD. Sophomore quarterback Syour Fludd is 18-25 passing for 261 yards and a touchdown, showing no signs of a sophomore slump. The defense has been there for the Chiefs as well, as they have outscored their opponents (Caroline and Glen Allen) by a count of 87-6. While their opponents haven't been the strongest, Monacan has put them away with authority.
3. Dinwiddie (1-1)
Losses are never a positive for any coach. But in terms bracketology, Friday's loss to Hanover wouldn't be a 'bad loss.'' Three 4A East teams figure to jockey for position to make a run at a state title (with Monacan being the third). Junior quarterback Bryce Witt was impressive, throwing for 301 yards and completing 20 of 31 passes. Recruit eye-candy K'Vaughan Pope and Tye Freeland, along with dependable seniors Dakarai Wilson and James Lyons headline the arsenal of weapons that the Generals have at hand. They'll look to rebound against a Caroline team that's gotten torched on defense the past two weeks.
4. Hopewell (1-0)
Not playing a game in week zero, the Blue Devils got an extra week of practice in and traveled to the 757, beating Tabb 49-20. As expected, Hopewell flashed a high octane offensive attack as wide out Victor Figueroa caught four passes for 192 yards and two touchdowns and quarterback Cameren Hill tallied 265 yards and three touchdowns, the other being a 70 yard reception by Greg Cuffey. Maurice Green led the Blue Devils defensively with 11 tackles and a sack, and Hopewell forced Tabb into two turnovers to cruise to victory. Surprisingly, Hopewell committed four of their own turnovers and still won in a convincing fashion.
5. Thomas Dale (1-1)
The Knights upended Cosby in week one 30-15, and fell to L.C. Bird in the Battle of Chester 35-7, but Thomas Dale's defensive performance was much better than the scoreboard suggested. The Skyhawks scored just two offensive touchdowns- both by J.B. Wright- one of those went 84 yards. Take away that big play and the Knights secondary held Jalen Elliott to an 0-8 night passing. The Skyhawks gained about half as many yards as they did against Meadowbrook in week zero. Head coach Kevin Tucker said that the offensive line gelling and improving will be the team's key to success as the season progresses and expects vast improvements in the team by midseason.
(Just outside, looking in: Manchester (1-0)
Other Team Records: Prince George 1-0, Petersburg 1-0, Colonial Heights 1-0, Matoaca 1-1, James River 0-1, Clover Hill 0-1, Cosby 0-2, Meadowbrook 0-2, Midlothian 0-2.