Birds of a feather flock together. That's exactly what the L.C. Bird Skyhawks are trying to do in 2015, build a nest atop of...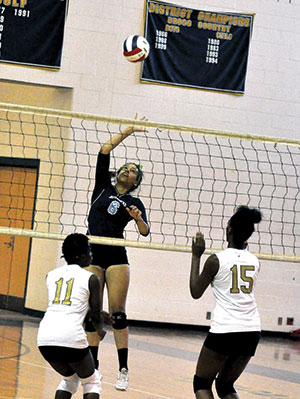 Birds of a feather flock together. That's exactly what the L.C. Bird Skyhawks are trying to do in 2015, build a nest atop of the Conference 12 standings. So far, so good as both the boys and girls have started their season 5-0 as of press time.
In recent years, L.C. Bird girls' volleyball has grown into one of the more successful programs in the area. This season they are looking for their third straight region appearance and are gunning for another Conference 12 championship after winning one in 2013.
"This year, I think we're better off in a different way," said first year head coach Caroline Brown. "This team meshes together really well – I don't see the same girls always hanging out, I always see different groups of the girls hanging out and spending time with each other."
This year's team has gotten surprise contributions from senior Jazzmine White who is serving as the Skyhawks' best attacker.
"Jazzmine has always been consistent, but now she's really making an impact," Brown said. "She's really filled in some gaps and has been essential to our early success."
Nautica Jones was huge in L.C. Bird's victory over Manchester last week, playing the best game of her career according to her coach with 12 kills, stepping up in the middle. Chantell Harrison has provided solid back row play and is developing as a setter. Hitter Kiara Bennett, known for track, has improved as well.
Bird is still led by a senior trio in Taylor McNeely, Heidi Grossnickle and Lache Harper. Though Harper has struggled early in her transition to the middle, she's still the unquestioned team leader.
In addition to her hustle on the court, McNeely is an important of part the team's chemistry building, often holding team events at her house. Grossnickle may be one of the more underrated setters in the area and continues to put in extra work every day outside of normal practice times.
For the boys, a victory over Monacan en route to their 5-0 start seems more impressive after the Chiefs placed fifth at the Richmond Volleyball Club showcase this past weekend. Coach Greg Knight inherited a young club- most of which who have played for him for the past three seasons.
The core of the team is outside hitters Stephan Piper and Chaz Holtzman, middles Dwayne Thurston and Jacob Carroll, libero Corbin Glunt, setter Andrew Bell and Christian Folmar. Last season, the Skyhawks had no seniors on their roster.
"We haven't grown physically as much but we've all gotten a lot smarter," Knight said. "We're a lot more aggressive in all aspects of the game."
Knight said that the team hasn't been as hesitant to perform certain actions on the court like in the past, developing a more assertive approach. A more hustling, scrappy style has earned them a reputation for being a team full of high effort players who leave everything on the floor.
"We're very proud of keeping the ball off the floor, but we have to do it," said Knight. "We know the fundamental approach and work very hard to take it."
Stephan Piper is the team's best all-around player. Piper can step in as setter, isn't afraid to hustle across the floor to dig a ball, and is the team's most powerful hitter with a big swing.
"He's got the biggest energy out of all of us," Knight said. "He gets down on himself on occasion but is quick to let it go and refocus on the task at hand."
Glunt was among the leaders in the Central Region in digs last year and is a hustle player. Another big swinger is Tyler Zawislak, who will need to provide steady offense and defense for the Skyhawks to reach their full potential.
Both the boys and girls face an important Conference 12 task on Thursday, as the boys host Matoaca, while the girls travel south to face the Warriors.