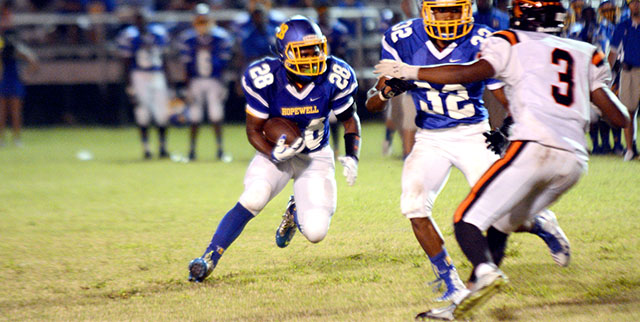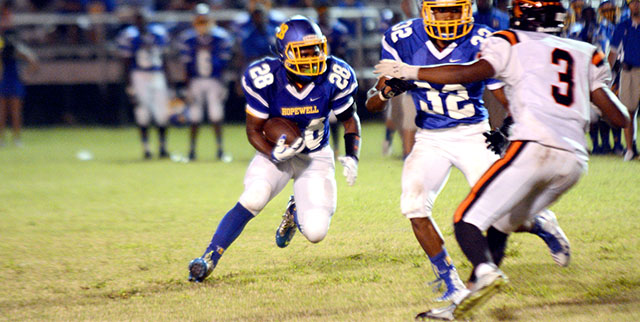 1. L.C. Bird (3-0) The Skyhawks rolled over Midlothian 67-0 to maintain the top spot in the Village News Sports Top 5 poll. A...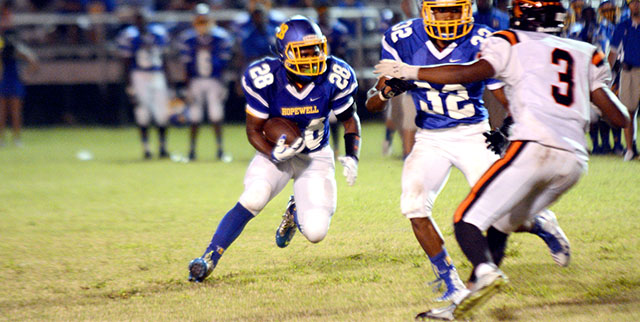 1. L.C. Bird (3-0)
The Skyhawks rolled over Midlothian 67-0 to maintain the top spot in the Village News Sports Top 5 poll. A good day on offense was had by all in the rout. Quarterback Jalen Elliott was 7-9 passing for 165 yards and two touchdowns, while J.B. Wright (131 yards, 2 TD) and Shedrick McCall (115 yards, 2 TD) both enjoyed 100-yard games against the Trojans (0-3). Flexing a strong defense, through the season's first three games, the Skyhawks have actually allowed negative rushing yards.
Next up: At Manchester (9-18)
2. Monacan (3-0)
Despite starting quarterback Syour Fludd falling in the second quarter with an ankle injury, the Chiefs jumped out to and maintained a lead over Cosby winning 15-10. Sophomore quarter Patrick Routsis managed the game well. Jim Henderson applauded both quarterbacks performance said even though they competed for playing time, they were like brothers on the field. The Chiefs, facing a more difficult defense in Cosby managed a touchdown run by running back/linebacker Tony Miller, who has played very well on both sides of the ball and a pass from Fludd to DeAndre Williams.
Next up: Home vs. Clover Hill (9-18)
3. Dinwiddie (1-1)
Billy Mills expressed disappointment in his team's rushing performance against Hanover in week one. The Generals responded with a 68-26 rout of Caroline and broke a school record, racking up 437 yards via the ground game. Back-up quarterback J.T. Tyree ran for 183 of those yards and three scores, while senior James Lyons enjoyed a 109 yard, two touchdown performance. Dinwiddie will rest this week during a bye, but must prepare for a good old Central District battle between two high octane offenses when the Hopewell Blue Devils come to town.
Up Next: Home vs. Hopewell (9-25)
4. Thomas Dale (2-1)
While the Knights' offense had a poor performance against L.C. Bird, it was the exact opposite when they traveled to 5A South playoff hopeful Varina. The Knights cruised, blowing out the Blue Devils in surprising fashion, 42-7. Thomas Dale got contributions from many players on offense including quarterback Matthew Lawton who tossed a touchdown pass to Mariel Jennings and Christian Faber. Max Oxendine channeled his uncle, Ken in the third quarter of the game, running for 103 yards and two touchdowns. Trent Williams and Devonte Russell also found the end zone. The Knights get the night off this Friday.
Up Next: At Colonial Heights (9-25)
5. Hopewell (2-0)
After playing a dominant, but at times sloppy game to dismantle Tabb in week one, the Blue Devils got the best of Powhatan, defeating them 37-14. In a battle of two teams that should make solid playoff runs, Hopewell forced some big turnovers and capitalized on those opportunities. Ronnie Monroe had a huge game on defense, intercepting two passes and returning one for a score. Monroe also hauled in a touchdown pass from Cameren Hill, who had been hospitalized earlier in the day. Hill finished with 239 yards and two scores while Ronnie Walker rushed for 125 yards and two scores. The Blue Devils have a big game against Hanover at home that should be a great litmus test.
Up Next: Home vs. Hanover (9-18)
(Just outside, looking in: Manchester (2-0)
Other Team Records: Petersburg 2-0, Matoaca 2-1, Prince George 1-1, Colonial Heights 1-1, James River 1-1, Clover Hill 0-2, Cosby 0-3, Meadowbrook 0-3, Midlothian 0-3.