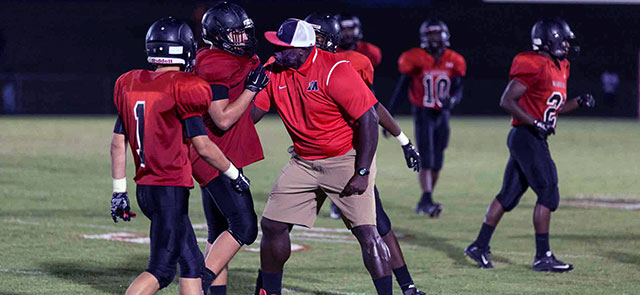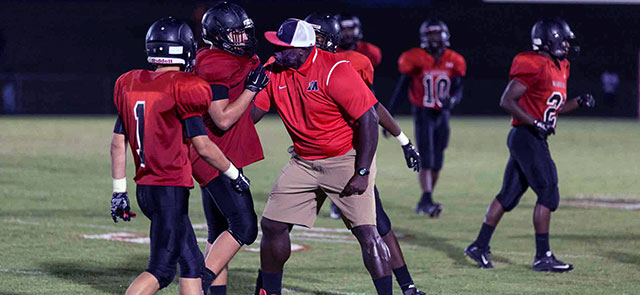 Matoaca coach Derrick "D.L." Johnson went to see the box-office hit "Straight Outta Compton" twice in its opening week. Johnson applauded the movie because...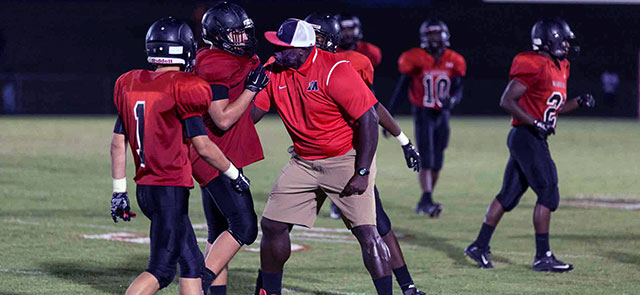 Matoaca coach Derrick "D.L." Johnson went to see the box-office hit "Straight Outta Compton" twice in its opening week. Johnson applauded the movie because its closeness to the real thing – Johnson grew up in the tough Los Angeles suburb.
Formerly an assistant coach at James River, Johnson took Matoaca's coaching job when Pat Manuel retired after 29 years. The new coach has brought a message of using sports as a vessel to get to where you want to go in life.
"I wasn't a rapper," said Johnson, who played offensive line at Long Beach high school. "That wasn't my way out, sports was."
The fourth of five brothers living in a two bedroom house in an area riddled by gang violence and drug related crime, Johnson's upbringing was a difficult one. The California native said he had more felons in his family than high school graduates. One brother is in jail for murder and another brother was recently released after a lengthy sentence for drug trafficking. As a teenager, he was forced to intermingle with both the Bloods and the Crips – as his mother, a Crip, married his stepfather, a Blood.
"I survived the streets, and hung with a tight knit group of friends and family," Johnson said.
The strong survive, but it wasn't without a close call. Johnson was able to escape danger in a most unexpected place.
At 16, Johnson was a pallbearer at his friend's funeral, who was killed in gang-related violence. As if the loss of a friend wasn't horrifying enough for the teenager, during the funeral gang members shot into the church with semi-automatic weapons. Everyone hit the floor. It was suspected that a Latin gang opened fire on the funeral because Johnson's friend dated a Latin woman before his death.
"My grandmother was a prayer warrior," said Johnson. "While the first time I was shot at was when I was seven, I escaped [Compton] without a physical scratch," he continued. "I felt like I had a halo over my head."
After graduating from Kent State University in Ohio, Johnson found himself in Virginia where he met Chuck Collins, the then Meadowbrook basketball coach. Collins went on to become the first basketball coach at James River and the James River's basketball court was named in honor of him. Johnson was on the Collins' staff and was encouraged by him to go back to school and finish his degree in special education, which he did at VCU in 1995. Johnson landed his first teaching job in Dinwiddie in 1997, when now Hermitage coach Patrick Kane was the coach, and Cosby coach Pete Mustacio was an assistant.
Johnson moved back to Ohio where he met his wife and had two daughters – Kendall and Makenzy – who make up a dynamic duo of outside hitter and setter for the James River girls volleyball team. A football coaching position in the town of Richmond Heights became available in 2006. It wasn't a sought after job as the Spartans had recently gone winless for five straight seasons, but Johnson took it.
Richmond Heights won its first game in nearly six years with Johnson at the helm, but a teacher's strike put strain on the students' education the following spring. Despite this, the players weathered the storm and the 2007 version of the Spartans finished 7-3. Johnson received coach of the year honors.
Now back in Virginia, the well-traveled Johnson family feels right at home.
"It's kind of come full circle," said Felicia Johnson, Derrick's wife. "For our daughters to play in the gym that has the namesake of the person who got Derrick into coaching is an honor."
After dropping the season opener to Manchester, the Warriors won two straight games. Matoaca defeated Cosby on a Hail Mary pass from Justin Ford to Terrence Whitfield and then dismantled Clover Hill 42-7 this past Friday. It seems the players are buying into their coach's concepts.
"Coach Johnson is a great coach," Whitfield said. "His philosophy has made us a better team, and his background as a lineman has given the offense room to make plays."
A playoff bid for Matoaca would be its first since 2006, but the coach is laying a strong foundation for the body of work that it takes to get there. It's not a situation that is uncommon to Johnson, overcoming the odds, which could create his own box-office smash in Chesterfield County.