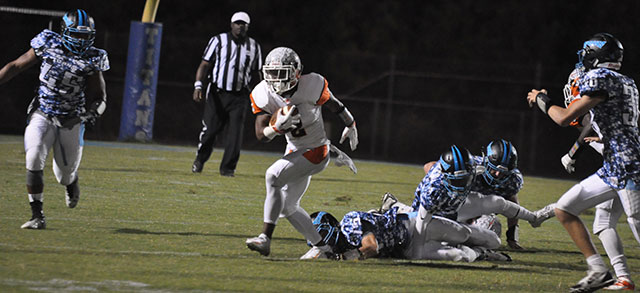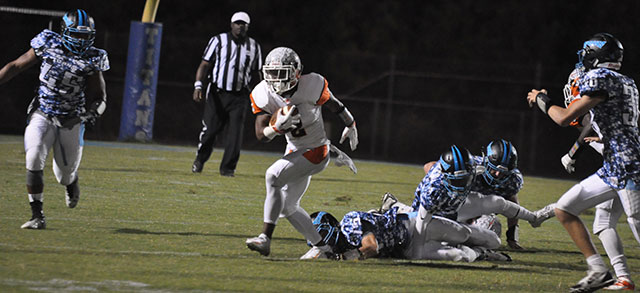 1. L.C. Bird (4-0) After a lackadaisical first half effort, the L.C. Bird Skyhawks woke up, scoring 28 points in the second half to...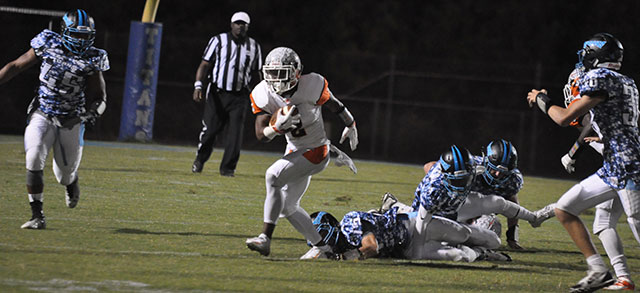 1. L.C. Bird (4-0)
After a lackadaisical first half effort, the L.C. Bird Skyhawks woke up, scoring 28 points in the second half to put away Manchester 35-0. The Lancers won on a hail mary last year in week 10 of the season. Though dominant on defense, pitching their third shoutout of the season and just allowing a single touchdown to Thomas Dale in the fourth quarter, the Skyhawks are not without a chink in their armor. At times, the offense has struggled to produce for periods of time. That simply wasn't the case of the second half, as J.B. Wright exploded again, finishing with 267 yards and two touchdowns. Quarterback Jalen Elliott totaled 144 yards and had three touchdowns, two of those tosses to Kier Townsend and Waymond Pate.
Next Week: L.C. Bird hosts Clover Hill, 7:30pm.
2. Monacan (4-0)
The Chiefs were without starting sophomore quarterback Syour Fludd  (sprained ankle,) so it was fellow sophomore and best friend Patrick Routsis at the helm for the Chiefs. While Clover Hill started off quickly with a pair of interceptions by Derek Apple, the first of which led to a 74 yard touchdown pass from Davod Wilkins to Jalen Smith, the Cavaliers faded. Running back Khaliek Hamlin, who was under the weather all week before last week's game against Cosby, came out swinging, running for 191 yards and three touchdowns. Defensively, it was another strong effort for Monacan as Juwan Addison made a few big plays in the backfield.
Next Week: Monacan hosts Huguenot, 7:30pm.
3. Dinwiddie (2-1)
The Generals were idle, but Billy Mills was dissatisfied with his team's rushing performance in the second game of the year against Hanover, so Caroline caught the brunt of the storm, giving up 473 yards on the ground. Dinwiddie's next opponent is Hopewell, who allowed Marcus Bazala to run for 217 yards. The Blue Devils will likely game-plan for a large dose of James Lyons and Dakarai Wilson. With a solid passing game led by Bryce Witt with premium targets in Tye Freeland and K'Vaughan Pope, this week's game vs. Hopewell could be a shootout, so lace up your running shoes.
Next Week: Dinwiddie hosts Hopewell, 7pm.
4. Thomas Dale (2-1)
The Knights, also idle this week are preparing for a Colonial Heights team that seems to be better than in recent years, especially with the addition of Darien Canada, a track athlete that's ran for 190 yards or better in the Colonials' wins over New Kent and Southampton. It's safe to say that Thomas Dale's defense is one of the best in the region, and the Knights figure to roll over the Colonials. Linebacker Sam Stark has been unstoppable this season, and Thomas Dale's secondary has been very effective against both the run and pass.
Next Week: Thomas Dale travels to Colonial Heights, 7pm.
5. Hopewell (2-1)
Ricky Irby talked about his team's success versus Tabb, but also laced with the the expectation that the turnovers couldn't occur in the future. Penalties and turnovers turned Friday's contest with Hanover into a slugfest, exactly the type of game the Hawks generally like to play. Despite the 24-19 loss, there were bright spots, such as the elusive Cameren Hill totalled over 200 yards Friday and Ronnie Monroe enjoyed another good game on both sides of the ball with another interception and a solid offensive performance.
Next Week: Hopewell travels to Dinwiddie, 7pm.
Other Notes:
Both Manchester and Matoaca boast two of the highest scoring offenses in the state. With adjustments, both could find themselves in the playoffs, with a chance to upset someone in the first round.
Prince George, Petersburg and Colonial Heights have played solidly, with the best win from the bunch being the Crimson Wave's victory on the road at Kettle Run. Otherwise, the teams have been the teams they were supposed to beat.
James River is 2-1, but at the expense of two of the softer opponents in the Central Region in Huguenot and George Wythe. Their offense much produce to catch up. Cosby is 1-3, but has shown more offensive capability and could easily be much better than 1-3 if a few small things get fixed. Don't forget the Titans just yet. Speaking of not forgetting, don't let Meadowbrook slip your mind. Last year, the Monarchs started 0-3 and almost knocked off Highland Springs in the first round of the playoffs. After all, they've played the toughest schedule in the state, hands down.
Clover Hill has caught some tough breaks, as transfer quarterback Mikale Washington has been hampered with injuries. Midlothian continues to play with spirit and has a solid coaching staff. Both teams should grab a couple victories this season.
Other team records:
Manchester 2-1, Matoaca 2-1, Prince George 2-1, Petersburg 2-1, Colonial Heights 2-1, James River 2-1, Cosby 1-3, Meadowbrook 0-3, Clover Hill 0-4, Midlothian 0-4.