Chemistry comes in different packages. As scientists mix chemicals together to create a reaction, athletes pour their blood, sweat and tears into a team...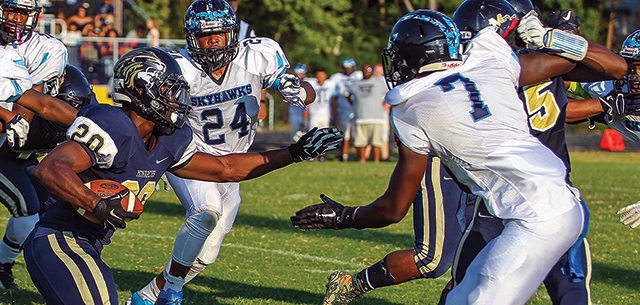 Chemistry comes in different packages. As scientists mix chemicals together to create a reaction, athletes pour their blood, sweat and tears into a team to create a winning formula that leads them to a state championship. Two area defenses hope to be up to the task this year at L.C. Bird and Thomas Dale, and both are led by solid linebacker corps that – you guessed it – have great chemistry.
L.C. BIRD
Isaiah Moore walked onto the field for tryouts last year. As a young linebacker, he already knew he'd be behind then rising sophomore sensation Rayshard Ashby on the depth chart. As far as odds go, sophomores are a long shot to make varsity in some cases, let alone start. Moore earned a starting position as a sophomore and capitalized on the opportunity.
"I didn't know him but I saw the potential," Ashby said. "We were in the same grade, played the same position and we got closer and closer, and then really close, now he's my best friend," said Ashby. "We try to stay out of trouble and keep our minds focused on the right things."
Right now, the right things are academics, and winning another championship ring. For Ashby, his third, and Moore, his second. Both Ashby and Moore are great students. Ashby's academic prowess indicated by the presence of two offers – one brand new. Virginia Tech already offered a scholarship and late last week, East Carolina came calling. For Moore, just one year of experience on varsity hasn't rendered offers yet, but growing a few inches in the offseason and showing great instincts is bound to speed up the process.
"He's improved a lot since sophomore year," said Ashby. "He stepped up really big for us, he's better in the system and better in pass coverage."
Moore is also better for playing next to Ashby, who has put up gaudy numbers since he stepped on the field at L.C. Bird. Driving those numbers are instincts and a nose for the ball far beyond his years.
"I've learned a lot from him, Moore said. "About the system, coaching and leadership," Moore continued. "He leads with action, not necessarily talk, he shows us what to do."
Coach David Bedwell likened the two players as hard hitters with great instincts.
"For Isaiah, playing with Rook [Ashby] has been big," Bedwell said. "Rook has been in the program since his freshman year, and they are good very good linebackers," he continued. "Rook has a little bit more experience; two of the best kids we've ever had at that spot."
Certainly two of the best since Deon Clarke, who is now a senior at Virginia Tech and is one of the leaders of the Hokies' defense.
Along with Kumonde Hines, a James Madison commit and Manell Robinson, who's had a breakout year in his own right, the unit is dangerous, and as a group should rival any linebacker unit in the state.
L.C. Bird's (6-0) team defense stats are ludicrous. To date, they are allowing just 53 yards of total offense per game. Opponents are converting a measly 11 percent of their third down conversions.
The Skyhawks have 24 sacks, eight interceptions, 13 recovered fumbles, 14 pass deflections and five defensive touchdowns. All of that has translated into allowing a single offensive touchdown.
The first team defense has not allowed a point in 2015.
STAT HIGHLIGHTS
Rayshard Ashby 56 tackles, 10 for loss, 5 sacks
Isaiah Moore 33 tackles, 5 for loss, 2 sacks, 2 int
Manell Robinson 33 tackles, 1 sack
Kumonde Hines 22 tackles, 4 for loss, 1 int, 2 defensive TDs
*Through 6 games
THOMAS DALE
Just six miles down the road stands another impressive defense though not as dominant, they have credentials to boast about as well. Thomas Dale's defensive backfield is both experienced and skilled, but the beginning of the second level is talented, headlined by linebackers Sam Stark, Max Oxendine and Traquan Booker.
Oxendine and Booker are cousins. Their uncle is former NFL running back Ken Oxendine. The two have been roaming the same gridiron since they were five years old, playing flag football. The two standouts are ultra-competitive and close. Booker met Stark about seven years ago, and the two have been playing together ever since, and have become the best of friends.
"We push each other to be better," Stark said. "We are bred from the same teaching so we are much alike in a lot of ways.
While Stark has star power as a bona fide Division I prospect, both Oxendine and Booker have come along at a bit of a slower speed, but are top notch players with plenty of upside. Booker, a senior, was thrust into a starting role last year when Darvin Taylor II was injured. A bit undersized for the defensive line, he played well. This fall, he earned a starting position at linebacker.
Oxendine made plays on defense as a sophomore, but as a junior plays both ways, and has taken the starting position at running back, rushing for 220 yards over the past two games.
"Max reminds me of D.J. Reid and Eric Finney," said Coach Kevin Tucker. "A mix of power and speed."
With Stark's instincts at the position and leadership on and off the field, he's served as a mentor to both Booker and Oxendine. At the same time, the three players round out a tough unit as peers, looking to resuscitate the old school Thomas Dale "Dark Zone" defense. So far, it seems to be alive and well.
At the halfway point of the season, both L.C. Bird and Thomas Dale (3-1) are out to prove that defense really does win championships. Stay tuned.
STAT HIGHLIGHTS
Sam Stark 45 tackles, 11 for loss, 6 sacks
Traquan Booker 39 tackles, 8 for loss, 5 sacks
Max Oxendine 19 tackles, 1 sack.
*Through 4 games