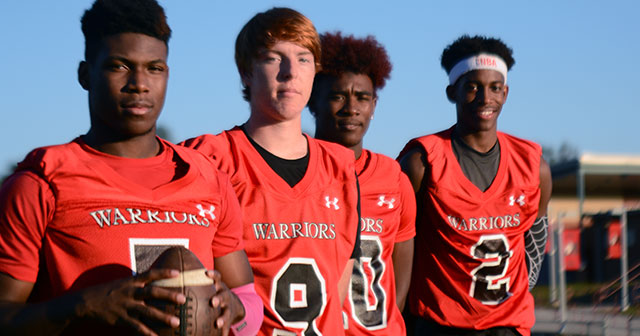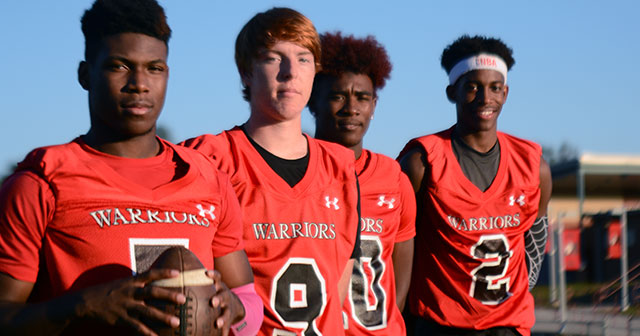 Smaller schools thrive off multi-sport athletes. In the past, Matoaca was a small school, a tiny one – not always the 5A school they...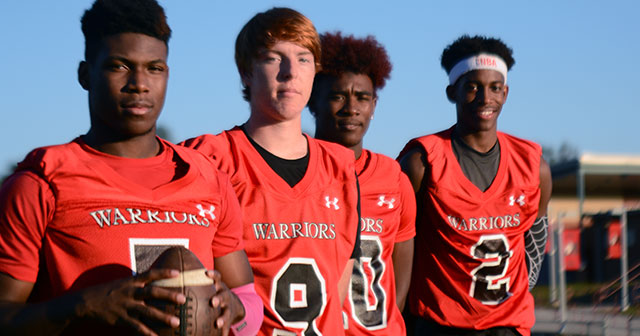 Smaller schools thrive off multi-sport athletes. In the past, Matoaca was a small school, a tiny one – not always the 5A school they are today. These athletes make up a significant part of the school's history and a change from the Wing-T to the spread has a few of these talented athletes on display.
"You're not going to find an area with too many more generational families in the county," Matoaca's football coach, Derrick L. Johnson said. "We still have homegrown Matoaca boys here."
Homegrown Matoaca boys that play multiple sports, or more uniquely, three skill players who would not list their primary sport as "football."
This year's 5-2 start is their best since 2006. That team, which included current assistant coach Jay Parker, finished the regular season undefeated and at 11-1 overall, falling to Deep Run in the playoffs. The bulk of the this year's offense comes from a baseball player (Justin Ford) an all-state triple jumper (Anthony Warner) and a division I basketball recruit (Terrence Whitfield). Jamison Harrison has played football his whole life.
"Starting in 7-on-7 we knew we had a clique," Harrison said. "We started hanging out, going out to eat and now we're friends, brothers, I'd die for those guys."
Harrison came to Matoaca for his freshman year and started off playing quarterback in the Pop Warner league. The senior grew quickly when he was young and was bigger than a lot of his peers. Later as his body developed, he slimmed down. He's been a running back ever since.
"He's got the best cuts I've seen," Ford said. "He's a great runner."
Ford is a baseball player by trade and played last year for coach Tim Haynes on a young Warriors varsity squad. The outfielder and occasional infielder was also the quarterback on junior varsity last year and has experience running the spread. The offense seems to be a good fit for Matoaca who has three excellent athletes that in space, are dominant at times. The junior has tossed 17 touchdowns thus far in 2015. Thirteen of those have been to Whitfield.
"When I throw it up, he goes up and gets it," said Ford.
This summer Whitfield went on an unofficial recruiting visit for basketball to Longwood, a member of the Big South conference. Last year, he was an excellent complimentary piece to combo guard Devin Morgan, who's now at Delaware State. Now, he's got football to consider.
"The fade routes Terrence runs are almost like grabbing a rebound or making a post move," Coach Johnson said. "A couple of the catches he made tonight (against Meadowbrook) looked almost like post moves."
For Whitfield, his footwork translates well from sport-to-sport and Johnson, who also played basketball and football in high school, pointed out that Whitfield will be more physical, and most importantly more comfortable being physical when it's time to drive the lane this winter.
In what was largely a rebuilding year for Charles Bailey and his track team, Warner's star was the brightest. Warner won the state championship in triple jump (43-5.25) during indoor season. The now-senior followed that performance up in outdoor nicely, qualifying for the 5A State Meet in the long, triple and high jumps. In the triple jump, Warner placed second, turning in an impressive 45-5 leap, a personal best. His athletic ability earned him all-state accolades.
"Anthony is just fast, and he's never tired," Harrison said. "He gets the ball and goes."
All of the aforementioned athletes were present last year, but were seldom heard about or talked about. Former head coach Pat Manuel ran a wing-T offense that showcased the run game. Now, the spread does exactly what it's intended to, spreading the field out, and spreading the ball around. People have taken notice of Matoaca's athletes on the gridiron.
After a five-game winning streak sandwiched between a season opening loss to Manchester and last Friday's loss to Meadowbrook, Matoaca is ready to refocus. Their remaining schedule includes a loaded Hopewell team, a tougher-than-usual Colonial Heights squad and a much-anticipated week-10 match-up with Thomas Dale.
"We'll work on things, we'll get it right in practice," Harrison said. "We'll be ready."
A playoff berth could be in the mix for Matoaca, but they'll have to fend off Meadowbrook and Varina in the 5A South region. Winning just one more game might not be enough to qualify. Matoaca will get to work this Friday, starting with Hopewell on the road at 7:30 p.m.