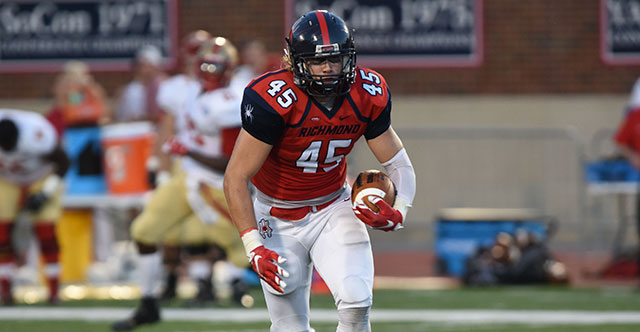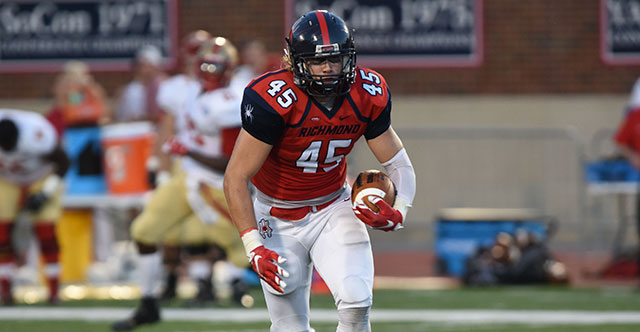 First Omar Howard and Madison Day were Trojans. Then they became Spiders. The two athletes journeys started on the same field and now their...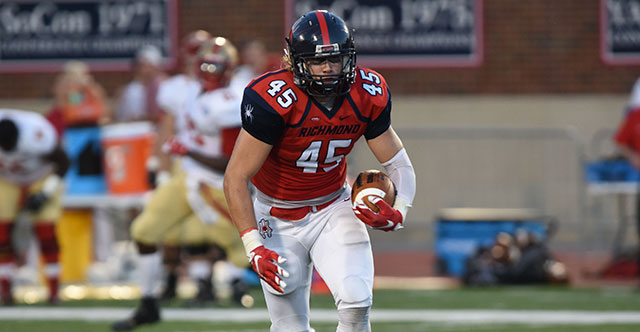 First Omar Howard and Madison Day were Trojans. Then they became Spiders.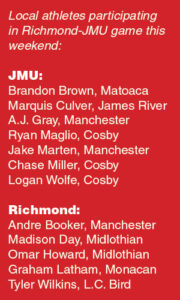 The two athletes journeys started on the same field and now their paths have crossed again. Now they are preparing for a giant game as Richmond takes on James Madison. This year's rendition should be an epic battle with all of the fixings. For starters, the game will be the sixth BCS game ever featured on ESPN's College Game Day. Coming into the contest, the Dukes are ranked #4 in the nation while the Spiders come in at #11.
"We won't see any of it, when we get there it will be gone," Howard said. "It's very cool and a lot of exposure, but someone didn't tell us about it, we'd never know."
Though Midlothian isn't traditionally known for its football prowess, both Howard and Day were program changers as they posted a 5-5 record in 2011 and a 6-4 record in 2012, their best two seasons in the past twenty years. The two, along with Taylor Stout at VMI are examples of the quality football players the program is capable of producing.
As a scrawny eighth grader, Howard was 5-9 and 120 pounds soaking wet. "O" went from finishing last in sprints to a team captain his senior season. Following the growth pattern of his wrestling counterpart and sibling, Mark, he developed later physically. After a successful junior season, Howard worked with a trainer. Pretty soon, Howard was 6-0, 205 pounds and ran a 4.5 40-yard dash.
"When we first saw him, it was painful to watch him run," said Midlothian coach Kevin Thomas. "He was so slow, he just moved in slow motion all the time."
Even though athletics are in Howard's genetics, it didn't come so easily. His brother, Mark wrestles for the U.S. Coast Guard, and his dad, Tyrone, played football at Oregon State. Thomas said that Howard is living proof that hard work pays off.
"He had to work for everything he's got," Thomas said. "His size, his strength, he's all about not quitting and not giving up, there's a reason why he's a captain for Richmond."
Filling in part-time at linebacker after sitting out most of last season learning the system, Day got a big opportunity against VMI when coincidentally, Howard needed stitches in-game. Getting the most playing time he's gotten, he tallied 11 tackles and intercepted a pass that was returned 25 yards for a touchdown.
"It was one of the best experiences in my sports career," Day said. "Everything came together- we got pressure on the quarterback, got a hit on him, the ball sailed and I caught it, my eyes were on the line and I scored."
Thomas text Day after the game to tell him that it was "Like Christmas for him." After all, Thomas was calling the defensive plays when Howard and Day manned the Midlothian defense. There's nothing finer for a coach than watching his players succeed- especially at the Division I level.
A three sport standout for the Trojans, Day actually out tackled Howard during his sophomore season, his first on varsity. The athletic Trojan also played lacrosse and basketball. Though Day was a talented linebacker, his path to the Richmond gridiron wasn't without adversity.
During a scrimmage in his senior year, Day injured his ankle. While he came back and had an excellent year on both sides of the ball, contributing at fullback and tight end, but his football recruiting was affected. Day went to Richmond initially to play lacrosse. During his freshman season, the Spiders won the Atlantic Sun conference championship, but he eventually got the itch to play football again.
"I missed it," Day said. "Several things translated over well from lacrosse- the hitting and the footwork. I'm trying to apply that footwork to covering people."
A victory this weekend would be a signature one for the Spiders, who are 5-1. Their lone loss came the first week of the season to Maryland, but since Richmond has uncharacteristically put up 37 points per game, their offense ranking 30th in the country.
James Madison (7-0) averages a lofty 613 yards per game of total offense, tops in FCS. They are averaging 333 rushing yards per game, most of which are accumulated by quarterback Vad Lee and running back Khalid Abdullah in a very fast-paced offense.
Big-time contributions from both Howard and Day, along with the entire Richmond defense will be needed.
Chesterfield County will have its eyes on the game this weekend not only for it's local appeal, but for its 12 native sons that will be going to war at Bridgeforth Stadium at 3:30p.m.
The Howard File
HT 6-0  WT 231
Junior (RS)
Middle Linebacker
Howard was first-team all-region honoree at linebacker for Midlothian, also playing tight end. As a senior in 2011, Omar tallied 70 tackles while catches 28 passes for 480 yards and five touchdowns. After redshirting in 2012, Howard saw time in each of the Spiders' 12 games in 2013, making 21 tackles. In 2014, he was named CAA Defensive Player of the Week for his 18 tackle performance against Villanova and finished second overall on the tram with 92 tackles. This year, Howard was named Third-Team Preseason All-CAA by College Sports Madness, and has played above that accolade, already with 57 tackles, a sack, two pass break-ups and a recovered fumble.
The Day File
HT 6-3  WT 210
Junior
Linebacker

Day was a three-year starter at middle linebacker for the Trojans, earning All-Dominion District All-Academic honors for those three years. Many of his accolades came from the lacrosse field, where he was named Impact Player of the Year in 2012, leading the team in caused turnovers and earning Brine All-American honors. During his freshman season at Richmond, he saw limited action, appearing in seven games and making one start. The multi-sport athlete attempted a short, caused a turnover and notched a ground ball in the 2013-14 season.