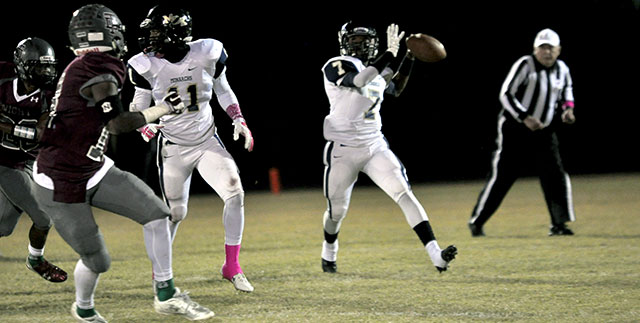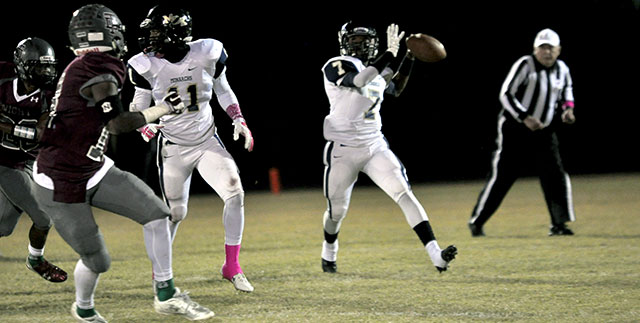 1. L.C. Bird (8-0) The Skyhawks rolled over George Wythe. There's not much to say other than that L.C. Bird will very likely be...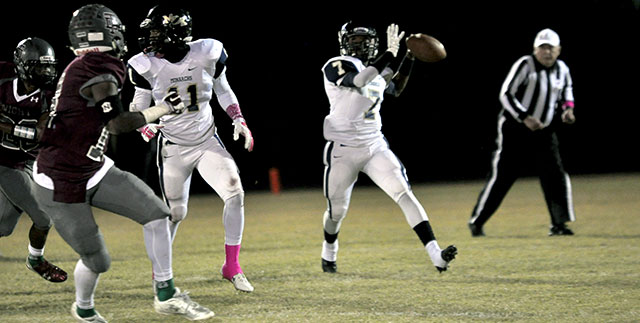 1. L.C. Bird (8-0)
The Skyhawks rolled over George Wythe. There's not much to say other than that L.C. Bird will very likely be the top seed in both this poll, and the 5A South region, meaning they will host their playoff games as long as they win up until the state semi-finals.
Running back J.B. Wright enjoyed another solid game with 126 yards and two touchdowns. The Skyhawks defense pitched it's sixth shutout of the season and the first team offense has only allowed one touchdown (Cosby).
L.C. Bird has Huguenot (1-8) and James River (3-5) left on the schedule and neither should present a great challenge for the Skyhawks as they look to roll into the playoffs with a 10-0 mark.
Up Next: Home vs. Huguenot, 7:30pm
2. Monacan (8-1)
Monacan's offense has gotten its groove back with Syour Fludd under center, and that's bad news for the opposition. This week, a date with Manchester highlights the week's football action.
It's senior night and the last game of the season before the Chiefs have their bye week while everyone else plays their last contest of the regular season. A victory over the Lancers could potentially push them as high as a two-seed, but Monacan is very likely to end up as the three seed in their half of the 4A East bracket.
Since returning from injury, Fludd has completed 69% of his passes (30-44) for 500 yards and six touchdowns, getting limited time over the last two games against George Wythe and Midlothian. His play is vital to Monacan's success and with the weapons he has in his arsenal, Monacan is dangerous.
Up Next: Home vs. Manchester at 7:30pm
3. Thomas Dale (6-2)
The only member of the top 5 poll to lose last week, Thomas Dale made several special teams mistakes to help Meadowbrook's cause. This week, things get more difficult with a tilt with Central District foe Hopewell.
Thomas Dale's defense still performed very well in the loss. One of Meadowbrook's touchdowns was a punt snapped over Plato Eliades head, while the other came on a field shortened by the Monarchs recovering an onside kick. MBK's first drive of the game looked impressive, though.
Quarterback Matt Lawton looked pretty sharp, chucking a pair of 30-yard touchdown passes to Brian Bullock and Mariel Jennings, but Thomas Dale was uncharacteristically unable to get the run going.
If the Knights minimize errors, they can play alongside Hopewell with an opposite style of play. After the Blue Devils, Thomas Dale gets rival Matoaca to end the season.
Up Next: Home vs. Hopewell at 7:00pm
4. Hopewell (6-2)
The Blue Devils flexed their muscles with a powerful 37-0 victory over Matoaca last Friday.
The effort was spearheaded by a three-headed monster at running back.  Three Hopewell athletes eclipsed the one hundred yard mark against the Warriors.  Sophomores Ronnie Walker and Notorious Smith rushed for 174 and 120 yards respectively and senior Anthony Crawford finished with 118 yards on the evening.
The defense of the Blue Devils slowed down one of the highest scoring offenses in the state and forced four turnovers to help their cause.  Hopewell intercepted two passes and recovered two fumbles in route to the blow-out win.
This week Hopewell has a much tougher defensive assignment in Thomas Dale.  If the Blue Devils continue to execute their offense at a high level, they could take a victory from the Knights on their home field.
Up Next: On the road vs. Thomas Dale at 7:00pm
5. Manchester (6-2)
The Lancers hop back into the top five on the strength of a head-to-head victory over Matoaca coupled with Hopewell's blowout win over the Warriors.
Kionte Hamlet has done a solid job replacing the injured Brendon Clark at quarterback. Junior running back Frank Boyd has filled in nicely for the injured Bryce Hall.  While Hall should return this week against Monacan, Boyd should remain a part of the rotation as he rushed for an astounding 244 yards on 11 carries on four touchdowns last week against Clover Hill.
Manchester's defense continues to be one of their strong points as this Friday's game with the Chiefs could turn into a slugfest quickly.  Though both teams are capable of putting up a lot of points, but defense has typically won out this season.
With a victory this week, the Lancers can secure a first round home game in the 6A South playoffs.
Up Next: On the road vs. Monacan at 7:30pm
Matoaca (5-3) drops out of the top 5 after losing two straight games. The Warriors offense was shut down for the first time all season, and mistakes aided the Blue Devils greatly. However, Matoaca is still in position to qualify for the postseason for the first time since 2006 and still has the artillery to score a lot of points in a short period of time.
Dinwiddie (5-3) beat up on Colonial Heights (3-5). The Generals have won two straight games in convincing fashion since falling to Matoaca two weeks ago. The Colonials are currently the #5 seed in their half of the 3A East playoff bracket, and figure to qualify.
Cosby (4-4) took care of James River (3-5), pitching a defensive shutout and using the run game to put the Rapids away. Joe Hunt and Trevor Laury continued to be one of the most consistent rushing combinations in the Central Region. The Rapids got a strong performance from Tarell Branch with 106 yards on the ground. The Titans hold the #8 spot int he 6A South playoff race.
Prince George (3-5) defeated Petersburg (2-6). The Royals are out of playoff contention in a jam-packed 5A South. The Crimson Wave currently hold the 6 seed in their half of the 3A East bracket. When the playoff format was 16 teams last year, Petersburg won two games. While their offense has struggled, they shouldn't be ruled out as a threat.
Clover Hill and Midlothian are 2-6 and 2-7 respectively and were dealt losses by Dominion District foes Manchester and Monacan. Both teams are out of playoff contention, but the Cavaliers have an interesting match-up with James River, one that if they can generate some offense, they may be able to take a victory at home.