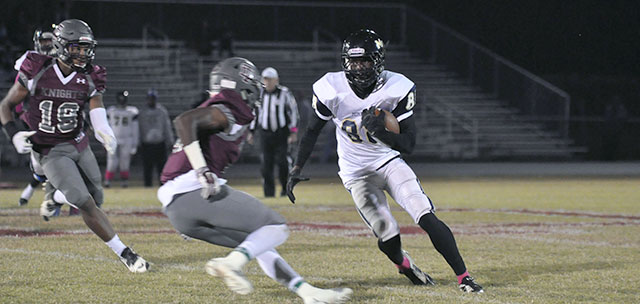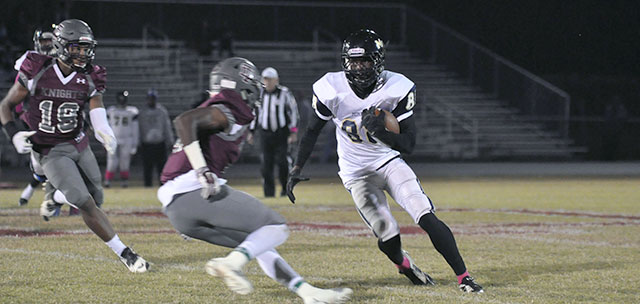 Meadowbrook 23, Thomas Dale 14 For the second straight week, Meadowbrook made the most of their opponent's mistakes. This week, five special teams gaffs...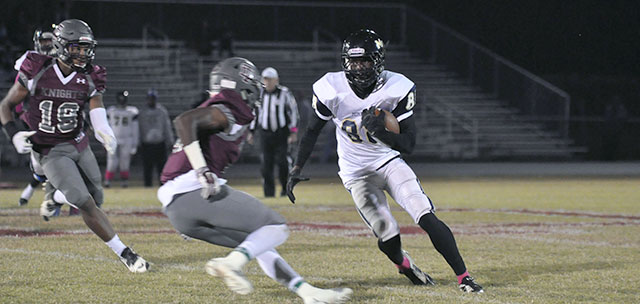 Meadowbrook 23, Thomas Dale 14
For the second straight week, Meadowbrook made the most of their opponent's mistakes. This week, five special teams gaffs aided in a 23-14 victory over Thomas Dale.
After jumping out to a 14-0 lead on the strength of a 53-yard touchdown pass from Michael Hodges to Jacquez Meadows and a recovered onside kick produced a one-yard run by running back Jordyn Hunter. The Knights fired back as junior quarterback Matthew Lawton completed a pair of 30 yard touchdown passes to Brian Bullock and Mariel Jennings, respectively.
The second half was relatively quiet for both teams, but Meadowbrook capitalized on a punt that sailed high on Plato Eliades. Monarchs cornerback Dontez Braxton jumped on the ball in the end zone to give Meadowbrook a 21-14 advantage. Adding a safety onto their lead on a second errant punt snap, it was Braxton who intercepted a pass to thwart the Knights' comeback attempt.
Meadowbrooks's Jace Miller finished the game with 71 yards on the ground. Michael Hodges passed for 88 yards and a score. The Monarchs' defense held Thomas Dale to just 32 yard rushing.
With the victory, Meadowbrook improved to 4-4 and solidified their 5A South playoff hopes. This week, they will host Prince George (3-5) for senior night before traveling to Dinwiddie for their last game of the season. Thomas Dale (6-2) will look to rebound against an excited Hopewell squad. Both games this week kick at 7 p.m.
L.C. Bird 61, George Wythe 0
The Skyhawks rolled over George Wythe to improve their record to 8-0.
After setting a school record with an 82-0 blowout of the Bulldogs last year, L.C. Bird posted another typically dominating performance against Wythe, who has struggled mightily in recent history.
Senior running back J.B. Wright finished with 126 yards and two touchdowns; Rakel Pope had 77 yards and a score. Quarterback Jalen Elliott tossed a touchdown pass to Kier Townsend.
Reserve defensive lineman Maciah McGriff enjoyed a career day with three quarterback sacks, a blocked punt and a defensive touchdown. Manell Robinson led the Skyhawks with six tackles while Rayshard Ashby added five tackles and a sack.
L.C. Bird is on a quest for an undefeated regular season and a run at a fourth straight state title. That run will continue next week at home against Huguenot at 7:30 p.m.
Hopewell 37, Matoaca 0
In what may have been the most surprising result across the Central Region, Matoaca fell to 5-3, losing their second straight game as Hopewell scored a blow out win.
The Blue Devils were able to exploit the Warriors defense in the ground game in a big way and three different running backs accounted for 100 or more yards rushing. Sophomores Ronnie Walker and Notorious Smith ran for 174 and 120 yards respectively, both scoring twice. Senior Anthony Crawford gained 118 yards.
"Hopewell is that good," said Matoaca coach D.L. Johnson. "They dominated us physically on offense and defense – if they do not make it to the 3A state championship game I will be surprised."
The Blue Devils defense was able to induce several errors from the Warriors in the form of four turnovers. Defensive back Ronnie Monroe, who's drawing interest from Virginia Union, intercepted two passes and, two fumbles were recovered by Crawford and Xavier Claiborne.
Matoaca (5-3) has dropped two straight games after a five-game winning streak. They will look to rebound playing host to Colonial Heights (3-5) this Friday at 7 p.m.