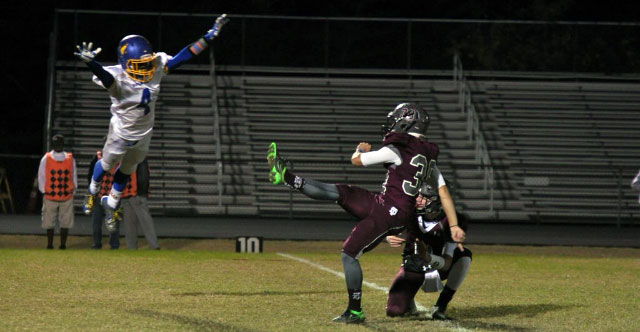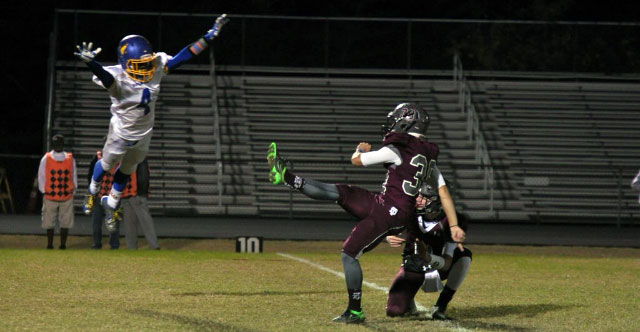 L.C. Bird 55, Huguenot 0 The Skyhawks rolled over the Huguenot Falcons again, 55-0. Huguenot has not scored on L.C. Bird since 2006, when...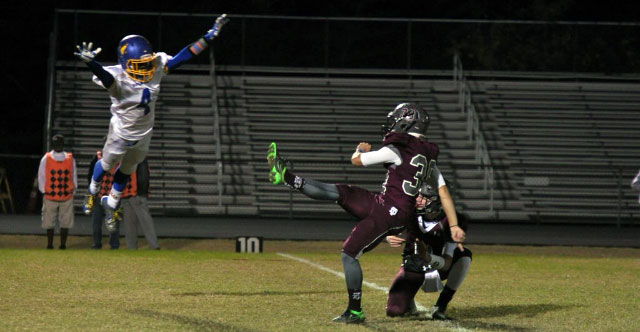 L.C. Bird 55, Huguenot 0
The Skyhawks rolled over the Huguenot Falcons again, 55-0. Huguenot has not scored on L.C. Bird since 2006, when they defeated the Skyhawks.
J.B. Wright rushed for 145 yards and three scores, while Shedrick McCall ran for 116 yards and two scores. Jalen Elliott was 9-12 passing for 134 yards and two touchdowns (one rushing). Kier Townsend was the recipient of Elliott's passing touchdown, and has hauled in a touchdown catch in five consecutive games.
Defensively, Rayshard Ashby led the way with six tackles, four tackles for a loss, a sack and fumble recovery. Manell Robinson and Maciah McGriff stood out with six and five tackles respectively in what was L.C. Bird's sixth defensive shut out of the season.
L.C. Bird hosts James River (4-5) for senior night this Friday at 7:30 p.m, where the Skyhawks will look to finish 10-0 for the sixth time in seven years.
Matoaca 59, Colonial Heights 20
The Matoaca Warriors rebounded nicely, blowing out the Colonials 59-20 to snap a two-game losing streak. More importantly, their victory clinches their first playoff berth since 2006. Also of importance, it gives Matoaca momentum heading into this Friday's match-up with rival Thomas Dale.
Matoaca wide reciever/defensive back Jalen Dowe had a career day against his former team. The sophomore scored four touchdowns- two on passes from quarterback Justin Ford while returning two interceptions for scores. Ford finished with 148 yards, completing 11 of 14 passing attempts. Both Terrence Whitfield (2-48) and Anthony Warner (2-97) hauled in touchdowns. Warner's touchdown was of the 80 yard-variety, but an oddity, as it came on a 3rd and 50 after two errant snaps pinned the Warriors back to their own 20.
Cade Driskill tallied 36 yards and a touchdown in the absence of spark plug Jamison Harrison, who is nursing a hand injury. It is unknown if Harrison will return for the Thomas Dale game at this time.
As mentioned, the big showdown with Thomas Dale is Friday at 7 p.m. at Matoaca. In recent years, this rivalry has an increased importance to both the players and student bodies. This time, it is for all-important playoff seeding. A win for Thomas Dale would ensure a home game in the first round of the 6A South tournament, while the Warriors would like to move up in the 5A South standings.
Meadowbrook 31, Prince George 8
The Meadowbrook Monarchs started this season 0-3. Six weeks later, they are 5-4 and their victory against Prince George basically assures them of a playoff berth as the eight seed in 5A South.
Jace Miller surpassed the 1,000 yard mark in this game as he finished with 174 yards and capped the game off with an exclamation point as he took off on a 59-yard run to extend Meadowbrook's lead late into the game. Michael Hodges was 8-13 passing for 110 yards and a touchdown to wide receiver Jordan Jeter.
Defensively, Jacquez Meadows returned an interception for a touchdown. Matthew Hodges totaled eight tackles and a fumble recovery, and Adonte Braxton chipped in with four tackles and a quarterback sack.
Meadowbrook travels south to Dinwiddie (6-3) in hopes of finishing their season on a high note. Game time is 7 p.m.
Hopewell 37, Thomas Dale 29
In what turned out to be more of a shootout than a slugfest, Thomas Dale fell to Hopewell, losing their second straight game.
Thomas Dale led early, as running back Max Oxendine scored on a four-yard run to give the Knights a 7-2 advantage. Hopewell came back, extending the lead to 16-7 on a pair of touchdown passes from Cameren Hill to Ronnie Monroe. The Knights answered back with a touchdown pass of their own from Matt Lawton to Mariel Jennings for a 21-yard strike. However, Hopewell was able to score again before the half as Hill eluded the Knights pass rush to hit Dewonyea Westry for a 22-yard touchdown to make it 23-14.
Thomas Dale went down 37-22 on a touchdown run by Hopewell's Ronnie Walker, but made things interesting as Lawton passed to Trent Williams for a touchdown, then hit tight-end Christian Faber to convert the two point try to make it 37-29. However, the Knights were not able to recover an onside kick that would have given them a chance to complete the comeback.
Lawton finished 11-29 passing for 261 yards, two touchdowns and an interception. Oxendine finished his evening with 42 yards and a touchdown. Wideout Brian Bullock enjoyed a four reception-145 yard night. Linebacker Sam Stark provided a good defensive performance with 10 tackles, two of those for a loss.
Thomas Dale faces off with Matoaca this Friday at 7 p.m. A win would ensure that they host at least one game in the 6A South playoffs.