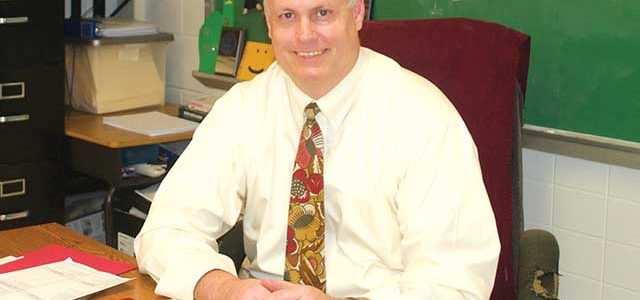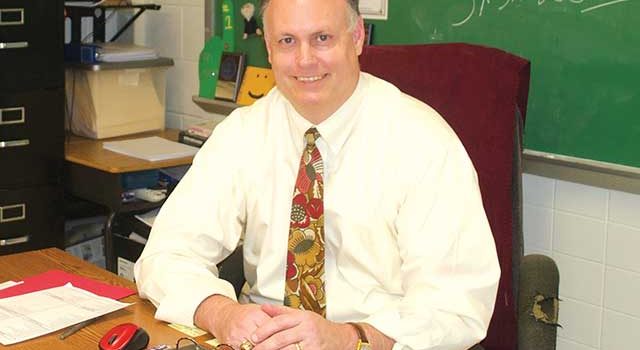 Thomas Dale High School's Teacher of the Year for the 2016-2017 school year has been announced and this year's recipient is Dave Duncan. Duncan...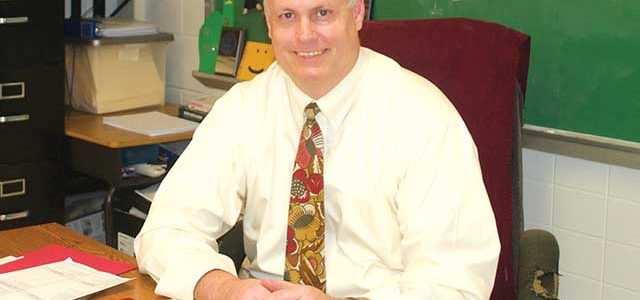 Thomas Dale High School's Teacher of the Year for the 2016-2017 school year has been announced and this year's recipient is Dave Duncan. Duncan has been in education for 25 years, and he has been a teacher at Thomas Dale for 21. Duncan, who is a Social Studies teacher and has primarily taught 11th grade AP US History, said he is humbled by the win.
"I don't know if I deserve it, to be honest with you. I look at all the people who teach here, who have taught here [and] once again, I'm humbled by the whole idea of it because it is a faculty voted thing and that means a lot," Duncan said. "My son goes t
o Thomas Dale, and I always reflect back on the teachers he's had that I've had a different experience with – and this is a big school, there's 130-plus teachers in this building, and some you really get to know and some you want to know and some you don't get a chance to know in the school year – [and] I definitely think through my son and all the teachers I've connected with, there's a lot of deserving teachers in this building, so [I'm] honored … and humbled by it at the same time."
Duncan said he became a teacher because he wanted to have a career that was geared toward helping people, and after leaving the military, he enrolled in college and gravitated toward history. In addition to US History, Duncan is a Success educator (a program for students who may need extra support toward being successful in school), and he teaches night school (US Government) at Carver College and Career Academy.
Duncan said he has evolved over the past five years and that becoming a Success teacher has aided in his transformation. He also said Project Based Learning (PBL) has helped with moving toward more unorthodox teaching methods.
"I like to think that I was always evolving into something better but five years ago I think is when it clicked, some dynamic took place [that] I can't pinpoint it but I have some colleagues here in the department, colleagues here in the building that [I] really started working closely with," Duncan said, "[and] becoming a Success teacher really changed a lot of things because it was no longer just subject matter and we've been engulfed in a testing world for a long time. They've got this new structure that they've put out there called PBL, project based learning … and [Richard Anthony, the Social Studies department head, and I have] started working together and trying to create these new ways that students can actually learn instead of the old, orthodox methods."
Duncan said he relates the lessons in social studies to real-life scenarios in order to get his students to reflect on their own life. He said he is trying to have a more hands-on approach to teaching, and he, along with Anthony, is currently writing the summer school PBL curriculum for history, which they plan on teaching together.
In his years at Thomas Dale, Duncan coached the JV basketball team, girls' volleyball and the golf team. He said being a coach allowed him to learn about his students in a different context and brought a different dynamic to teaching.
Duncan reads the names at graduation, and he said he takes a great deal of pride in doing so. Though he has been doing this for a decade, and has had two foster daughters graduate from Thomas Dale in the 90s, Duncan said it will be weird reading his son's name when he graduates this year.
"I'm proud of him … and that's gonna be a weird feeling [reading his name at graduation]," Duncan said. "I don't know what that's going to be like when that moment comes but I'm gonna rehearse it to beat the band, to get through that, and then we'll see where the next chapter in life takes us."
Duncan said he has developed good relationships with his students and that sometimes they return for visits after they have graduated. He said he likes seeing them later on in life and knowing that they take his lessons with them.
"It's neat when you see them when they're 30 with kids and you're thinking back when they used to sit in that chair right there and you laugh. And I really like to think that with a lot of the stories I tell in class, a lot of them will come back and say, 'Remember that story when you hid in the dryer when you were 6?' and then we tie it back to some sort of historical lesson," Duncan said. "They get a big kick out of that, and then they have a story that they can tell because they feel more comfortable with you, and I'd like to think they feel comfortable with me in this setting, but more so as adults [because] that's when you know you've reached them, when they take it with them wherever they go."
Although Duncan has been a teacher for 25 years, he said he has more years left in him and no plans of slowing down.
"I always say I have another 20 years, that's always the line," Duncan said. "I'll be 50 this year, I don't have another 20 years, I don't see me doing this at 70, but I do see me taking this to retirement somewhere between 65 and 67 … I'm having a blast; I'm not going to stop doing something that I'm having a blast with."