Johnny Wilson was a athletic star, succeeding in four sports and life over 90 years A bronze statue standing nine feet tall graces the...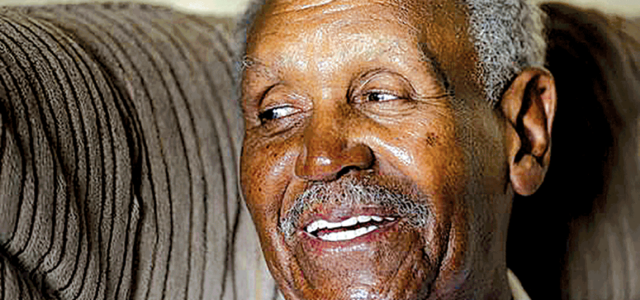 Johnny Wilson was a athletic star, succeeding in four sports and life over 90 years
A bronze statue standing nine feet tall graces the front of Anderson High School in Anderson, Ind. The residents of the central Indiana burg have waited over 70 years for their hero's life to be celebrated. Now their hero belongs to Chester.
Triple-sport athlete "Jumpin'" Johnny Wilson watched the unveiling of his likeness on May 30, 2016 as over 500 local residents responded with cheers. According to local newspaper reports, Wilson responded from the podium with his typical humility.
In 1927 Wilson was born into segregation. While growing up, he wouldn't have seen a whole lot of racism, in fact, he would find a friendship with Carl Erskine, a young white boy who would later play baseball for Brooklyn and the Los Angeles Dodgers. Wilson saw Erskine playing basketball in a vacant lot on his street. Erskine asked him to play and their friendship began.
Erskine and Wilson were best of friends. Erskine, who was inducted in the Indiana Baseball Hall of Fame, said during his address at the unveiling of Wilson's statue, "You can't imagine the emotion I have today. Can you imagine having a friend for 80 years?"
"We were different. We looked different. We came from a different kind of background, but we lived in the same neighborhood, and we shared the same table many times at both houses," Erskine said.
"We were two skinny kids from the West Side. We made every team, but we never made the honor roll. I can sum up my relationship with John this way: He was my brother without the blood."
Wilson values their friendship, and both are proud of one another's success.
They would listen to one another's games on the radio.
"I'll be 90 in July and Carl will be 90 in January," Wilson said. "I live a clean life, no smoking, no drinking."
Erskine went right to the top, but Wilson in his own way, through sweat and pure athleticism made it in his own way. In high school he earned the moniker of Jumpin' Johnny due to his being able to dunk the ball while being only 5 feet 11 inches tall.
Wilson, who spoke to the Village News on Friday, said, "I got the nickname Mr. Basketball after leading Anderson to the state title in 1946." He scored 30 of his team's 67 points in the championship game. He also shared the state championship in the high jump and he played football as well.
A major program like Indiana or Purdue would have benefitted from a player like Wilson, but black players weren't getting scholarship opportunities in those days. The following year, Bill Garrett would become the first black player to receive a Big Ten scholarship. He went to Anderson University that year and starred in basketball, baseball and track. He won 11 letters overall, and All-American honors in basketball, according to the Mark Montieth website.
Wilson went on to play pro baseball for one season in the Negro League and six years of basketball for the Globetrotters.
"When I tell people I played baseball with Carl, I tell them he was the greatest baseball player in the world. That's because he never gave up a hit."
"Jumpin" Johnny spent a stint in the army and played baseball there as well, in fact he received encouragement from his superiors with one attending his games.
When he completed his commitment to the Army, he returned to school, got his degree, but then began playing ball for the Harlem Globe Trotters.
He tells the story of how the Trotters would play at a venue to sell-out crowds but when they tried to find a hotel to stay in none would allow them a room. The same happened at restaurants.
His team would have to travel to the next town, maybe sleep on the bus or a compassionate person would fix a meal or give them lodging.
According to the New York Times, "As talented as Wilson was in basketball, his first love was baseball. He had a tryout with the St. Louis Cardinals, hitting two home runs, with four other hits, and recording the fastest time in sprints. When the attending Cardinals scout was asked what he thought of Wilson, he said, "Which one was Wilson?" He was the only black player.
Wilson eventually signed with the Chicago American Giants, a team in the Negro leagues, playing one season before returning to the Globetrotters."
The Globetrotters behind him, Wilson used his college degrees in history and athletics to both coach, assist and work as an Athletic Director over the last 50 years.
Wilson has had a winning season of life, a winning son John who is the Assistant Athletic Director at Virginia State University and two girls who make him proud.
"Jumpin" has enough stories from his bountiful life to fill the hearts of most of Virginia.