A mother and son duo best known for their ASSIST Student Athletes program that aids students with getting sports scholarships is opening a summer...
A mother and son duo best known for their ASSIST Student Athletes program that aids students with getting sports scholarships is opening a summer camp for kids ranging from ages six to 14. William Carter and his mother, Chana Carter, run and operate the ASSIST (Athlete Scholastic Support Initiative for Securing success Tomorrow) Foundation, a 501 (c)(3) non-profit organization that was founded in 2003 and has helped over 1,700 youths obtain scholarships.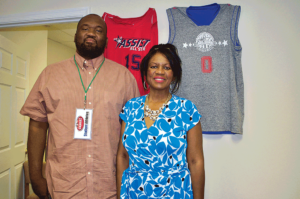 Camp ASSIST will have two locations – Chester (behind Elizabeth Scott Elementary School) and downtown Richmond – and it is designed to help campers develop and embrace positive self-esteem, courage, community accountability, and academic awareness. The camp will offer a Higher Learning program – which consists of advanced mathematics, creative arts and design, culinary art and cooking, earth science,and gardening – and campers will have their choice of two subjects and receive mentorships from specialists in their chosen field.
William Carter, who is the executive director and founder of the ASSIST Foundation, said he wants the camp to provide children with an enjoyable experience and that having a mentor for the campers will help take them to the next level.
"We felt there was a need for kids all over … to develop this [camp] to [give them] … an enjoyable experience on all aspects, academically and health wise," William Carter said. "We feel there is a need to [have] a mentorship … for these kids, a lot of [them] develop anxiety, peer pressure, [and they] just need a helping hand … they need that push … to help them at the next level."
The idea to start Camp ASSIST came from Chana Carter, who said her focus is to provide a safe and productive environment for children.
"My main thing for this camp, and really for this organization, me being a parent, I don't like to turn the TV on and hear about any child getting shot or any kid grabbing a gun at 5 years old. This program started in 2003, and I am proud to say that we have saved parents over $2 billion in scholarships," Chana Carter said. "My main target is to help the community be in a safer place [and] help the kids be in a productive environment. I'm not liking all of this violence and killing, and I know the police officers can't do all by themselves, so we use our 501 (c)(3) as a community vessel to partner with YEA (Youth Excel & Advancement), and they have donated five or six buildings, which we were just very gracious for."
The camp offers nine sessions, and it runs from June 26 to August 25. Two hundred children are expected for each session, but Chana Carter said there could be as many as 500. Chana Carter, president of the ASSIST Foundation, said children should be able to have a good time without fear of being bullied, and he stressed the importance of community involvement.
"I think it's very important that the community as a whole joins in because you might have people that say 'Look, I have a van that's just sitting in the backyard and we're not using it' or just like [YEA] donated the gym set, they donated four big tables, now we have tons of computers that were donated as well," Chana Carter said. "You'd be surprised. People have a lot of things that will help make this a success, and we're a non-profit organization and we certainly would appreciate whatever, but one thing we don't want [is] any child [to be] turned away… we just want every child to be filled with joy and go home and say 'Mom, look what we learned today.'"
William Carter said ASSIST plans on having guest speakers from the organization who went to college and are playing there, in the NBA and in the NFL to give the campers the mentor aspect that they need. He said campers don't have to be athletes and that the camp provides resources for whatever career path a camper may choose.
"[We're] just helping a lot of kids to give them an education aspect first, [and] you don't have to be an athlete. If you want to do something in art, be the best [artist] that you can be; if you want to be in music; we have people that own their own businesses, they're entrepreneurs and we have kids who are college coaches," William Carter said. "We have a couple of teachers in Chesterfield County that came through our program, who are going to be volunteering and helping us, so we have a lot of kids who came through the program that will help us develop Camp ASSIST as well."
For Chana Carter, she just wants the children to feel good about themselves and prevent them from being involved in a life or crime or seeing violence on television. She said it is the best feeling in the world to see their alumni leading successful lives.
"Nothing can describe it, this is what we live for, and it is the best feeling in the world … because if you look at the crime now and all over the world, we took a big chunk out of that crime, but we could've [taken] a bigger chunk, we just need people to help us," Chana Carter said. "We need everybody to come … together and say 'Okay, we're on board … we're gonna help you with this or we may volunteer, or we may send cases of water [and] all of that will help these kids have a lovely summer. [There] is nothing better in this life than to save a child and know that they're … successful."