The lights have dimmed in Victory Tabernacle Church, the audience is still; with the flags respectfully held, the Honor Guard walks down the aisle...
The lights have dimmed in Victory Tabernacle Church, the audience is still; with the flags respectfully held, the Honor Guard walks down the aisle and presents the colors for posting. The Chesterfield Fire and EMS annual award ceremony has begun.
Firefighters and EMS personnel each day face unknown challenges, and hazards associated with the work. It is a job that requires dedication, courage, and sometimes placing one's life on the line to perform a rescue. Behind the scenes, it means endless hours of training, learning new methods of firefighting or advances in medical care as they are made known.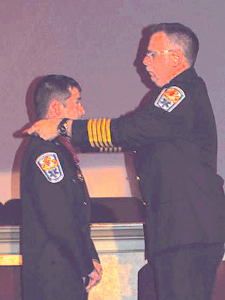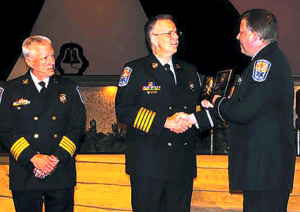 On the night of Oct. 10, fire and medical personnel, along with some county police officers were recognized by their peers for some of their heroic acts. The choices are not made lightly, as leaders must wade through the thousands of incidents handled by hundreds of responders.
Lt. Jason Elmore is a name familiar to many in the fire service and out in the community. Elmore was recognized as Career Officer of the Year. "I was really surprised by receiving this award and deeply honored," Elmore said. "I truly believe that Chesterfield Fire and EMS is one of the best organizations in the country and to be recognized as the officer of the year was overwhelming. As the PIO [Public Information Officer], I am blessed to get the opportunity to share with the public through social media, TV, print newspaper, etc. of all the great things the members of the department are doing every day. It is amazing to see how much our men and women are making a difference in the lives of the people they come in contact with throughout their shift."
Elmore knows firsthand what firefighters and medical personnel face, he is a not only a lieutenant who advanced in the ranks from firefighter to officer, but also a paramedic. In addition to Elmore's dedicated service to his department, he also serves the community as a minister.
"I began as a volunteer in Colonial Heights in 1993," Elmore explained. "I grew up wanting to be a police officer but couldn't do that until I turned 21, so I started volunteering as a firefighter. Once I did that, I knew the fire department was where I was going to stay."
More changes were coming into Elmore's life.
"It wasn't until around 2006 that I felt God call me into pastoral ministry," Elmore said. "God has paved the way throughout my life, and being a pastor was what God had in mind."
As media spokesperson, community programs coordinator, chaplain, member of the peer support team, minister, husband, and father, how does Elmore handle all those responsibilities? "Some may look at all those things and think responsibility," Elmore says, "I look at all of those things as things I love to do. I know
God will take care of the amount of time I need to be doing all of them."
In addition to Elmore's award, Wagstaff Volunteer Fire Department was named Volunteer Company of the year, Forest View Rescue Squad,Volunteer Rescue Squad of the Year; Joseph W. Mackereth, Career Firefighter of the Year; Todd C. Stoudt, Civilian Employee of the Year; and Brock Hoskins, Emergency Communications Officer of the Year. One Medal of Valor was presented to firefighter Terry Shaffer. Also awarded were 17 Lifesave Awards, 3 Unit Citations, 13 Unit Lifesave Awards, 8 Citizen Lifesave Awards, and one Certificate of Commendation.
It was a year that touched many lives, and that night and the very next day, crews would be busy again, doing their best to save lives and property. Not a group of strangers working a shift, but men and women who share a bond only they can understand.
Elmore said it well: "Our profession is a big family."