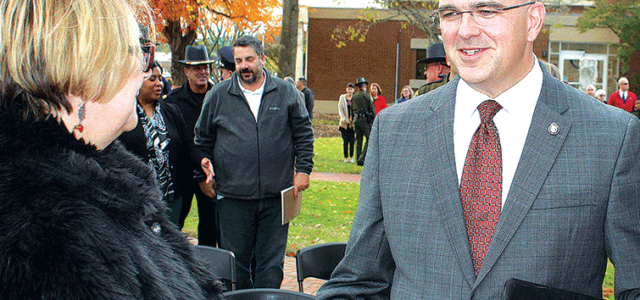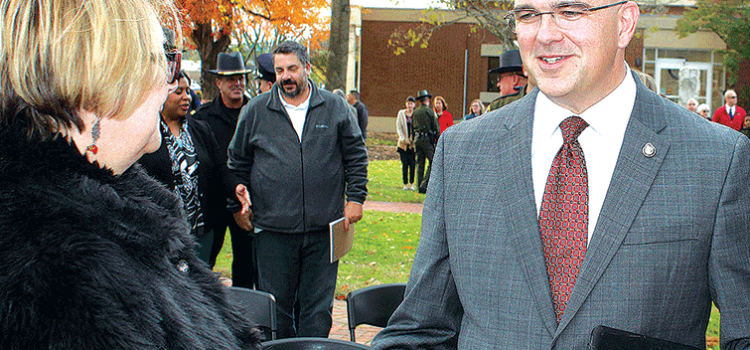 Chesterfield County introduced incoming police chief Jeffrey Kratz to the community. Surrounded by police in dress uniforms, area state police officers, the county board,...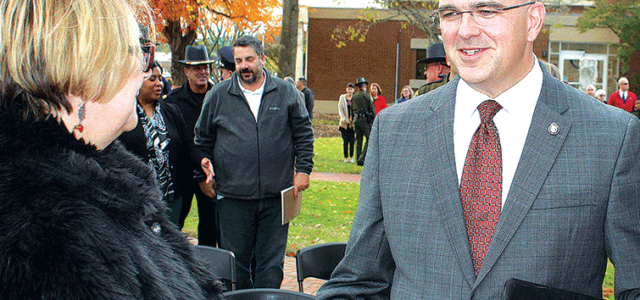 Chesterfield County introduced incoming police chief Jeffrey Kratz to the community. Surrounded by police in dress uniforms, area state police officers, the county board, county employee staff members, and the press, Kratz thanked recruitment and selection staff, the board, and the community at Tuesday's announcement.
"The opportunity to join and lead one of Virginia's premier law-enforcement agencies is an immense honor," Katz said. "I'm looking forward to working with members of the department, county leaders, citizens, and businesses to advance the interests of safety and wellness throughout our community."
The incoming police chief said he does not plan to come into the department and make sweeping changes. "I pride myself," he said, "on asking through questions." He added that the department has challenging and complex endeavors. "There are things about the Chesterfield County Police Department that make it a unique institution. Institutions have traditions, things that make them special. It is not an agency in crisis, so my approach will be to reflect my responsibilities with collaboration and respect and honor of that tradition," he said, directing his comments to his future department staffers attending the announcement. "I will advocate for you."
Katz is taking the reins of a department of more than 500 authorized sworn and over 100 civilian personnel that handles more than 200,000 calls for service yearly. The Chesterfield County Police Department is accredited by both the Virginia Law Enforcement Professional Standards Commission and the internationally recognized Commission on Accreditation for Law Enforcement Agencies.
The incoming chief said he will be meeting with command staff, riding with officers, and taking in some training exercises with his team.
Kratz is anxious to meet the community he serves. He said he will be holding public meetings and that he is not shy about giving out his cell phone number to the public.
To finalize he said his approach to his job is: "Mission first, people always." Katz's start date is Jan. 2, 2018.
A Florida native and 25-year veteran of law enforcement, Katz served as the Boynton Beach, Fla., Police Department's chief from 2013. He will be Chesterfield's eighth police chief since the department formed in 1914, filling the position of Col. Thierry Dupuis, who retired in September. He is a graduate of the FBI National Academy who holds a master's in business leadership and a bachelor's in criminal justice. In Boynton Beach, Katz is heralded for rebranding his department by addressing longstanding challenges and inspiring innovation and an engaged workforce that takes pride in serving the community. The Boynton Beach Police Department includes more than 200 personnel and handles more than 72,000 calls for service. Katz has served Boynton Beach as a patrol officer, recruiter, instructor, and supervisor of specialty units, including crime prevention, K9, and marine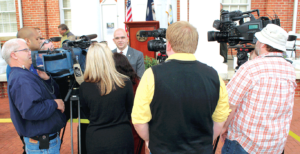 enforcement. He also has led internal affairs, training, media relations, recruiting, grant procurement, agency accreditation, promotional assessments, public-records fulfillment, and grievance coordination.
"On behalf of the Chesterfield County Board of Supervisors, I congratulate Chief Katz, who rose among a highly talented and diverse pool of candidates," said Board of Supervisors Chair Dorothy Jaeckle. "I also thank the members of the appointed Police Chief Recommendation Committee, who volunteered their time to bring forth several extremely capable candidates for final consideration. We look forward to working with Chief Katz to continue enhancing our police department's impeccable reputation and building even stronger relationships with the community."
"The community and police personnel played vital roles in helping Chesterfield determine who would be its next chief of police," said Joe Casey, county administrator. "Chief Katz demonstrated more than [not just] skill and talent, but also a spirit and determination that county leaders believe make him the right person for the job. I very much look forward to working with Chief Katz as we set a course to meet challenges and continue demonstrating the police department's vital role in maintaining and enhancing quality of life in Chesterfield. I also thank Lt. Col. Dan Kelly for his outstanding job as our interim chief since September."
In addition to staff and the members of the Police Chief Recommendation Committee, county leaders also thanked Col. W. Steven Flaherty of the Virginia State Police for his agency's diligent and expeditious handling of candidate background investigations during the recruitment process.
Katz attended the announcement with his wife Teresa by his side, and plans to return to Chesterfield in December to meet with county leaders, police department staff, and community representatives to prepare for his transition to his new role.
Portions of this article was taken from a press release put out by the county's department of communications and media.