Twenty years goes by like a flash of lightning that sends your dog jumping into your lap. Linda and I, who started the Village...
Twenty years goes by like a flash of lightning that sends your dog jumping into your lap. Linda and I, who started the Village News twenty years ago, have worked toward a deadline every week since August 20, 1998.
Linda and I have decided to retire. We will be passing the Village News down to our son, Elliott, who knows the business as much as Linda or me. Nothing will change for the reader; you can still expect the same great coverage of Chester's news and events.
Not every story has been a happy one but everyone has been uniquely gratifying for us. Whether it's telling the story of a woman turning 100-years old or a young man who is heroically fighting cancer; these are the types of stories that are bittersweet yet were important for us to write about. And for that we are extremely grateful. You, the entire community and all that includes have made doing our job extremely happy.
Getting to know our neighbors in the community has been really special not only community neighbors but those in county government and even those we have met at higher levels of government.
The Village News, which started as the Chester Village News but changed names in 2001, has been the Fausz family business from the beginning. All three of our children have contributed to the growth and success of the business. Marly, our eldest, worked in ad sales, Tyler worked in sales as well as circulation and delivery, and Elliott, our youngest, worked in every aspect of production for over 10 years.
After 20 years, there are thousands of people to thank. Whether they were on staff, contributing writers, columnist or photographers, they have all been dedicated to the success of the newspaper and all have become our friends. We want to give a special thanks to all of the advertisers that made this little newspaper a thriving success. Without them, there would be no Village News. Thank you to all the residence of Chester who have been loyal readers and became customers of our advertisers. We are forever grateful of your support.
There's always a time to start something new in your life and now is the time for us. We leave Village News in the hands of our son who loves the Village News and the community it serves.
As for Linda and me: one door closes, another opens.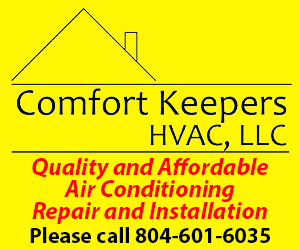 U.S. Rep. Abigail Spanberger came to town Friday, Oct....

Running each week through Oct. 30, the Village News...

A "brunch at Tiffany's" fall fashion show and champagne...

The Friends of Chesterfield County Public Library will host...

In the race for state Senate District 10, which...