A disagreement over the funding needed to review video footage from body cameras worn by police escalated to the state Legislature, with two...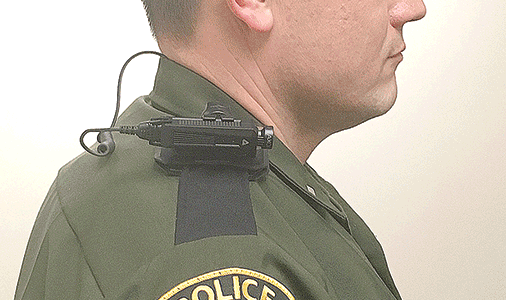 A disagreement over the funding needed to review video footage from body cameras worn by police escalated to the state Legislature, with two officials disagreeing over the likelihood of success for legislation that would mandate that Chesterfield and other counties specifically provide funding for such.
The conflict came to light with local Commonwealth's Attorney William Davenport's Feb. 20 letter to Chief General District Court Judge Pamela O'Berry in which he notified her and other county officials that his office would no longer prosecute misdemeanor crimes as of May 1. In a March 1 letter to county supervisor Dorothy Jaeckle, Davenport clarified that his office would still prosecute some misdemeanors, including DUIs, sexual assaults, animal cruelty and dangerous dog cases and sex offender registry violations.
Davenport said his office has not received funding to view body cameras following the county's purchase of them for Chesterfield Police last year. Senate Majority Leader Tommy Norment, R-James City, added an amendment to the state Senate's budget bill that would require localities to hire one entry-level assistant county attorney for every 50 body cameras worn by police. That proposal, which was not included in the House budget, would cost Chesterfield some $800,000 or so per year to cover review of body cameras worn by some 400 police officers. In addition, the state police notified Davenport on Feb. 28 that they will be instituting a pilot program for five of their officers to wear body cameras beginning April 1. Full implementation for all officers will ensue following the pilot program, according to Sgt. Jason L. Fisher.
When questioned last week about the Senate legislation, state Sen. Amanda Chase, R-Chesterfield, said the amendment was added at the behest of the Virginia Association of Commonwealth's Attorneys.
Chase said "it's highly likely" the budget amendment will be in the final budget because Norment is one of the conferees between the Senate and House.
However, Jaeckle said Friday that she doubts the language will be included in the final bill and said that House Speaker Kirk Cox was against it.
"I don't think it's going to go through," she said. "It's too much of a financial burden to impose on the counties without much notice. Whoever put that in there is not aware of the consequences. I think the other legislators are going to hear about it from their local jurisdictions."
As far as Davenport's decision to begin non-prosecution of most misdemeanors — which would leave it up to a police officer to prosecute in court — Jaeckle said she is hopeful it will not happen. "We are going to work out with him what a solution is," she said.
Jaeckle said she is hopeful the county will begin receiving additional funding from the state, noting that the state only funds 18½ of the 28 Commonwealth's Attorneys in Chesterfield. The state underfunds the salaries of Commonwealth's Attorneys in other localities and overfunds others, she said, while some get 100 percent. Although she could not explain why this is so, Jaeckle said the problem needs to be rectified by the state.
"Every year we've asked for our constitutional officers to be fully funded," she said, noting she is in her 11th year on the Board of Supervisors.
In his March 1 letter to Jaeckle, Davenport said one of the 28 attorney positions is grant-funded, but noted that the funding deficit of 8½ attorneys is the largest in the state.
Referring to a study by the state Compensation Board, Davenport said the county needs 27 attorneys just to prosecute felonies, which doesn't include misdemeanors and reviewing body cameras. He noted that Commonwealth's Attorneys in Norfolk and Virginia Beach do not prosecute misdemeanors. He also said that, according to the Compensation Board, Henrico County, Richmond, Norfolk and Virginia Beach have more attorneys than the Compensation Board says they need to prosecute felonies.
"The County made a mistake with the (way the body-worn cameras were implemented," he wrote in the March 1 letter. "Despite assurances, we received no more prosecutors. The ability of my office to handle misdemeanor cases depends on the Board (of Supervisors)," he said.
Davenport said that the non-prosecution of most misdemeanors will have consequences. "Cases will be lost. Convictions will be appealed. Overtime pay for police officers who will have to spend more time in court (after a 12-hour workday) could drastically increase, perhaps significantly offsetting the money the county 'saves' by not funding my office appropriately," he said.
Davenport concluded his letter by saying the board of supervisors does not trust him.
"I've enjoyed the trust of the previous Boards I have worked with during my 30 years in office," he said. "I consider myself the county's subject matter expert on what it takes to run a Commonwealth's Attorney's office. But despite the conversations we've had, the data we've provided, the need we've shown, the Board always defaults to this: 'We need more data.'"
Jaeckle said the county's new police chief, Jeffery Katz, has experience with body cameras at a previous job in Florida, and he will work with the Commonwealth's Attorney's Office to determine which police officers should be wearing body cameras.
On Monday, Gov. Ralph Northam said he would call the Legislature into a special session to deal with the budget in the near future as the Senate and Assembly were not able to come to an agreement during the regular session.