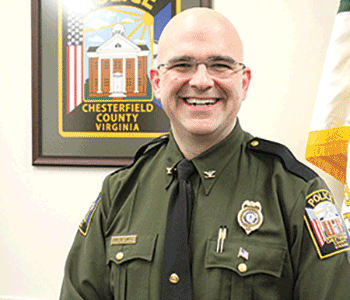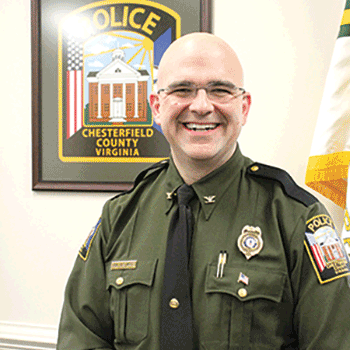 A neighbor provided some of the impetus for Chesterfield's new police chief to choose law enforcement as a career field. Jeffery Katz, who started...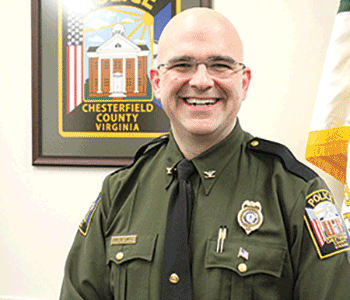 A neighbor provided some of the impetus for Chesterfield's new police chief to choose law enforcement as a career field.
Jeffery Katz, who started Jan. 2, recalled how one of his childhood mentors who lived next door influenced his life. The man, who was an undercover agent with the federal Drug Enforcement Agency, taught Katz how to cut grass and build things out of wood.
That neighbor, who has since retired to Chesterfield County, was part of a group of law enforcement officers who mentored Katz.
"Sometimes I kid that I was raised by a pack of cops," Katz said Friday, adding that his uncle and neighbor stepped up after his parents divorced when he was young.
Katz was influenced by his uncle and grandfather, who were also police officers, and he got involved in a police cadet program at age 17.
"It became a passion to me mostly because I saw really good people who gave themselves to a kid," he said.
Katz, 45, hopes to use some of that passion to influence others in Chesterfield. Plans are underway to begin a police athletic league, which will involve officers coaching and mentoring kids in sports.
Research shows that sports can have a positive impact on teens who otherwise might get involved in drugs and other criminal activity, he said.
Starting such a program is above and beyond the scope of traditional law enforcement.
"This is good business because it's investing in our community and these kids," he said. "If we can spend time with kids, putting them in situations of positive adversity, they can overcome obstacles."
Police officer Ricky Cremonese, who has been personally involved in coaching sports, will serve as coordinator of the police athletic league.
Body cameras
In regard to body cameras, which the department started using last year, Katz said he plans some reforms for how they are used.
"We're taking a look at how we're deploying them and who has them," he said, noting officers will use them more judiciously so there is not as much video for Commonwealth's attorneys to review. The issue became contentious recently when longtime Commonwealth's Attorney William Davenport announced that his office plans to stop prosecuting most misdemeanor crimes as of May 1 due to the amount of time attorneys have been spending reviewing body camera footage.
Initially, the police department's use of body cameras "was cast as a wide net, which typically happens when you roll out a program," Katz said. "At first, you record everything." Going forward, the department will mainly record only initial contact, any interviews and when someone is taken into custody.
"We have to strike a balance between operational transparency and the level of accountability," he said.
The Boynton Beach Police Department began using body cameras in July after planning their use for some 18-24 months prior, said Katz, who was police chief there for 4 1/2 years before coming to Chesterfield. That Florida police department took some time before implementing them, desiring to learn from departments that had already rolled out body cameras in different parts of the country in 2014.
"I'm a huge fan of body cameras," he said. "It's no longer just an officer's word against someone else's. People have a tendency to change the way they interact with people when they're being recorded."
Narcan
Another change the department plans to begin implementing immediately is the use of Narcan, a naloxone nasal spray that can save the life of someone suffering from an opioid drug overdose. The department received a $10,000 grant and spent $45,000 on its first order of the product. Katz explained that the additional $35,000 was paid for by asset forfeiture funds. The department will initially train four officers to administer the product with the goal of having all officers trained by mid-summer.
As of Friday, the Chesterfield County Police Department had 23 vacancies among its authorized 535 positions, with 18 recruits training in the department's police academy. Although the department only hires about 2 percent of those who apply, Katz said he would like to become even more selective.
"Everything about this job is deeply personal," he said. "It's a lifestyle. It's a values-based belief system."
That belief system resulted in Katz volunteering at an event at Pocahontas State Park on Saturday.