April Hutchison loves helping people. She got the opportunity to do just that when the Chesterfield County Sheriff's Office decided to hire a re-entry...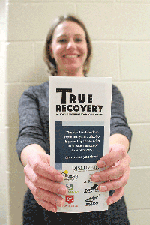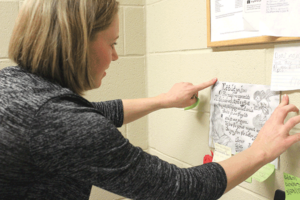 April Hutchison loves helping people.
She got the opportunity to do just that when the Chesterfield County Sheriff's Office decided to hire a re-entry coordinator over a year ago.
Hutchison, who had been a stay-at-home mom for a year and a dispatcher and customer service rep for a local trucking company for 14 years before that, jumped at the chance.
A friend who was then an employee of the sheriff's office told her about the new position. Since her dad, Rusty Hutchison, had worked as a police officer in Chesterfield for almost 30 years, she was somewhat familiar with law enforcement.
The program is one of several that the sheriff's office has started in the last year or so.
Hutchison assists offenders in re-integrating into the community by helping them with placement in recovery or transitional homes where they can get intensive outpatient treatment and enroll in substance abuse programs, including Narcotics Anonymous. She makes sure those leaving for transitional housing have clothing, bedding, hygiene products and food. "A lot of what I do is with individuals from HARP because they have the recovery foundation," she said. "It gives them timing to get a job and get back on their feet."
Hutchison works with offenders coming out of the jail's Heroin Addiction Recovery Program. Some are homeless. She helps them get set up with mental health services prior to leaving the jail and with support groups such as battered women's homes and substance abuse programs, for example.
Her boss, Capt. Eric Jones, said the sheriff's office began offering some new programming over the past year or so. This includes offering forklift and peer support certification classes, which are offered quarterly in the jail. DMV Connect provides jail inmates an ID and a printout of the fines and fees that need to be paid in order to get their driver's licenses renewed.
The goal is to reduce the recidivism rate among offenders. The programs are still too new to see any data. That likely won't happen for another year, Jones said.
He notes that the re-entry program "is one of the best things we could've done."
"We're on the cutting edge in regard to programs," he said. "We're still building it. It's growing and we are learning. We're trying to make it right."
He and Hutchison attended a mock job fair at the Federal Bureau of Prisons facility in Prince George last fall and got the idea for a forklift certification class.
"The programs unit has evolved greatly over the past two years," Jones said.
Sometimes staff notices gaps in jail services, and the re-entry program helps fills those gaps.
Hutchison looks at her job as "paving the yellow brick road for success. It's up to them to stay on it."
Although the re-entry program starts on the first day that one is held in the jail – which includes filling out a form – placement doesn't start until 90 days before release.
"I like to help people," she said. "I love my job. It's something different every day. When I leave here I feel very rewarded from knowing I'm helping someone."
Hutchison has already received positive feedback and gets weekly reports from those she has helped and the programs in which they are enrolled. Her favorite is a sketching that six inmates made for her last year for Christmas.