Above: Dominion Energy spokesman Rob Richardson looks at the Chesterfield Power Station from the upper coal ash 'pond.' Recycling coal ash was popular at...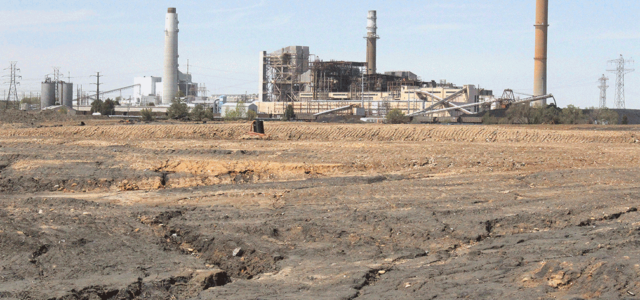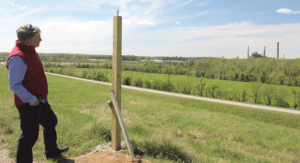 Above: Dominion Energy spokesman Rob Richardson looks at the Chesterfield Power Station from the upper coal ash 'pond.'
Recycling coal ash was popular at the state Legislature this year.
A bill that requires Dominion Energy to conduct a request for proposals for recycling options at its two legacy coal ash "ponds" at the Chesterfield Power Station passed with near unanimous support. Gov. Ralph Northam signed the bill (SB 807) into law March 30.
The new law delays closure of the ponds – which are now mostly dry – and requires Dominion to produce a business plan that complies with the request for proposals by Nov. 15.
Environmental groups, such as the Southern Environmental Law Center and the James River Association, and the electric company supported the legislation. However, Jamie Brunkow, a licensed riverkeeper with the Waterkeeper Alliance of New York and an employee of the non-profit James River Association, said the bill was a compromise. He added that Dominion had been supporting placing a synthetic cap on the ponds, something he believes is unsafe for the environment.
"The RFP process is going to be really important," Brunkow said. "It's definitely a bipartisan issue at this point." He noted that state Sen. Amanda Chase, R-Chesterfield, has been "our local champion" and was a chief co-patron of the bill (SB 807), which was sponsored by state Sen. Scott Surovell, D-Mount Vernon.
The Chesterfield ponds were started in 1964 (upper) and 1983 (lower). The upper pond looks like a hill and is located on 112 acres across Henricus Park Road from the Dutch Gap Conservation Area. The lower pond is 100 acres and is much more level and closer to the power station. It is also located across from the conservation area.
Dominion stopped putting coal ash on the ponds late last year, company spokesman Rob Richardson said. "We've treated more than 50 million gallons of water (that was removed from the ponds) since November," he said.
That's when the company opened a landfill for its newly-created ash. "We changed the process to a dry process," he said, noting sluicing – which conveyed ash and water through pipes – is no longer used.
He notes that Dominion has already begun recycling some newly-created coal ash, adding that the company recycles some 700,000 tons each year to make concrete blocks and gypsum wallboard.
The issue is that recycling is expensive, he said, but notes that "there's a lot of interest in finding a business model that will allow you to recycle coal ash."
In 2015, the federal Environmental Protection Agency gave the company until 2033 to close its 11 coal ponds on four sites in Virginia, Richardson said. However, with today's technology the company estimates that it will take 40 years to recycle all of the 15 million cubic yards of coal ash that exist at the two ponds near the Chesterfield Power Station, which is located off Coxendale Road just south of the James River.
Questions remain – such as whether coal ash would be transported by barge or truck – and Richardson said SB 807 will require more legislation and a decision from the Legislature on how to proceed.
"[Since 2014] we've been working to find the best environmental result to manage coal ash," he said, noting the company opened the Virginia City Hybrid Energy Center at Abingdon in 2014 and recently announced that it will put two of its four coal-fired units at its Chesterfield Power Station in cold reserve status later this year. At that time, the company will have two coal-fired and two natural gas-fired units at the site, which is the largest coal-fired power plant in the state.
Nathan Benfordo, a staff attorney with the Southern Environmental Law Center in Charlottesville, said the organization supported SB 807 and was not surprised that the bill got overwhelming support. "We're glad cap-in-place is not going to move forward," he said, referring to an option for dealing with coal ash. "It's not a problem that's going to go away. It requires a lot of work to get it right," he said.
Although Richardson said the EPA has approved capping or removing coal ash as two effective ways of closing a coal ash pond, Benfordo said the capping method is not safe. The site has too much water nearby for capping the ponds with a synthetic cover to work, he said, noting that a mound of water within the ponds flows outward due to tidal pulsing from the James River.
Brunkow said that in addition to recycling, placing the ash from the legacy ponds in a lined landfill would be environmentally safe and could be used as part of a "suite of options." Richardson noted that the new landfill will hold only 10 million cubic yards of ash, too small for the 15 million contained at the legacy ponds. He said that creating a new landfill at the site would cost an estimated $1.2 billion. Such a move would also require the company to reduce the setback from the road from 500 to 100 feet. This would require variances from the county and DEQ, he said.
The Southern Environmental Law Center and Duke University have sampled nearby the two Chesterfield ponds since 2015. "It very clearly shows heavy metals are leaking into water and sediment," Benfordo said, noting that the metals include arsenic, radium and lead. "We've measured arsenic at 292 parts per million [in soil at the nearby 'red cove']," he said, noting this is higher than at some EPA Superfund cleanup sites. (The maximum containment level for industrial soil is 3 ppm and for residential it is 0.68 ppm, according to EPA standards cited by Brunkow in a Jan. 25, 2016 letter to Dominion.)
Benfordo expressed concern about the red cove, an inlet between Chesterfield's coal ash ponds. The soil apparently contains iron, which results in its red hue.
Richardson said red mineral deposit pockets like it exist along the James River. "It predates our operations here," he said. "We have impacts from the ponds on our property, but we've tested the river and there are no impacts," he said.
Richardson said Dominion and the state Department of Environmental Quality sample surface waters and the company also samples groundwater on its property through 40 wells that have been set up in the past 18 months. Results from both show the company to be in compliance with state law, he said.
However, Brunkow said it's a matter of where one conducts the tests. The James River Alliance and Duke University tested soil and water at the red cove, especially during low tide, with "boron isotope fingerprinting," he said. The red cove is located in the conservation area across Henricus Park Road from the legacy ponds. "We're not concerned about the iron. We're concerned about the arsenic," he said. "Maybe we should have named it 'arsenic cove.'"
Brunkow said DEQ samples in the middle of rivers and creeks, but the James River Association tests at specific points to try to identify pollution.
Brunkow said the James River Association supports many of the efforts Dominion has done so far. "We know what they're doing," he said. "We want them to do more."