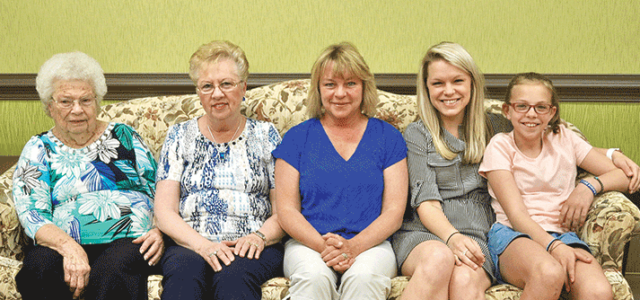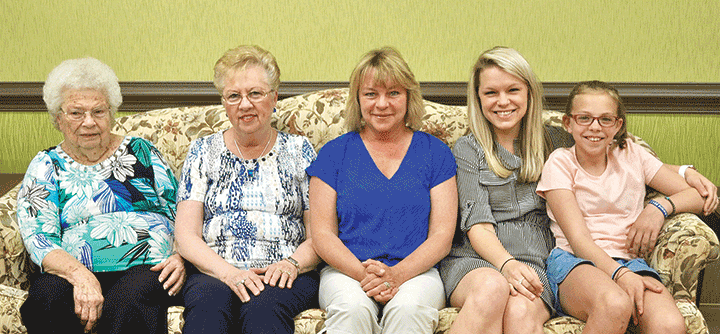 Mother's Day falls on May 13 this year, and one family that will be together that day boasts five generations of women ranging from...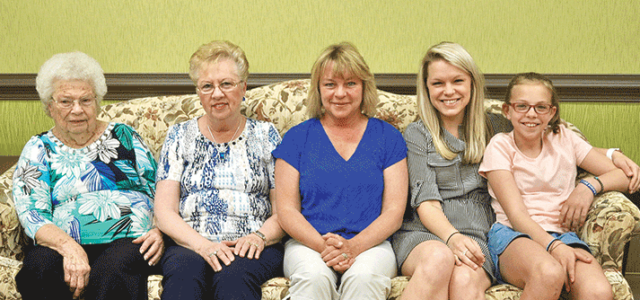 Mother's Day falls on May 13 this year, and one family that will be together that day boasts five generations of women ranging from age 11 to 99.
Clara Dennis is Marie North's mother, Penny Conner's grandmother, Ashley Stanley's great-grandmother and Mya Johnson's great-great-grandmother.
Dennis has four children, several great-great-grandchildren and four generations in Tennessee. This year marks her 78th Mother's Day.
Although 88 years separates her great-grandmother and her daughter, Stanley said it does not sound like a lot because she is used to being in a family with so many generations.
"It's cool because I don't think you realize how many other people don't have that," Stanley said. "I have friends, and even my husband doesn't have just grandparents, so to have great-great [grandparents], that's crazy."
Every Mother's Day, the family gets together after church and has dinner at North's house. North said it has become harder to get everyone together for other holidays as the family has grown and some of them have gotten married, but Mother's Day is a day they try to spend together.
"If you go too long and you don't get together, you feel like you're missing something," Conner said.
Conner said if North is unable to have dinner at her house, someone else will take over the reins as it is a tradition the family wants to keep going. The women currently live near each other, and North talked about the significance of having a close-knit family.
"It means you have someone with you no matter what, the love for the family, the closeness," North said. "We are a pretty close family … you have somebody there with you when you need somebody."
Church is also a longstanding tradition, as it was Dennis who started their current church, City Point Restoration Church of God, in 1961. Dennis said she was not satisfied with her previous church so she and 19 other members left and started their own in a friend's church basement.
After outgrowing two sites, the church settled in its current location. Dennis is proud to have it in the family.
"I told them I was there when the first shovel full of dirt was turned and I'm still there," she said.
North worked in the church for 33 years – including 23 years as secretary – and said having a church in the family means a lot to her.
Stanley also echoed North's sentiments."There's a lot of churches but not many people can say they're related to somebody that started [one]," Stanley said. "It was started a long time ago, so it's very cool, makes you feel important."
Next Sunday, after service is over at City Point Restoration Church of God, North said the family will gather at her house for Mother's Day for dinner. Everyone will have an assigned meal to cook.
Stanley said going to church and eating afterward is her favorite tradition, and Conner said the family loves food and they all cook together. The women named banana pudding, strawberry cake, chocolate cake and chicken casserole as some of their favorite meals to cook and eat. North joked about creating a family cookbook and told the group to start gathering recipes.
Johnson, the youngest of the group, has her own meal she likes to cook: eggs in a mug. She said she loves how the family sticks together and does things together.
"The only thing I can [think of to] describe our family is awesome," Johnson said.
History
In 1905, Anna Jarvis, a peace activist who cared for wounded soldiers during the Civil War and created Mother's Day Work Clubs, started her campaign to recognize Mother's Day as a holiday after the death of her mother the previous year.
Jarvis wanted to honor her mother and set aside a day to honor all mothers. In 1908, she held a memorial ceremony at St. Andrew's Methodist Church in Grafton, W. Va. This was the first Mother's Day.
In 1914, President Woodrow Wilson signed a proclamation designating the second Sunday in May as Mother's Day.