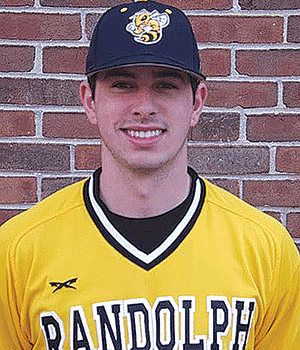 In a sports world growing more and more obsessed with specialization, Matoaca High alum and Randolph-Macon College graduate Rick Spiers made a career from...
In a sports world growing more and more obsessed with specialization, Matoaca High alum and Randolph-Macon College graduate Rick Spiers made a career from doing exactly the opposite.
"When he was in high school, he did everything well but didn't go anything great," said Randolph-Macon coach Ray Hedrick. "He really wanted to be a dual threat player, and we offered him that opportunity."
Despite playing seven different positions and hauling in a load of accolades, Spiers didn't receive a college offer outside of the Yellow Jackets.
"I did feel overlooked," Spiers said. "Obviously, every athlete has Division I dreams, and I thought I was going to get an opportunity to play given the success I was having in high school," he continued. "It was a little disappointing, but it all worked out in the end. I was very excited that Randolph-Macon gave me a chance to play at the college level."
Spiers immediately rewarded Hedrick and the Yellow Jackets as a freshman. The pitcher and outfielder was named Old Dominion Athletic Conference Rookie of the Year.
The righty pitcher had a 7-2 record, and used excellent control to strike out 51 while walking just 10 over 65 innings pitched. A low of 11 earned runs allowed computed into a minuscule 1.52 ERA. Spiers also took home more accolades. He was named the Virginia Sports Information Directors Association Rookie of the Year, and was named to the Division III third team All-South Region and first team All-State.
The success continued as a sophomore as Spiers blossomed offensively. Hedrick said that on a strong offensive team led by Warriors' alum Travis Lodge, Spiers was able to blend into a veteran lineup and excelled in the lead-off spot. He scorched the baseball with a .421 batting average with three home runs and 15 RBIs while a part-time starter. On the mound, his success continued. Spiers had a 6-4 record, and struck out 64 batters over 72 innings with 3.50 ERA.
As Spiers rose to his junior season, Hedrick faced a tough decision. With many of Randolph-Macon's core offensive players graduating, he knew that more would be needed from Spiers and other younger players to replace the offensive production in the lineup. He decided to move Spiers to the bullpen and allow him to concentrate on offense.
"The idea behind the change was to take the load off him," Hedrick said. "I didn't want him to feel the stress of being both a middle-of-the-order bat and a number-one pitcher. When you're a two-way guy in that position, it's a lot."
While Spiers wasn't enchanted by the decision, he set out to work. And results showed immediately.
Even though he wasn't camouflaged in the lineup anymore, he still produced. He hit .345 that season, drove in 48 runs, stole 19 bases and socked five home runs. From the bullpen, he produced six saves and was a productive arm.
As a senior, his batting average dipped to .310, but he led a productive offense with 54 RBIs. During his final year, he saw his pitching opportunities dwindle as he battled through what may have simply been fatigue, as nothing was structurally wrong with his arm.
Spiers was a big bat down the stretch as Randolph-Macon made a record-setting run in the playoffs, finished 38-9 and came just one win short from playing for a Division III College World Series title.
"[The run] was pretty surreal, and I'm pretty sure it hasn't hit me that we were one win from playing for a national championship," Spiers said. "After going down 0-2 in the conference tournament to going down 4-0 in Holly Springs [N.C.], and then rebounding from a first-day loss in Appleton [Wisc.], it was an amazing experience."
Spiers finished his career as a Yellow Jacket with a .349 batting average, 199 hits, 13 home runs, 126 RBI, 133 runs scored, a school-record 50 stolen bases, a .399 on-base percentage and a .489 slugging percentage.
"[Rick] was able to take the ability that he had and got into a college routine in the weight room," Hedrick said. "We got him on a regimen and offensive approach. The skill set was there. It just needed to be enhanced. We run a Division I-style program with a Division III label. Our program was able to get everything out of his God-given ability."
Hedrick spoke highly of the Matoaca High coaching staff, as the school has had a pipeline coming. From coaches Fred Stoots to Tim Haynes and now Chris Olsen,
Hedrick applauded the program for the outstanding job they do year in and year out. Players such as James Bierlein, Ryan Dickerson, Lodge and Spiers have made the connection from southern Chesterfield to Ashland.
Spiers has a business degree with a concentration in management and graduated with a 3.0 grade point average. He said he'll take the summer off and explore his options down the road. He may coach.
He offered some advice to young baseball players.
"Work hard, be passionate and have fun," he said. "Give every school a chance because whenever you end up, you are the people who you surround yourself with. They will be your family, and that's the most important part."