ABOVE: Residents listen to public comment at 11:55 p.m. July 25 during a county board of supervisors meeting. The Chesterfield County Board of Supervisors unanimously...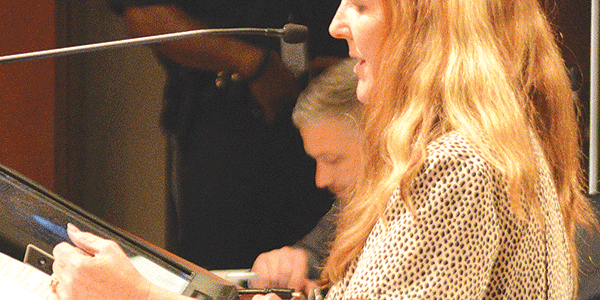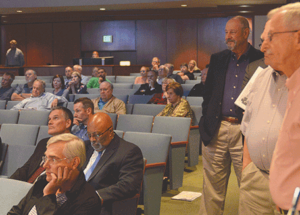 ABOVE: Residents listen to public comment at 11:55 p.m. July 25 during a county board of supervisors meeting.
The Chesterfield County Board of Supervisors unanimously denied a request from Shoosmith Bros., Inc. to use its granite quarry as a landfill during a July 25 meeting that lasted more than seven hours.
Thirty-four people spoke for almost 90 minutes during public comment that began at 11:55 p.m. Only three were in favor of the request.
Supervisors were swayed by fears that a liner that would encase the 83-acre, 200-feet-deep quarry could fail due to heavy rainfall, an earthquake and other reasons.
Andrea Wortzel, a partner with the Troutman Sanders law firm of Richmond, presented information from three engineering studies that said the plan to encase the quarry was safe. She noted that, in February 2016, the state Department of Environmental Quality issued Shoosmith a permit that said using the quarry as a landfill poses no threat to health and safety.
Wortzel said that a report from Golder Associates that the county used was "based on extreme hypotheticals."
She noted that quarries are being used as landfills in Bristol on the Tennessee/Virginia line, St. Louis, San Diego, Tulsa and Trenton, Mich.
Shoosmith co-owner Fletcher Kelly has said that the current landfill area has seven or eight years of life left and the company wanted to use the quarry to add another 15 years of life to the landfill. Shoosmith's contract with Vulcan Materials Co. for use of the quarry expires in 2025.
During public comment, Victoria Rono said that the county could use a landfill in Amelia County when the Shoosmith landfill is full, adding that the Amelia County landfill has 150 years of life left.
"Effluent will flow into [the quarry]," Duncan Holmes said. "It's not a question of if, it's a matter of when the liner breaks. I don't think the technology is going to hold up here."
"Any benefit is outweighed by the risk," Elizabeth Kimbriel said. Clapping could be heard after she added, "If Shoosmith had not filled the dump with out-of-state trash, we would not be here tonight."
Kelly has said that the landfill stopped accepting out-of-state trash in January 2017.
However, Brandon Woods said at last week's meeting, "When is it not out-of-state trash? When a trailer from New York or New Jersey hooks to a tractor from Virginia."
Bill Woodfin said he worked for a waste management department. "Our environment is a very complex entity. There are no straight forward answers," he said, adding that Virginia is the No. 2 importer of out-of-state trash in the nation behind Pennsylvania.
John Wilkenbroad asked what the quarry can be used for when it is closed, and noted that one has been turned into a golf course.
Ray Walsh said the stench from the landfill was unbearable in the early 1990s. "[Previous] management was cavalier and dismissive in trying to solve the problem," he said, adding that the current ownership has been much more proactive.
Walsh said the Golder report contained "a lot of presumptions and conjecture. [Shoosmith's] actions inspired confidence that their quarry decision could be successful," he said.
Bobbi Paxton said that when the landfill opened in 1976, "there was hardly anything out this way." Now, some 1,500-plus homes are located nearby in the Highlands subdivision.
"Our pets are sick. They go outside, and they get sick," said Tim Gilbert. "There's something really wrong here."
Dan Oros said that he is a geologist and the company he works for has monitored 42 landfills. "Liners can fail," he said, adding that liners can get punctured and no one would see it. "The landfills I designed failed. If they didn't fail, people like myself wouldn't have jobs. Why bring it into our community?"
Todd Jenkins said he lives in the Woodland Pond subdivision near the landfill. "They're doing everything they can to mitigate the smell. It's not enough," he said. "This morning I was driving up Beach Road with the windows closed and the AC on. It was atrocious." He noted that the largest state park in Virginia is located nearby. "The first thing they smell going to Pocahontas State Park is the trash," he said.
In closing, Wortzel said that both Golder reports from 2015 and 2018 said Shoosmith's plan "is the best design it could be. It's the best engineering there is."
"It may take 35 years before it becomes a problem," Golder representative Mike Williams said.
Williams noted that the regulations the DEQ uses were written in 1976.
In 2015, Golder said that such a quarry/landfill design had a "very small chance of failure," but "the knowledge of public landfills has gone up in the last few years. We have theories why deep, wet landfills are more likely to be elevated temperature landfills." He pegged the chances that using the quarry as a landfill would result in elevated temperatures as "one in two," but it wouldn't be accessible because it's in a quarry, he said.
Chesterfield's director of general services, Clay Bowles, recommended denial, and said 300 degrees could be reached inside a quarry landfill.
Responding to a question from supervisor Chris Winslow, Wortzel said the highest recorded temperature at the landfill is 140 degrees.
"I can't make the determination that it would be safe," supervisor James Holland said. His motion to deny Shoosmith's request was seconded by Leslie Haley. After the vote, the meeting ended at 1:19 a.m.