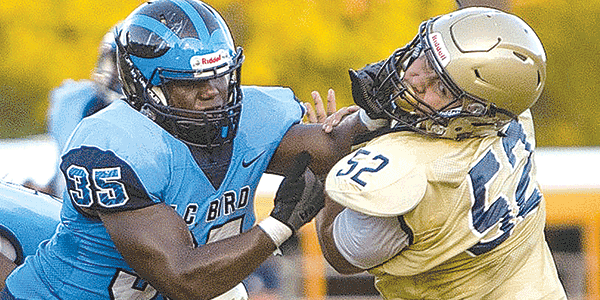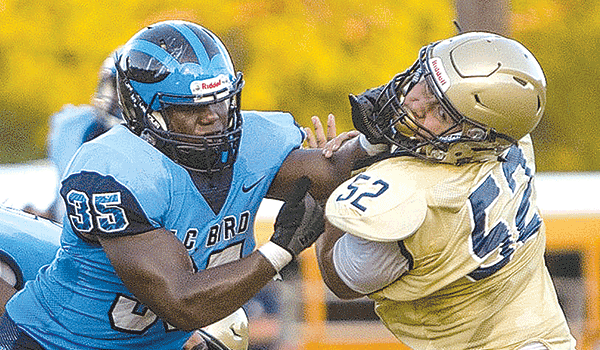 ABOVE: Grunt work: L.C. Bird's Javonte Tuppince and Meadowbrook's Jordan Lomeli battle it out in the trenches during last week's game. In a game...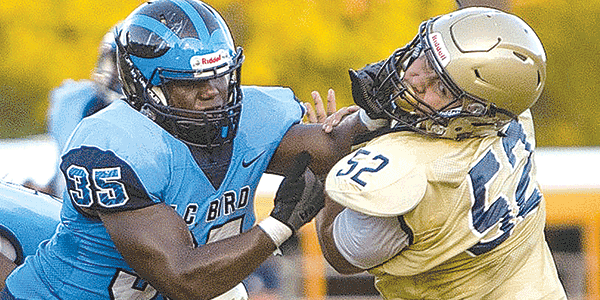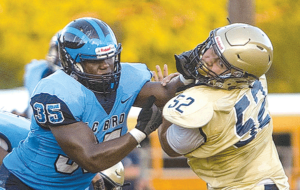 ABOVE: Grunt work: L.C. Bird's Javonte Tuppince and Meadowbrook's Jordan Lomeli battle it out in the trenches during last week's game.
In a game with a multitude of local ties, it came down to something familiar for L.C. Bird: the run game.
Tre Mason did a little more than get his feet wet in his first game as a starter. The junior rushed for 192 yards on 33 carries and found the end zone for the decisive score in the third quarter as the Skyhawks dispatched Meadowbrook 14-12 last Thursday night.
Mason quietly accumulated his yardage and struck for a big play when the game was otherwise stagnant offensively. A big hole opened up the middle, and Mason didn't miss it, running 42 yards for the difference-making score.
"Tre Mason had a wonderful camp," L.C. Bird coach Troy Taylor said. "He really turned it up in the second half."
"The kids did a great job to stay together and overcome adversity," he said.
The Skyhawks drew first blood on an 11-yard run by fullback Javonte Tuppince.
Meadowbrook quickly answered with a score of their own on a one-yard run by quarterback Xavier Gordon. Running back Paul Davis racked up 12 of his 69 total yards on the evening with a run that put the Monarchs up 12-6 in the second quarter, and that's the way the half ended.
Coach Chamont Thompson applauded Davis' toughness during the grueling game.
It was a new beginning for both teams. It was the kick off of the 2018 season, and both teams had new coaches at the helm.
Taylor had been an assistant under long-time coach David Bedwell before taking the head job at Meadowbrook. After a few seasons there, Taylor was a quarterback and defensive line coach at Virginia Union before "returning home."
"We were so glad to get the win versus Meadowbrook," Taylor said. "Their coaches did a great job and their kids played hard."
Thompson too was an assistant coach under Bedwell at L.C. Bird. He was also offensive coordinator. He played defensive back for the Skyhawks in high school.
After assisting another former L.C. Bird coach, Salvatore Camp, at Glen Allen, Thompson got the Meadowbrook position this past off season.
It was was a bittersweet moment, Thompson said.
"A lot of emotions. It was great to see all of the old Bird fam, but also awkward to be on the opposite sideline …. Once that whistle blew, there was one goal and that was to lead my new Monarch family to victory."
Despite being a young team and a program that came off four victories last year, Meadowbrook held the lead in the third quarter, held on, scrapped and never gave in. That attitude can be embodied in their coach as well.
"We will continue to work hard every day," said Thompson. "My staff does a phenomenal job getting our guys prepared to go into battle on Friday nights, and I am truly grateful to have them."
L.C. Bird will face a tough test on Thursday as they square off with Thomas Dale in the "Battle of Chester." Meadowbrook will play their typically tough out-of-district schedule by traveling to face what should be a fierce Varina team.