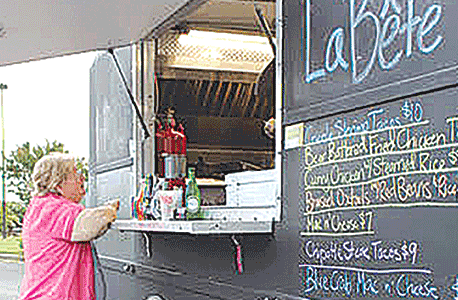 ABOVE: Patricia Clements orders food outside the LaBete food truck at St. Ann's Catholic Church last week. The aroma of delicious food and sweet treats...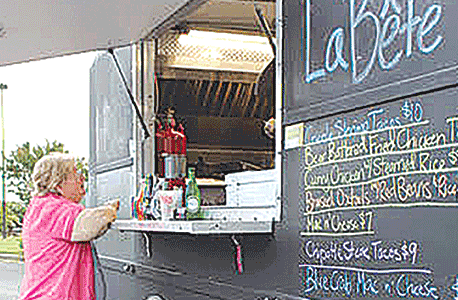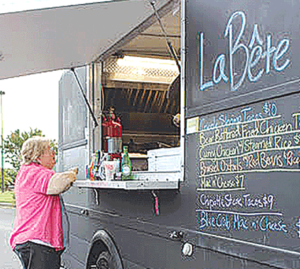 ABOVE: Patricia Clements orders food outside the LaBete food truck at St. Ann's Catholic Church last week.
The aroma of delicious food and sweet treats filled the air Aug. 22 as the parking lot at St Ann Catholic Church hosted several food trucks and hungry customers. Food vendors included La Bete, Slideways and Scoop's Ice Cream Truck.
Patricia Clements, the education director at St. Ann, organized the weekly event over three years ago.
"I was familiar with several of the Baptist churches in Richmond, and they were doing food courts on Wednesday nights. I knew a couple of the folks who ran them, and they said it was a real good [way to] build the community and support local businesses. It wasn't meant to be a money maker, but to be neighborly," she said.
The event takes place every Wednesday from 6:30 to 8 p.m. during the summer months. "We always have two entree trucks and one dessert truck," Clements said.
The community also gains from hosting the event.
"We ask the trucks when they have a really profitable night, if they could give a donation to the youth activities scholarship fund, and they usually will. Our youth wins, and the trucks do as well," she said.
A frequenter at the St. Ann food court, La Bete grilled and fried dozens of meals last week.
La Bete means "the beast" in French, and their slogan, "Sate your Beastly Appetite." The food truck is owned by Randy Boodram and operated by his sister, Krystal Saywak, and a friend, Akeem Hendrickson.
Boodram and his sister grew up in New York before moving into the Richmond area. Here they worked on their family-owned food truck before opening their own four months ago to service the Chesterfield area.
"We're trying to make a name for ourselves, trying to keep business local," Boodram noted. "I am self-taught. I never went to culinary school. I had to learn all of this stuff. Growing up in New York, I got competitive and I wanted to grow. My high school was outside of a farmers market, and I enjoyed that a lot."
La Bete's menu is mainly Caribbean, Creole and "New American" flavors. They have a wide variety on the menu that includes beer battered fried chicken, mac 'n' cheese and chipotle steak tacos, but the crowd favorite seems to be the braised oxtails.
"Our menu changes every night [in order to] keep it interesting and seasonal," Boodram said. "All of our dishes are inspired from traveling and trying new things."
Another popular food truck is Scoop's Ice Cream. Scoop's is owned and operated by Sandy Farnam, who often gets help from her daughter and granddaughter. Farnam specializes in selling Hershey frozen goodies and offers more than eight flavors of ice cream for those who like sweet treats.
Similar to Boodram, Farnam started from scratch. "I bought a truck, and I did a lot of this myself," she said. "It was a lot of hard work, but it was fun."
Although Farnam has been in business for over two years, she wasn't originally in the food business. "I sold real estate for 30 years, and I still flip houses, but [owning a food truck] is fun. Everybody smiles. This is so rewarding," she said.
Slideways serves sliders and gourmet french fries and is based in Richmond.