ABOVE: Tre Mason looks for an opening in the Thomas Dale defense. Mason finished the night with 211 rushing yards. They say there's no...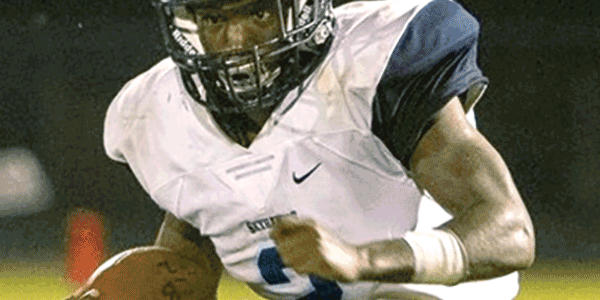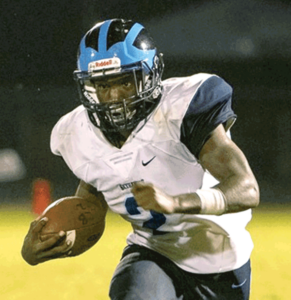 ABOVE: Tre Mason looks for an opening in the Thomas Dale defense. Mason finished the night with 211 rushing yards.
They say there's no "I" in team, and while that's true, an individual player can make all the difference in the world for a team.
L.C. Bird High School got Virginia Tech commit Jaden Payoute back, plugged him in at quarterback and reaped immediate benefits, as he accounted for 154 yards and three touchdowns on the ground when the Skyhawks took the Battle of Chester last Friday night over Thomas Dale High, 32-20.
"Having him [Payoute] able to run the football and make big plays was big for our team," L.C. Bird coach Troy Taylor said.
Thomas Dale held the advantage early, leading 20-14 at halftime, mainly on the strength of 94 yards from running back Chris Tyree, who scored two touchdowns.
However, Bird's defense clamped down and their offense woke up. The Skyhawks reeled off 18 unanswered points, and they did most of their damage with Payoute and Tre Mason, who finished with 211 rushing yards.
"We knew that it would be tough to run the ball with Division I level defensive linemen like [Rick] D'Abreu and [Shane] Carter," Taylor said. "Thomas Dale is one of the most talented teams in the state, and probably has just as much if not more talent than they did in 2009 when they won the state championship."
As good as the run game for Bird was, Taylor pointed out that the defense had many members step up.
"Mykey Anderson and Doc Battle have stepped up the first two games of the season," Taylor said. "Javonte Tuppince has held down the middle of the field for us," he continued. "Coaches Tony Nicely and Matt Bland do a great job of preparing our guys each week."
"Bird did a great job of wearing us down in the second half," Thomas Dale coach Kevin Tucker said.
Thomas Dale was bit by the injury bug early and often during the contest, as two-way starter at tight end and outside linebacker, Zach Jones, was injured playing special teams on the opening kick-off. In the second quarter, Jasiah Williams left the game with injury, and the Knights were forced to use their backup quarterback, Jimmy Hayden. Tucker said that while Hayden performed well, he said that he should have gotten more repetitions in practice this past week.
"Our biggest issue was injuries throughout the game and not having our backups prepared," Tucker said. "I was proud that the kids didn't quit. They fought until the end and saw what they needed to get better at."
Defensively speaking, Thomas Dale got big games from D'Abreu with seven tackles, four for a loss; Darius Sterling, five tackles for a loss; and Adam Hall, who led the team with 10 tackles.
With the loss, Thomas Dale dropped to 1-1. The Knights will host Hermitage on Friday, Sept. 7 in what will be a great opportunity to rebound, as the Panthers have lost their first two contests by a total of 135-0.
Bird improved to 2-0 and will travel to Midlothian (1-1) this Friday.
In other action, Meadowbrook fell to 0-2, as Varina rolled, beating them 51-12. Meadowbrook will host Highland Springs this week.
Matoaca (0-1) had lost a nailbiter in their opener 15-10 to Cosby. This Friday, Matoaca will face off with Varina.
All games will start at 7 p.m.