ABOVE: Church member Skip Buyalos, center, inspects a downed red oak with workers at Chester United Methodist Church annex after it was felled last...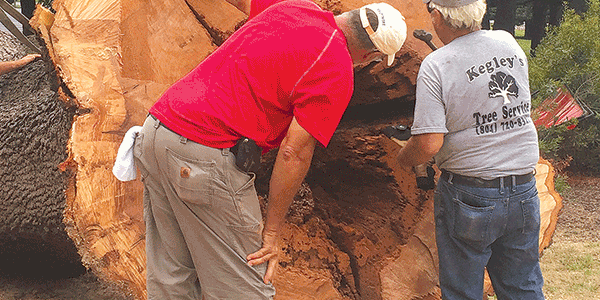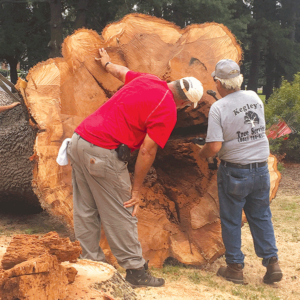 ABOVE: Church member Skip Buyalos, center, inspects a downed red oak with workers at Chester United Methodist Church annex after it was felled last week.
Several residents were upset when they saw a large red oak tree off Harrowgate Road being cut down Friday.
The tree was on property owned by Chester United Methodist Church. A pastor at the church, the Rev. James Davis, said a large limb fell toward School Street after the tree was damaged in a recent storm. When the limb was inspected, it was full of ants and much of it was hollowed out, he said.
"We had several people look at it as well as representatives from the Woman's Club and [former county extension agent] Richard Nunnally. All agreed that it must come down," Davis said.
The majestic tree, which was nearly 90 feet tall, was known as the "Chester Village Oak." The Woman's Club of Chester placed a plaque by the mighty oak and nominated it to be a historic tree with the National Register of Historic Trees in 2002. That was about the time that Arline Mary McGuire formed a committee to save Chester's trees.
The tree was cut down Sept. 7 due to safety concerns. The church uses the nearby annex for their youth ministry and did not want another limb to fall and injure a child. The church also considered any liability for vehicles passing on Harrowgate Road should a limb fall on a car.
Don Phelps, who oversees the grounds and maintenance for the church, said the tree was hit by lightning some time ago. That may have started its decline.
"This is not something we wanted to do," Phelps said. "We could have used the money elsewhere for the church. We did not want to cut it down, and we are not doing this lightly," he said. "It is a historic and very interesting tree."
He said that many church and community members were upset about the tree being cut down. "They did not have the whole story on the tree, and explanation had to be made from the pulpit on Sunday [Sept. 2]," he said.
Local resident Jim Daniels was very upset when he first heard about plans for the tree's removal.
"I have seen a whole lot of rotten trees, and they are still standing and growing today," he said. "Dr. Joe Hillier and I offered to pay for an independent arborist to examine the tree, and it was declined. This just really bugs me; ants don't kill trees. I just want to point out that this is the third time in recent years that the church has cut down specimen trees, and they have not replaced the first one."
Phelps said the church will plant at least one tree to fill the gap where the red oak stood for around 120 years.
Tree history
McGuire, who served as Chesterfield County treasurer for 35 years, died last year at age 90. Upon her retirement, she became heavily involved in many civic and community organizations. She was most proud of the Woman's Club of Chester's project, "Saving Chester's Trees." The project was later renamed "Save Chesterfield's Trees."
In 2001, the club nominated three trees in the village of Chester and one tree on the Chesterfield Courthouse Green for the National Register of Historic Trees. McGuire said the nominations were made in accord with the requirements of American Forests' Famous and Historic Trees, which was a program to identify America's historic trees.
"Our stately old trees are a link with our past, and they give beauty, charm and dignity to our village," she said during a 2002 interview with the Village News. "Many of the huge beautiful trees we enjoy today were here when the village was laid out and first settled in 1857."
The red oak towered over the property that Dr. Alvin J. and Maude Hurt called home on their arrival to Chester in 1903. The tree most likely was growing on the property at that time. Two other notable trees on the property grace Chester during autumn with their orange and yellow foliage. Most likely were planted by the Hurts, these are called: The "Village of Chester Red Maple" and the "Mother of Chester Yellow Maple." Those trees, Davis said, are healthy.