ABOVE: James Monk speaks at the May 31 press conference at the Chester Library. Tavorise Marks of the NAACP Legal Redress Committee is pictured behind...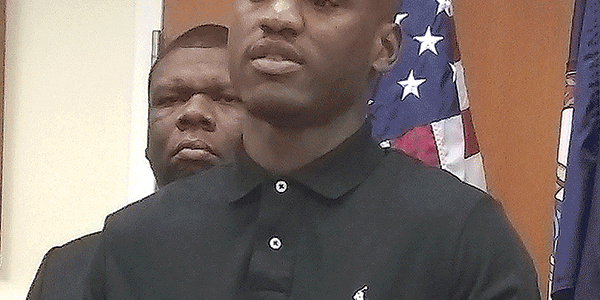 ABOVE: James Monk speaks at the May 31 press conference at the Chester Library. Tavorise Marks of the NAACP Legal Redress Committee is pictured behind Monk.
A Richmond man who was arrested following an incident near Virginia State University at 12:30 a.m. March 28 had two misdemeanor charges against him withdrawn late last month.
The Virginia Commonwealth Attorney's Office decided to not proceed with the prosecutions for illegal window tint and obstruction of justice against James Edward Monk, 22.
On Monday, Chesterfield police spokeswoman Liz Caroon said the four officers who were on scene at the time the Taser was deployed were retrained on the use of the Taser. Two officers on scene were disciplined as a result of the internal investigation, but the department would not release their names. However, officers D.W. Gulick Jr. and an officer Curtis were named in a Chesterfield Circut Court document as the officers who pepper sprayed Monk, and Gulick said he used a conducted electrical weapon, or Taser, on Monk the night of the incident.
Chesterfield police Capt. Randy Horowitz has said that the use of a Taser in the incident was not in accord with department policy.
Two summonses for Monk were signed by Gulick, who was listed as the arresting officer. Chesterfield police sent defense attorney Mark Englisby a letter dated May 22 that included Gulick's summary of the incident. In the summary, Gulick said that after Monk exited a vehicle, he resisted arrest and refused to put his hands behind his back, then Gulick and officer Curtis each pepper sprayed Monk after they had taken him to the ground.
Gulick said he then Tased Monk with a conducted electrical weapon, whose probes struck Monk's left thigh and right abdomen. Afterward, Monk immediately complied with commands and was taken into custody without further incident, the summary states.
The Chesterfield NAACP's Legal Redress Committee chairman, Tavorise Marks, held a press conference at the Chester Library on May 31 to protest the treatment of Monk, who was pepper sprayed twice and Tased once after failing to comply with police officers' orders during the incident, which lasted three minutes and 11 seconds.
Police said Monk was stopped at 12:30 a.m. at Second Avenue and James Street in Ettrick for illegal window tint. When asked for his driver's license and registration, Monk said he had a license but didn't have it with him.
On May 22, Englisby filed an order with the Chesterfield County General District Court that he be replaced as Monk's legal counsel by Sara M. Gaborik based on Monk's request. Judge Robert D. Laney signed the order May 24.
Englisby did not return a phone call for this story, and Gaborik could not be reached.
On Aug. 22, Judge Matthew D. Nelson signed the dismissal orders from Chesterfield Assistant Commonwealth's Attorney Julian Viscidi for the two charges against Monk.
During the May 31 press conference, Monk said he believes he was treated differently "because I am a young black male and they automatically expect something."
Monk was detained so that police could search the vehicle he was driving after an officer said he smelled a "strong odor" of marijuana. At the press conference, Monk said he doesn't smoke weed. No drugs were found in the vehicle. "Saying they smell marijuana gives them the right to do whatever they feel," Monk said.
Chesterfield NAACP president L.J. McCoy and Chesterfield police chief Jeffrey Katz released a joint video in mid-June in which they rebutted Marks' interpretation of the March 28 incident without referring to Marks by name. Katz said that some in the NAACP had "played fast and loose with the facts" and "misrepresented information to the public in an effort to sow the seeds of fear and distrust."