ABOVE: Meadowbrook's Jamon Battle running the ball against Highland Springs (Rob's DigiPix). Thomas Dale 37, Hermitage 7 Thomas Dale was able to defeat a...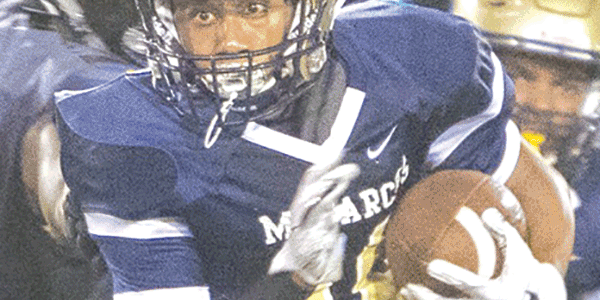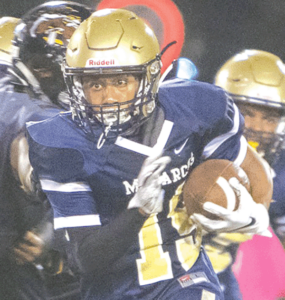 ABOVE: Meadowbrook's Jamon Battle running the ball against Highland Springs (Rob's DigiPix).
Thomas Dale 37, Hermitage 7
Thomas Dale was able to defeat a rebuilding Hermitage program by the score of 37-7 last week on the strength of a strong running game and a stifling defensive performance.
Chris Tyree ran all over the field, totaling 176 yards on 21 carries and scoring a touchdown. The Panthers simply didn't have an answer for him.
Defensively, Adam Hall led the way with 14 tackles. Rick D'Abreu was perhaps the strongest player on the field with 13 tackles, four sacks and four tackles for losses.
However, it wasn't the happiest of endings for D'Abreu, as he suffered what was called a "serious leg injury," according to Thomas Dale's Facebook page. He was helped off the field on a stretcher, but waved to the crowd as he left the field. The injury could cause the JMU pledge to miss the rest of the season.
Coach Kevin Tucker has lauded D'Abreu for his leadership several times, and although his loss will hurt, he will likely settle into a leadership role from the sidelines, just as Devonte Chandler did last season after he was injured early in the season.
Injury-wise, that brings the tally to five injured Thomas Dale players who either start or play significant time for the Knights. While the injury bug has bit early and often, they improved their record to 2-1 heading into a bye this coming week. On the other side of their much-needed break, they'll host Matoaca High on Sept. 21.
L.C. Bird 21, Midlothian 0
The Skyhawks pitched a shutout defensively and got another big game from running back Tre' Mason, as he capped the game with an 82-yard touchdown to finally put the game out of reach for Midlothian.
Coach Troy Taylor was quick to compliment Matt Hutchings and the job he's done at with the Trojans.
"Midlo is well coached, tough and physical," Taylor said. "He [Hutchings] has done a great job at turning this program around."
The L.C. Bird defense stymied Midlothian all game long, and Jamon Battle came up big with yet another interception to thwart one of the Trojans' best offensive drives.
Taylor was also satisfied that the offense was able to throw the ball a bit more successfully, as both Mykey Anderson and Elijah Rivers had several receptions in the contest.
The Skyhawks improved to 3-0 on the year and will host James River on Friday. Kickoff is set for 7:30 p.m.
Varina 48, Matoaca 0
Matoaca fell to a loaded Varina team this past Friday night, Sept. 7, by a 48-0 score. The Warriors fell to 0-2 on the season and have yet to find the end zone.
They'll travel north to Spotsylvania Wednesday, Sept. 12 to face traditional Class 5 North power Massaponax. Kick-off is set for 7 p.m. in a game moved up due to Hurricane Florence.
Highland Springs 70, Meadowbrook 0
Meadowbrook struggled with a high-powered Highland Springs offense, and wasn't able to find the end zone as they fell to 0-3 on the season.
The Monarchs' schedule has included a near victory over undefeated L.C. Bird and losses to Varina and now Highland Springs. All three teams are undefeated.
Continuing a tradition of playing as difficult of a schedule as possible to start the season, Chamont Thompson will look to guide his team to yet another playoff appearance. Meadowbrook has started four of the last five seasons 0-3, but has qualified for the playoffs in three of those.
Meadowbrook will have a bye this week, and heads to Colonial Heights on Sept. 21 in a game that it hopes will serve as a rebound from the team's first three games.