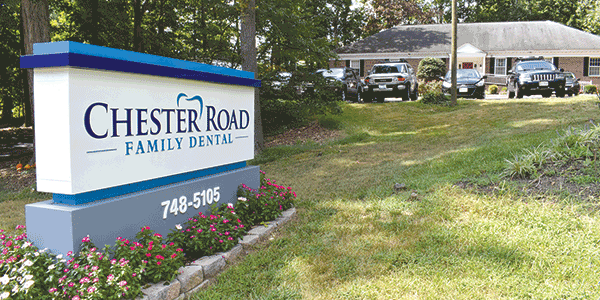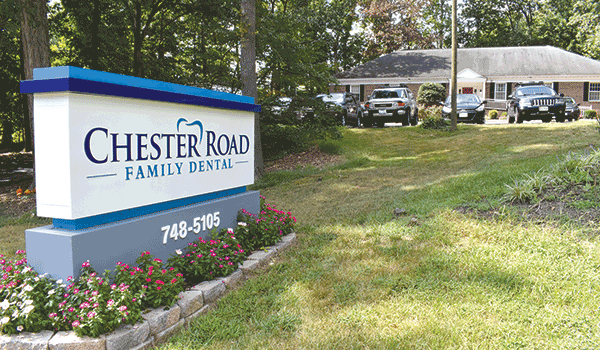 For at least 50 years there has been a dental practice at 11701 Chester Road. Drs. Walter Kilbourn and Lawrence Matthews Sr. shared space...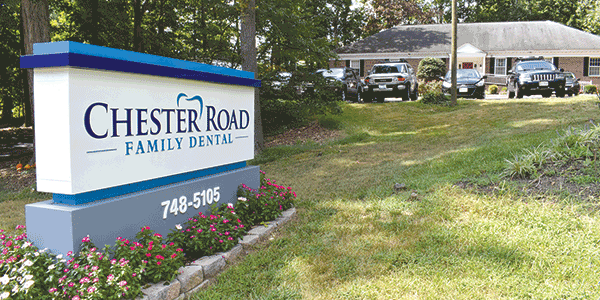 For at least 50 years there has been a dental practice at 11701 Chester Road. Drs. Walter Kilbourn and Lawrence Matthews Sr. shared space for their practices at a new office built next to Chester Recreation Center. After their retirement, Walter's son Mike followed in his footsteps and continued the Kilbourne dental practice. Matthews sold his practice to Reed Prugh who continued the practice of quality family dentistry.
Drs. Ben and Liz Dunham took over Kilbourne's practice two years ago on March 21. Dr. Ben, as he is affectionately called, began practicing dentistry immediately. Liz was still living with the kids in Chesapeake.
He and his family lived in Chesapeake after Dr. Ben completed dental school. Ben and Liz then purchased the practice in March 2016 and Dr. Ben began working there immediately, leaving Liz in Chesapeake, pregnant with three kids. It was a month before the entire family moved everything to their new home in Chesterfield. That same month, on April 22, June Emaline was brought into the world, their fourth. The children, Hugh, Claire and Cecilia (twins) s lovingly named her "Baby June Happy Face."
Later that summer, Dr. Prugh moved his practice to a different location. And the Dunhams took over the entire building that held both practices for nearly 50 years. "2016 was a whirlwind year," Dr. Ben said. "Coming to our practice is like coming to our home. We want you and your kids to feel comfortable and taken care of. "
At Chester Road Family Dental, you will experience a very friendly and helpful staff from the front desk to the back, TV's on the ceiling, an awesome kids' waiting room with movies playing and video games on the wall, as well as the best that dentistry has to offer.
"The equipment is all up to date and state of the art," he said. "Need a pillow or some headphones to relax during your visit, no problem."
"Liz and I love dentistry," Dr. Ben said. "Both of us always focus on keeping our skills sharp."
Liz loves improving smiles. She focuses on esthetic veneers and Invisalign. Dr. Ben's focus is on dental implants. "We have both spent countless hours studying our respective 'specialty,'" he said. "We both love and learn about all aspects of dentistry, and what we can't get done for you completely, we can coordinate your treatment with a team of excellent specialists we work within the area."
Dr. Ben loves spending his spare time in the garden in front of the office. In between patients you might find him checking on how many tomatoes the squirrels have robbed from his tomato plants or trying to find any new pumpkins growing. This winter, drive by and check out their Christmas lights! "My dream is to someday make the tacky light tour," he said.
If you are looking for dentist or just looking for a change, give them a call. They offer extended hours, financing options, and an in-house savers plan for people without insurance. "Come out to Chester Fest and say hi and give our prize wheel a spin. Give us a try and let our family take care of your family!"