ABOVE: Amanda Moody runs at the Thomas Dale High School track. Once a week at the Thomas Dale High School track, one can hear...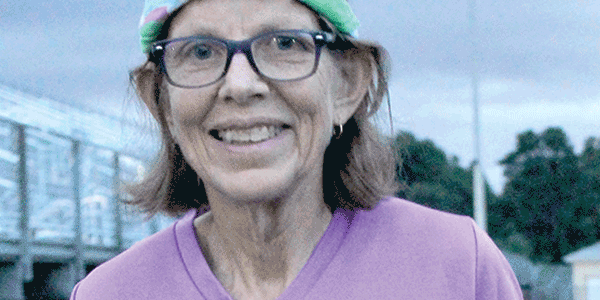 ABOVE: Amanda Moody runs at the Thomas Dale High School track.
Once a week at the Thomas Dale High School track, one can hear the stomp of Amanda Moody's tennis shoes as she trains for her next big marathon.
Moody has participated in 12 marathons; including three that were dedicated to finding a cure for the Leukemia & Lymphoma Society. Her next race is the New York City Marathon, to be held Nov. 4.
"It's called Team in Training," Moody said of her volunteer effort. "I told myself that if I'm running, I would want it to be worth something more than just me getting out and staying in shape. We're a large group of people; most of us are survivors of blood cancer or have loved ones who are surviving or battling cancer."
A native of Queens, N.Y., who has lived in Chester for 26 years, Moody, 65, has been running for over a decade. "I've been running marathons for about 11 years, but I've been running recreationally since I was in college," she said. "It was actually an accident [how I got into marathons]. My daughter talked me into signing up for the 10K training team with the YMCA. I would show up and run with them. After it was done, I thought it was really fun and wanted to continue doing it. So I found a group in Arbor Landing [subdivision], and I said I would just run with them. They were running a long way, and I asked them, 'Why are you guys running so far?' They said, 'Well, we're training for the Richmond marathon.' I just decided to stay with them as long as I could."
Running for the Leukemia & Lymphoma Society is personal for Moody.
"My husband, Art, has beaten Hodgkin's lymphoma twice, and he's had a lot of side effects from it. I have learned a lot about how it's not just about conquering the disease, but also dealing with the side effects. It has affected his immunity, so he's more susceptible to infections," she said.
"With Art beating lymphoma twice, I can see how much easier the second round of treatments has been because they're improving things due to research. The money not only goes towards research, but it also goes towards helping people who can't afford treatments."
Moody is currently fundraising for her charity, and her goal is to raise $3,500 before the New York marathon.
"The hardest part of this is the fundraising. That's harder than the running!" she said. "I just try to tell our story, Art's story. He's strong, and he's a fighter."
To donate to Moody's fundraising, visit her website at pages.teamintraining.org/va/nyc18/amoody.