ABOVE: Jack Wilson III is pictured in his office in Chester. A well-traveled Chester resident is the new chairman of the state Republican Party. Jack...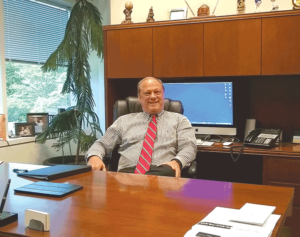 ABOVE: Jack Wilson III is pictured in his office in Chester.
A well-traveled Chester resident is the new chairman of the state Republican Party.
Jack Wilson III, who was born in West Virginia but grew up in various locales across the globe as his father served in the Army, has had a land use law practice in Chester since 2008.
Wilson was elected Sept. 8 to replace Loudoun County resident John Whitbeck as state GOP chair. Wilson plans to finish Whitbeck's four-year term, which ends in 2020. He is unsure if he will run again.
When asked why he ran for the post, Wilson said he was asked by some party regulars to do so. In addition, he believes he has the ability to "pull people together and put some of the acrimony behind us." He referred to divisions in the party that have existed for a number of years between those who are of the establishment and those who may be described as more conservative or more "red meat."
He said those divisions "have been hampering our ability to win at the state level and are challenging us at the local level."
Prior to being elected to the state post, Wilson served five two-year terms as chair of the Republican Party's Fourth Congressional District.
Chesterfield residents will see competition for the 4th and 7th congressional districts in November, with Democrat Abigail Spanberger challenging incumbent Republican Dave Brat in the 7th and Republican Ryan McAdams running against incumbent Democrat Donald McEachin in the 4th.
A New York Times poll earlier this month had Brat up 4 points. Brat won by 15 percentage points in 2016. No polling has been done for the 4th district race, but McEachin won by 21 points in 2016.
Brat has a tough opponent in Spanberger, Wilson said. Nonetheless, he believes Brat will win because he's working hard and the Republicans have a registration advantage in the district.
Wilson acknowledged that McAdams has an uphill battle against McEachin, who won Randy Forbes' former district after it was redrawn by a court, vut Wilson said McAdams – who is a pastor – is reaching out to communities that don't typically support Republicans.
In regard to the U.S. Senate race between Democrat incumbent Tim Kaine and the GOP's standard-bearer, Prince William County supervisor Corey Stewart, Wilson said the issues that Stewart is campaigning on – namely economic growth, immigration and tax relief – resonate with a broad swath of voters in Virginia.
"I think Corey's going to surprise some people," he said. "Virginia is not as blue as some people think."
A Poolhouse and Cygnal poll earlier this month showed Kaine leading by only 5 points, although a recent University of Mary Washington poll has Kaine up by 16 points.
Wilson, 58, has been married for 36 years to his wife Brigetta, a former teacher who has owned and operated a daycare for 25 years. They have four children and five granddaughters.