ABOVE: Matoaca High's Jordan Robinson tries to shed a tackle. (Rob's DigiPix) Dinwiddie 35, Thomas Dale 31 Thomas Dale High came out and took an...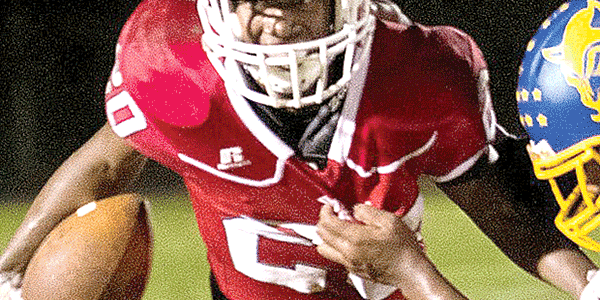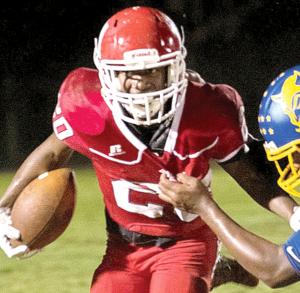 ABOVE: Matoaca High's Jordan Robinson tries to shed a tackle. (Rob's DigiPix)
Dinwiddie 35, Thomas Dale 31
Thomas Dale High came out and took an early lead on the Dinwiddie Generals, and trailed by just two points in the third quarter, ultimately falling short in a high scoring affair, 35-31.
K'ymon Pope, the younger brother of Ohio State linebacker K'Vaughan Pope, lead the way at quarterback and defensive back for Dinwiddie.
"Pope played so well on both sides of the ball," Thomas Dale coach Kevin Tucker said. "His running abilities kept drives alive, and on defense he came in and made some great plays."
Pope finished with 175 yards rushing and two touchdowns and threw for another 116 yards and a touchdown, for a total of 291 yards.
The Knights' running game kept it interesting.
Thomas Dale took a 7-0 lead, but fell behind 21-7 at the half. Chris Tyree ripped off a long run to make it 21-13 early in the third. D'Angelo Gray made it 21-19 on the ensuing drive. Gray scored three touchdowns, the last coming on a pass from quarterback Ejay Walker to cut the lead to four.
Tyree finished the game with 152 yards rushing and a touchdown and added 56 yards receiving. Walker was 16 for 29 passing for 182 yards with two touchdowns and two interceptions. Gray finished with 128 total yards and the aforementioned three scores.
Defensively, Adam Hall led the way with 13 tackles. Darius Sterling had six tackles and a sack, and Crishaun Saunders had seven tackles and three passes defended.
With the loss, Thomas Dale fell to 3-2 on the year and Dinwiddie improved to 5-0.
Up next for the Knights is a date with Meadowbrook at Mack D. Moore Stadium at 7 p.m. Friday.
Hopewell 35, Matoaca 29
Although Matoaca High fell to 0-5 on the season, they gave a talented team fits for the second week in a row and never gave up against Hopewell.
"Sean Wood-Allen made some big plays for Hopewell when it mattered," Matoaca coach Jay Parker said. "Hopewell played really well in the third quarter. We had trouble against their defensive line. They are a good football team."
"We are definitely getting better and working hard," Parker said. "It hasn't all come together yet, but I'm very glad to coach these guys."
Matoaca led Hopewell 15-14 at the half as a result of two big plays on special teams. The first was set up by a blocked punt, and Jonathan "Deuce" Coleman scored from a yard out. Jacob Coleman returned an interception for a touchdown. Later in the first half, Justin Providence pounced on a fumble on a punt return, which set up a field goal by Michael Harris to give the Warriors the lead.
In the second half, Matoaca trailed by as much as 20, but cut the lead to six. Dreher connected with Troy Lewis for a touchdown pass. Then, another blocked punt set up a second touchdown run from Jonathan Coleman. A last minute drive by the Warriors was stopped at midfield by the Blue Devils.
Dreher finished the night 15 for 30 passing with 151 yards and a touchdown. Jonathan Coleman finished with 40 yards rushing and two scores. Lewis finished with eight receptions for 90 yards.
Matoaca will travel to Dinwiddie on Friday for a shot at the Generals. In 2015, the Warriors defeated the Generals 33-21 in a game many thought they didn't have a chance to win.
Prince George 33, Meadowbrook 0
The Monarchs suffered another loss this past week as Prince George was able to shut down Meadowbrook on both sides of the ball.
As a result, the Monarchs fell to 0-5 on the season. No stats were reported for Meadowbrook this week. The Monarchs will look to turn things around Friday against Thomas Dale. Kickoff will be 7 p.m.
L.C. Bird
L.C. Bird, which is 5-0, had a bye last week. This Friday, they will head to Clover Hill (3-2).